iOS 5.1 available OTA and on iTunes now!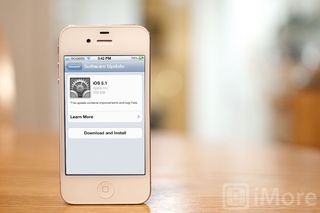 iOS 5.1 for iPhone and iPad is now available over-the-air (OTA) and in iTunes!
While we haven't tested it yet, it looks like we will need to put 5.1 on our iPads before we can see the updates to the iWork and iLife apps mentioned today.
To download OTA, launch settings, tap General, then Software Update, and the update should pop up with an option to Download and install. To download via iTunes, just plug your iPhone or iPad into your computer and open iTunes -- a message informing you of the available update should pop right up.
Now what are you waiting for? Go grab it!
We will keep you updated as we install the update and see what features are available immediately!
Former app and photography editor at iMore, Leanna has since moved on to other endeavors. Mother, wife, mathamagician, even though she no longer writes for iMore you can still follow her on Twitter @llofte.
Do I need to install 5.0.1 on my 4S before 5.1 ?

no it won't ask you for iOS 5.0.1 just go to --> Setting --> General --> Software Update Then it will ask you to update to (iOS 5.1) That's it Update & Enjoy New Features.

Profiles no longer work at least as far as I can tell.

Agree, it seems to have broken IconSettings on my 4.

Be cautious. My iPhone 4S worked first time but my iPad was reset to factory settings and I now can't restore it. Both on OTA

My iPhone 4 is telling me I have the latest update and it's showing 5.0.1 when I try the OTA update

Reboot/Restart it completely your iPhone 4 & it must be more then 80% charged then try it will work...

Did my 4S OTA. We wait to see if it helps. I sure hope so

No need for this... i got mine on 5.0.1 and its jailbroken... no need to update for me....

My phone says it needs to connect to wifi for the update.

Did OTA. (Verizon iPhone 4)
No issues. Like the new swipe for quick camera access. And the access is much quicker than it was.

Updated OTA. Everything seems to work fine, haven't yet tested losing audio on outgoing calls that I was having a problem with since 5.0.1. Oh yeah, 64gb 4s here in Texas on AT&T.

Updating my iPhone 4 and ATV 2 right now. It's goin painfully slow.

Anyone have the official changelog yet?

So now anybody can see all my pictures without a password.

Try testing it out yourself before posting, I believe it has always blocked access to the photo library when the device was locked. (keep in mind that if you have a delayed lock, then the photos can be accessed since they could just open the phone to access whatever they want).

You could've just read the update notes..

So, that's it? Really? Short of the camera shortcut on the lock screen, I'm not seeing user enhancements (not surprising given the log list at download), so one hopes the under-the-hood fixes are 'insanely great'.
Still,no ability to add attachments from Mail, can't get rid of Newsstand and Reminders remains useless to me.

When I connected my iPhone 4S to my PC and fired up iTunes, I clicked on Software Update and it's downloading right now.

still no fix with the music sync and recently added smart paylist

Done mine in about 15 minutes. Only real change I can see is the quick camera access.
Anyone noticed anything else?

My phone would have usually gone down 5% after checking mail and playing a few rounds of scramble with friends/words with friends in a 30 minute time frame. I'm still at 100%. I'm thinking this might have finally fixed the battery issue.

Same for me. I Took mine off the charger at 2pm and at 6pm it was still 100%. Usually on a normal day with normal use I would be at 75-80% at that point. So far so good.

not available yet for me... :(
4s on Verizon

Just a quick question, if you havent manually looked for the update will it show up as a Notification somewhere ON THE Phone?

Not really iOS 5.1 but Find My Friends and Find My iPhone got updated! FMF now has Miles instead of Kilometres for UK and FMI now lets you set an email alert when the iphone is turned back on!

Slow as hell to download here in the UK @ 9:52pm....saying 88mins left downloading....usually downloads on release day within 5-10mins

downloaded and updated here in the uk in less than 15 mintues start to finish.
no noticable changes so far - and no problems.

Mine says 4G right next to the AT&T, which I know is is impossible. I'm not jail broken or anything so what gives. Anyone else see this

Are updates for iphone 4s automatic? Can you stop the update in offer to keep the phone jailbroken?

If your jailbroken it wont go through when on wifi its going to state an error has occured

Wow, that explains a lot, thanks man. I don't think I'll be Jailbreaking anymore. It may sound stupid to most but I prefer to take advantage of an OTA update than be Jailbroken, that's just my opinion. This has by far been the most complicated update for me.

i was hoping for some siri support for the UK like business look ups but nope

It wasnt showing up for me until I connected to WiFi. Its downloading now. Verizon iphone 4s 16gb

If I'm jailbroken on 4S, I should not download, right?

Just got the update to work on my 4s. See one of the bug fixes is for audio being dropped on outgoing calls. O...M...G... I hope that is fixed. Happend to me daily, only resolution was to reboot. This is my first iDevice and was questioning what all the hype was about as a result of this issue. Very happy that they seem to think that they have fixed it...

One of the changes that was not meantion yet in this update is the bookmark. When you open up safari, it does not automatically open up the bookmark screen.

After updating to 5.1, I no longer had to enter the password for other users on apps I have that are shared on home share. For example I have apps on my iPad that my fiancée purchased and we use them through home share. If there was an update, my fiancée would have to enter her iTunes password to get the app to update on my device. After 5.1 she no longer had to enter her password for her apps on my device. They updated with all my other apps.

I am trying to download. It says that i have 8 hours remaining.
WOW, this must be a large file. Maybe I am the 10,000,000 to download and maybe they are including the new ipad in my download????????

am I the only one who thinks the camera quick access button doesn't really suit the lock screen? I'd rather be able to turn it off completely

I agree, Martin. I think the camera button on the lock screen is a distraction. What's worse, it took half a day to realize that it's NOT a push-to-activate icon. It's a pull-up (like the Notification pull-down screen). Who asked for that! Bring back the old 3-press. And while you're at it, let Siri toggle Bluetooth and Wi-fi.

Anyone else getting download errors? OTA is not working and in itunes it just stalls on "connecting to server"

Yupe, same here on my iPorn 4 (iOS5.0.1) when doing OTA check. Says, "Connecting to server" for a couple of minutes then timeout on connection error. Ended using iTunes to check and download the update.

I been trying to download the update both O.T.A. and on my macbook for the last 3 hrs and have been getting errors or download times of more then 5 hrs.
The servers must be getting hammered right now.

My iPhone 4S refuses to update via OTA even when I was trying to update to 5.0.1, I''m Jailbroken and I know that has something to do with my 4S not being able to update OTA or even back-up via iCloud.
I am downloading via iTunes but it's so slow, it's @ 436MB (out of 803MB!!!) when 2-3hours left to go. Hopefully this update gets rid of these OTA/iCloud back-up bugs.

Why am I still getting an error for the OTA 5.1 update? It says it can not check for update.

me too! I called Apple and they said its happening because of everyone downloading it, he says I might be able to get it in a couple days. BLOWS!

I did the update on my iPad, and now I can't disable the picture fram icon on the lockscreen. Anyone have a fix for this besides turning on the passcode?

Guess I´ll state it in this thread as well:
Damn it, Apple!
Why didn´t you put in hotspot feature in iOS 5.1 for iPad 2?

My battery on my 4s used to drain significantly throughout the night - for example, 100% at midnight and down to 93% by 7 am. With the new software I had it 100% at 11 PM and it was 99% at 7! So far so good!

does this have to be done over wifi or can i use data? If i do, how much data does it use up?

Cant iMessage with wife from Verizon 5.1 4s to her AT&T 5.01 4. I did all the time before yesterday.

The next iOS update should let siri open your apps with your command.

Just got my 3gs updated to iOS 5.1 OTA, update was pretty fast n surprise of surprises my ph which had become painfully slow after last update 5.0.1 is working so smooth n faster than before, loving it :D

first of all i have a iphone 3g and love it but i just did the new software download dont really know what changes were made help please.

Japanese language support for Siri (availability may be limited during initial rollout)
Photos can now be deleted from Photo Stream
Camera shortcut now always visible on Lock Screen for iPhone 4S, iPhone 4, iPhone 3GS and iPod touch (4th generation)
Camera face detection now highlights all detected faces
Redesigned Camera app for iPad
Genius Mixes and Genius playlists for iTunes Match subscribers
Audio for TV programmes and films on iPad optimised to sound louder and clearer
Podcast controls for playback speed and a 30-second rewind for iPad
Addresses bugs affecting battery life
Fixes an issue that occasionally caused audio to drop for outgoing calls
These are the new fixes to 5.0.1 version

Every time I try it OTA I get an errors adage that says, "Unable to Check for Update." Does anyone know a fix to this?

HELP ME!! After updating tithe iOS 5.1 thre is a consant of time asking me for the apple I'd password. Help me. I restarted the iPad, log out and logged back in and done everthing but it is still asking me! Please help me, it is so annoying.
Thank you for signing up to iMore. You will receive a verification email shortly.
There was a problem. Please refresh the page and try again.