iOS 5.1 will be available starting today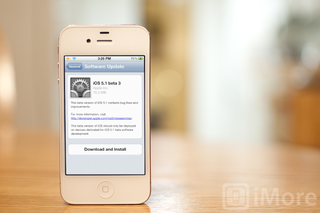 Apple has just announced that iOS 5.1 will be available to consumers starting today. Among the new features that will be included are things such as Siri support in Japan and the ability to delete individual photos within Photo Stream.
No word on whether the new iPad 3 will be released with iOS 5.1 or something higher. iOS 5.1 will probably start showing up as an update for many users after the iPad event is over today. If you manage to catch it in iTunes, let us know!
iMore senior editor from 2011 to 2015.
I wonder if they fixed the issue of syncing music to the iphone...something tells me they didn't.

What issue is that? I'm wondering if it is really an iTunes thing vs an iOS thing.

Itunes won't sync music using the 'Date Added' column. Really annoying if you want to listen to your newer music first, not last.

Wonder what else it's got.
Any news on toggles in the notification centre???
If not I'll stick with jailbreak thanks

I hope they have it available OTA soon!

It's been so long since the last beta I forgot it was a beta release I've been running.

November was the last official update. That feels like so long ago now. I'm looking forward to the new update and features included :)

Hope 5.1 fixes the bluetooth!

It was not sent to Canada and I hope it gets better battery

The iOS Dev Center page no longer has the iOS 5.1 beta SDK tab. Hopefully we'll get the final IPSW soon!

Where are you that got the OTA?

got it also!! go to settings->general->sowtware update

If I update my phone over the air, will it remove all my apps? Pls reply thanks!

@Petal:
I did the OTA on my 4s and the apps are still there.

does this include Canada? we're the most important :)

So when will it go live, my phone keeps saying 5.0.1 is the current version.

Downloading it now OTA, it just came up for me. I'm on Verizon in NYC if that helps. Just keep checking.

AT&T here and in Pennsylvania

OTA here in NYC on VZW. Downloading as I type.

Here in the uk - just downloading now

Can you do an OTA update with a jailbroken phone?

In Mexico it's out on the OTA updater.

Out in the UK but from the change log I'll stick with 5.0.1 and Jailbreak
Nothing in there to make me rush for the update button and loose jailbreak.

I'm going to update my iPad 2 as soon as it is available, but not my 4s. Both are jailbroken but nothing Jailbreak on the ipad that I can't live without.

I'm trying to update iPad 2 but just keep getting error to try again. Has 50% battery and plugged in. What's up?

Trying to go OTA and keep getting an error message here in central Ohio. Says "unable to check". Bummed.

Why isn't it here in Canada? It's in Japan, we're neighbours to the USA and the update totally skipped us...

Hello fellow iphone users:
It appears the new iOS 5.1 has increased the "vibration" of the phone during notifications (ie. e-mail, text, etc). such that my iPhone 4S viabrates with a "rattling" type sound inside of it. Sounds as if something is loose inside the phone - never had it before. Let me know if others have experienced this.

its a different metal inside of the phone. people complain about it all of the time.
Thank you for signing up to iMore. You will receive a verification email shortly.
There was a problem. Please refresh the page and try again.