10.5-inch and 12.9-inch 2017 iPad Pro FAQ: Everything you need to know!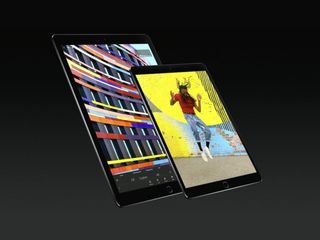 The next generation of iPad Pro is here: Apple's pro iPad line was unified and improved during WWDC's Monday keynote, bringing a new size (10.5), better screens, more storage, a speeder chip, RAM improvements, new camera specs, and so much more. Here's everything you need to know.
Get More iPad
(opens in new tab)
What's happened with the iPad Pro line?
As of Monday, the iPad Pro line now consists of two models: The 10.5-inch iPad Pro, and 12.9-inch iPad Pro. The 9.7-inch iPad Pro has been retired, leaving that screen size for the base-model iPad to occupy.
In addition, both models are now identical in terms of specs: They have the same screen, same internals, and same speakers. The only difference? Which screen size you prefer.
What are their specs, exactly?
Both the 10.5-inch and 12.9-inch iPad Pro models now feature the following:
Display:

DISPLAY
10.5-inch or 12.9-inch Retina display
600-nit brightness
Anti-reflective coating
ProMotion refresh technology (120Hz)
True Tone
Wide Color (P3)
Full-screen virtual keyboard

Chips:

CHIPS & STORAGE
A10X system-on-a-chip
M10 integrated motion co-processor
64GB - 512GB SSD storage
4GB RAM
USB-C connection speeds

Cameras:

CAMERAS
12MP, f/1.8 iSight rear camera with OIS
7MP, f/2.2 FaceTime HD front-facing camera

Battery:

BATTERY
10-hour battery life
ProMotion smart refresh adjustment (to save battery life)
USB-C fast-charge support (optional; not included in box)
How does this differ from the base-model iPad and iPad mini?
You can check out a full spec comparison below, but essentially: The Pro-level iPads are much faster and have more RAM, have superior screens, offer Apple Pencil and Smart Connector support, a faster Touch ID sensor, and better cameras.
Swipe to scroll horizontally
| Device | iPad mini (7.9) | iPad (9.7) | iPad Pro (10.5) | iPad Pro (12.9) |
| --- | --- | --- | --- | --- |
| Colors | Silver, Gold, Space Gray | Silver, Gold, Rose Gold, Space Gray | Silver, Gold, Rose Gold, Space Gray | Silver, Gold, Space Gray |
| Size | 8"x5.3" | 9.4x6.6" | 9.8"x6.8" | 12"x8.68" |
| Capacity | 128GB | 32/128GB | 64/256/512GB | 64/256/512GB |
| Weight | 0.65/0.67*lbs | 1.03/1.05*lbs | 1.03/1.05*lbs | 1.49/1.53*lbs |
| Depth | 0.24" | 0.29" | 0.24" | 0.27" |
| Battery | 19.1-watt, 9*-10 hrs | 32.4-watt, 9*-10 hrs | 30.4‐watt, 9*-10 hrs | 41‐watt, 9*-10 hrs |
| Cellular* | LTE | LTE | LTE Advanced | LTE Advanced |
| Display | Retina (2048x1536, 326ppi) | Retina (2048x1536, 264ppi) | Retina (2224x1668, 264ppi) | Retina (2732x2048, 264ppi) |
| Laminated? | Yes | No | Yes | Yes |
| Brightness | 450 nits | 511 nits | 600 nits | 600 nits |
| Refresh Rate | 60Hz | 60Hz | 120Hz (ProMotion) | 120Hz (ProMotion) |
| True Tone | No | No | Yes | Yes |
| Wide Color (P3) | No | No | Yes | Yes |
| Apple Pencil | No | Yes | Yes | Yes |
| Smart Connector | No | No | Yes | Yes |
| Bluetooth | 4.2 | 4.2 | 4.2 | 4.2 |
| Speakers | Stereo (dual) | Stereo (dual) | 4-Speaker | 4-Speaker |
| Touch ID | 1st-gen | 1st-gen | 2nd-gen | 2nd-gen |
| Taptic Engine | No | No | No | No |
| Chip | A8 | A10 | A10X | A10X |
| Motion | M8 | M10 | M10 | M10 |
| RAM | 2GB | 2GB | 4GB | 4GB |
| Rear Camera | 8MP f/2.4 | 8MP f/2.4 | 12MP f/1.8, P3 color | 12MP f/1.8, P3 color |
| Video (Rear) | 1080p (30fps) | 1080p (30fps) | 4K (30fps) | 4K (30fps) |
| Front Camera | 1.2MP f/2.2 | 1.2MP f/2.2 | 7MP f/2.2 | 7MP f/2.2 |
| Video (Front) | 720p (30fps) | 720p (30fps) | 1080p (30fps) | 1080p (30fps) |
*Only pertains to the cellular model.
When can I get a new iPad Pro?
They're currently available on Apple's online store, and will ship in mid-June.
See at Apple (opens in new tab)
Are they going to run iOS 11?
Not when they ship! iOS 11 will come to the new iPad Pro line, but it's not due until later this Fall. You can get a sneak peek of the features coming to the new iPads Pro in iOS 11 below, however.
What's changed with the iPad Pro screen technology?
On both iPad Pros, the display is brighter and much speedier: The Retina screen features Wide Color (P3), True Tone technology, and is easier to see than ever before, with an improved 600-nits brightness. It also features Apple's new ProMotion adaptive refresh technology. Essentially, your iPad can now refresh its screen at up to 120Hz: This allows interactions to be faster than ever before, including with the Apple Pencil, which has reduced its latency from 49 miliseconds to just 20 miliseconds.
But ProMotion is also smart: It works with iOS to intelligently detect when a user needs that 120Hz refresh rate — as with drawing and high-framerate games — and when it can lower the refresh rate to save battery life and keep your iPad rocking as long as possible.
What about the dimensions of the screens itself?
The 9.7-inch iPad Pro is no more: In its place is the new, wider and taller 10.5-inch iPad Pro. (The 12.9-inch iPad Pro model hasn't changed its dimensions, as it launched with a thinner bezel than its 9.7-inch cousin.)
The 10.5-inch model is slightly bigger and taller than its 9.7-inch predecessor, offering room for a full-sized virtual keyboard and more controls in apps.
What does each iPad look like in Split View?
When using iOS's multitasking features, the 10.5-inch iPad Pro uses the Compact size class when going into Split View: This means that after you set two apps into Split View, those apps will display iPhone-style UI when set side by side in a 50-50 split, and one iPad, one iPhone-style when in a 25-75 or 75-25 split.
The reason for this is simple: The 10.5-inch iPad Pro isn't wide enough in landscape mode to fit two Regular-sized apps without their UI overlapping. Apple would need an extra 15% or more of width to make the apps scale effectively, which would make for a mighty strange iPad indeed.
In contrast, the 12.9-inch iPad Pro uses the Regular size class when going into Split View: This means that after you set two apps into Split View, those apps will display iPad-style UI when set side by side in a 50-50 split, and and one iPad, one iPhone-style when in a 25-75 or 75-25 split.
Both iPads have 4GB of RAM, allowing them to pull up a maximum of two Split View apps, one Slide Over app, and a Picture-in-Picture video all on the same screen and in focus (all are useable at the same time).
What's going on with the Home Button? Did we get a Taptic Engine?
Unfortunately not. Taptic Engines are challenging little bits of technology to produce, especially in devices with larger screens — it's why we don't have 3D Touch on the iPad Pro yet, either. But there is one bit of good news: Both iPad Pro models now have the second-generation Touch ID sensor, which is faster and more responsive at unlocking and authenticating.
Tell me more about the A10X processor and graphics?
The new iPad Pros are rocking Apple's A10X chip, which has six cores inside: three high-performance cores, and three high-efficiency cores. The results, Apple claims, are up to 30% faster CPU and 40% faster graphics performance. You'll notice that all around, whether you're surfing the web, playing a game, drawing, dragging and dropping, or just about anything else on your iPad.
What about the camera?
The new iPad Pros will be sporting improved sensors for both the rear-facing and front-facing cameras: They're now identical to those found in the iPhone 7.
The rear iSight camera can now shoot at up to 12 megapixels and capture 4K video footage at 30FPS at a f/1.8 aperture, while the front-facing FaceTime HD camera has been upgraded to a 7 megapixel sensor and integrated Retina Flash. (Apple bragged that the 12.9-inch iPad Pro had the biggest Retina Flash out there, but good luck taking taking non-photo bototh selfies with that monster.)
Will my old iPad and iPad Pro cases fit on the new iPad Pros?
The 12.9-inch iPad Pro cases should, by all rights and means, fit without too much trouble — though you may run into an issue with tightly-fitting cases due to the more pronounced camera bump. When it comes to the 10.5-inch, however, your 9.7-inch cases are out of luck: The increased length of the device means that many — if not all — cases won't snap in properly.
What accessories are available for the new iPad Pro line?
The first-generation Apple Pencil is available, of course, as is a new and improved Smart Keyboard cover; there are also Pencil cases and a new leather case option.
But there's no new Apple Pencil, right?
Nope! The original Apple Pencil benefits from the improved display on the iPad Pro; no new drawing tool is necessary.
What color options are available on the new iPad Pros?
As with Apple's other iPad models, you'll be able to pick up an iPad Pro in Silver, Space Grey, or Gold in either the 10.5-inch or 12.9-inch sizes. Sadly, Rose Gold is limited to the 10.5-inch size — there's no 12.9-inch iPad Pro rose gold love.
How much will it cost?
Here's the pricing for the new iPad Pro line:
10.5-inch iPad Pro:
$649 for 64GB Wi-Fi
$779 for 64GB Wi-Fi + Cellular
$749 for 256GB Wi-Fi
$879 for 256GB Wi-Fi + Cellular
$949 for 512GB Wi-Fi
$1079 for 512GB Wi-Fi + Cellular
12.9-inch iPad Pro:
$799 for 64GB Wi-Fi
$929 for 64GB Wi-Fi + Cellular
$899 for the 256GB Wi-Fi
$1029 for 256GB Wi-Fi + Cellular
$1099 for 512GB Wi-Fi
$1229 for 512GB Wi-Fi + Cellular
Want more on the new iPad Pros?
Let us know in the comments, or head over to the iMore Forums and tell everybody about your thoughts on the new iPad Pro lineup!
Get More iPad
(opens in new tab)
Get the best of iMore in in your inbox, every day!
Serenity was formerly the Managing Editor at iMore, and now works for Apple. She's been talking, writing about, and tinkering with Apple products since she was old enough to double-click. In her spare time, she sketches, sings, and in her secret superhero life, plays roller derby. Follow her on Twitter @settern.
I loved the keynote so much though. Like being a little girl at Christmas :)

10.5" means you have to pay for Microsoft Office on these now .... think I'll keep my iPad Pro 9.7"

That makes 2 of us. What a stupid decision. I have a Pro 9.7, so I can use Apple Pencil to take notes, because I'm going back to school in August. I don't want to have to pay for MS Office limited functionality on an iPad, and lets face it, Pages and other iWork apps aren't keeping pace with Office. I think this is just another dumb decision. Apple trying to make appropriate decisions on device sizes, is about as useful as trying to teach a pig to sing- it wastes time and annoys the pig!

Not sure of the options you need in Office but I find Apples products much easier and better in most cases to use.

Completely agree with you....

There's a chance your school offers free licenses of MS Office.

You really don't need Office for your uses, and that goes for both of you.

How do you know what their needs are. Sounds a little biased.

Oh, good catch! Well played, Microsoft...

MS Office isn't great, but it's slightly better if you pay for O365. I have an Office 365 subscription, but frankly it's barely worthwhile to have those applications any longer, at any price. The ONLY reason for MS Office is to open files from 1) people stuck at work, 2) 1997, and 3) people over 50. I'm over 50, but hey...

Please could you show some screenshots of the new 10.5 iPad in split-screen mode with the on-screen keyboard up too? I'd like to see how much room is left for each app (the 9.7 is too cramped but I just wonder if the 10.5 makes it tolerable..) Thanks for all you do.

Which home button do they have on them? The one like the iPhone 7's (Haptic) or like the old iPad Pro (Clickable)

If I'm not wrong is the (Clickable) the same one you found in IPad Pro 9.7 that one has the second generation home button.

What's the screen-res on the new 10.5 iPad Pro, and how does it compare to the old 9.7-inch or 12-inch? Just scaled up, or is there more content (and will apps require updating to take advantage of it)? :)

The Rez is in the article. All apps will work just fine. They will use all the pixels properly. If the app has more info to show, it will. If it uses a fixed screen layout, then it will do that.

Just ordered a new 10.5, but disappointed that there is no silicone case to go with the Smart Cover / Keyboard. It "removes" the camera bump and lets the iPad sit flat on a table. Any information indicating that Apple may release one at a later date?

I'm ordering the 10.5 wifi version. Figured I can always use the data off my phone if I wasn't near a wifi point. I'm not a fan of the Smart Keyboard though. I hope they have third party keyboards soon.

I have a Brydge for my Air-Gen-1. https://www.brydgekeyboards.com Best Aluminum keyboard-cover available IMO. I just inquired about one for the 10.5 and they implied mid 2017.

I've been looking all over for a size comparison of the 9.7" and the 10.5" iPad Pros. I like the idea of a slightly bigger screen, but how much bigger is the footprint, and how much heavier is it? Pics would be great!

Doesn't anyone actually read the articles before they post, or do you guys just read the head,one, and expect US to do the work for you? Read the article lazy.

How much RAM are the new iPads going to sport? I hope it's more than 2GB on the previous 9.7in iPad Pro.

I was wondering that myself. I'm hoping for 4GB.
It would be nice if the only major difference between the two models was screen size.

I been asking the same question my friend, but I found that is 4gb RAM on both models. Especially if the upcoming iOS 11 and the new features I don't know how the old iPads will work with this OS.

I have a question that I couldn't find info on anywhere. The keynote slide on the new iPad Pro screens claimed they could do "HDR Video," which is something they haven't claimed for any other device on either the iOS or Mac side of things despite other devices supporting the wide color gamut. As far as I understand it, HDR at this point is a morass of competing standards and delivery platforms. Do we have any idea yet what the iPads support? For example, will they be able to stream HDR Netflix, like the LG phone?

Great question, and we'll look into it!

From what I know, they will support the 4K Tv standard.

For the 10.5-inch iPad Pro, do apps need to be updated to take advantage of the bigger screen? For example, the Facebook app is STILL not updated to use the full resolution of the 12.9-inch iPad Pro, so the assets are just scaled up. Will it be same situation for the 10.5-inch iPad Pro?

All responsible developers hew to Apple's guidelines as to resolution independence. A few do not.

This page says the Gen 2 12.9 iPad should fit into Gen 1 cases, subject to the camera hole being a suitable size. I think that is misleading; the mic is in a very different location on the Gen 2 and is almost guaranteed to be blocked by a Gen 1 cover.

I don't know which case you have; perhaps a leather punch would free the area you need?

I did want to clear up a misconception about the CPU performance of the A10x. When Apple says that performance is 30% better, they're talking about one core. Testing so far has shown an 80% improvement for multicore performance with the 3 cores, which they've gone back to after moving to 2 hi performance cores in the A9 series. That's BIG! All the things they've shown on stage with AR and such will benefit highly from this, as will Siri, facial recognition, photo sorting, multitasking, etc.

"...one iPad, one iPhone-style when in a 25-75 or 75-25 split." This is what I was looking for. Thanks!

Hey Serenity, I am trying to leave a comment on your article on Pandora Premium, but it says I do not have enough reputation to comment on older content. I like the subjects you write about so I'll catch up on your work, leaving comments, hopefully my reputation will build up and I can shake off that terrible restriction this site imposes. Well, thank you so much for your articles! I have 2 co-workers that I'm consulting; they are hardcore Pandora users looking to jump into the world of PAID streaming service. I currently subscribe to Spotify and Apple Music, shortly after discussing the services with my co-worker, her free Pandora magically enrolled her in Pandora Premium Free Trial -big brother, AD tracking, device spying is REAL, WOW!!!! Anyhow, I want to point out that in your comparison table you have Pandora Plus & Premium mixed up. Premium is $9.99 and Plus is $4.99, but you have them reversed.

Great specs on the 10.5 pro. BUT, without any connectivity to the outside world to allow me to connect a USB-3 or C external hard drive, as a production tool the iPad is useless. I also can't hardwire tether to my camera without a hardwire connection. As a production tool for photography, it's pointless. Wireless file transfers when we're talking gigabytes per project won't cut it. Thought I'd upgrade from my iPad air Gen-1; ultimately thinking Surface, but I hate windows. :(

I think, but have not confirmed, there is a Lightning to USB-C adaptor available.

Thanks Burnie: Your reply has left me with a spark of optimism :) Will do additional research on this. If there's an adapter, I'll need to determine if it'll buss power an external USB-C drive, of which I have a few for my MacBook. If I have raw/jpg image files on the drive, will an IOS image editing app see and allow me to process the raws out to tiffs/jpgs/psd files and will I be able to move the processed files around on the iPad and more importantly, save back to the external drive? That'd be a huge benefit and I'd buy the Pro in a heartbeat! The next best thing woud be to have that adapter allow me to tether my camera back to an app on the iPad. The Surface gear allows that now, in a form factor that is iPad in scope. One of the best cable vendors on the web has been working on a USB-C tether cable since early 2017. Still no no cable so I'm guessing there's some issue with the C interface. Fun times!

So, as long as we're on the subject, your article lists "USB Connection speeds" as a feature of the new Pro. Does anyone at iMore know if the iPad Pro 10.5 will have a lighting to C connector that will allow for a USB-C external drive connection?

Thinking that the 10.5" will replace my aging iPad Air later this year. Way overdue.
Thank you for signing up to iMore. You will receive a verification email shortly.
There was a problem. Please refresh the page and try again.