iPadOS 16: Everything you need to know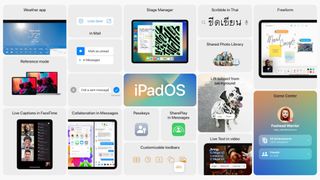 (Image credit: Apple)
Apple has taken the wraps off of the next major iPad software update — iPadOS 16 — and it is jammed packed with updates that will change how we work and play come this fall. For this year's update, Apple is making considerable changes to multi-tasking, enhancing collaboration in the iPad's built-in apps, and is even introducing a few new apps. Here's everything you need to know about iPadOS 16.
Compatibility
Apple's iPad is known for its longevity, and as you would expect, iOS 16 plays nicely with tons of iPad models. Here are all of the iPads that will support iPadOS 16 according to Apple:
iPad (5th generation)
iPad (6th generation)
iPad (7th generation)
iPad (8th generation)
iPad mini (5th generation)
iPad mini (6th generation)
iPad Air (3rd generation)
iPad Air (4th generation)
iPad Pro 9.7-inch
iPad Pro 10.5-inch
iPad Pro 11-inch
iPad Pro 11-inch (2nd generation)
iPad Pro 12.9-inch
iPad Pro 12.9-inch (2nd generation)
iPad Pro 12.9-inch (3rd generation)
iPad Pro 12.9-inch (4th generation)
iPad Pro 12.9-inch (5th generation)
However, despite being compatible with lots of the best iPad models, it should be noted that some features may not be available on all iPads. More on this later.
iOS 16 updates
Before we dive into iPad-specific features, since iPadOS and iOS share a similar foundation, Apple's tablet will benefit from iOS 16 enhancements over on the iPhone. These features include SharePlay and messaging upgrades, dictation changes, and more. For more on what is included in iOS 16, head on over to our iOS 16 FAQ for the details.
Multi-tasking and windows
As previously rumored, significant changes are coming to the iPad this fall regarding multi-tasking and windows. Starting in iOS 16, iPad users will be able to re-size and overlap windows thanks to a new Stage Manager feature, which is also available on macOS Ventura. Essentially, Stage Manager creates a "stage" of sorts for your apps, with the current app in the center of your screen.
If you want to take advantage of multi-tasking with Stage Manager, you can re-size your current full-screen app by dragging a corner. Once you re-size your app, iPadOS will show recently-used apps to the left of your existing app and the dock at the bottom of the screen. You can switch between apps by simply tapping on a window or app icon.
Stage Manager also enables you to overlap windows by dragging an app over to the side of your current app. Stage Manager will automatically position your apps to provide a larger view while focusing on the app you just brought over. If you need to see more content in your apps, you can always re-size and re-position your apps.
However, it's important to note that Stage Manager is only available on iPads with the M1 chip. This is due to how Virtual Memory Swap on the M1 chip helps speed up multitasking, making Stage Manager possible. So as of right now, Stage Manager is a feature that is only available on the 2021 iPad Pros or the fifth-generation iPad Air.
External display support
Another finally addition to the iPad in iPadOS 16 is full external display support. While iPadOS has previously supported external monitors, it was constrained as it essentially mirrored what was on your iPad's screen. It also didn't take advantage of broader aspect ratios for all apps.
When connecting a compatible iPad running iPadOS 16, your wallpaper and dock will extend to your external display while your existing app windows will stay on your iPad's screen. If you move your iPad's cursor to the external display and launch an app from the dock, it will open in Stage Manager on your external display. From there, you can drag-and-drop files, group apps and windows together, and of course, re-size and overlap windows.
In total, you can run up to eight apps on-screen simultaneously across your ipad and external display. However, as you might expect, you will need a more recent, M1-equipped iPad to take advantage of these powerful new features. Compatible models include the iPad Air (5th generation), the iPad Pro 12.9-inch (5th generation), and the iPad Pro 11-inch (3rd generation).
Display scaling and Reference Mode
Sticking with displays, iPadOS 16 also introduces a couple of new display modes. The first of which is called display scaling, which allows you to adjust the pixel density on your iPad to maximize the amount of content you see — which could be incredibly handy when using Split View. As with other multi-tasking features, display scaling requires an M1 iPad.
The other new display mode is Reference Mode. Suited for color-critical workflows, Reference Mode allows the iPad to display reference color standards for photo and video editing. Again, Reference Mode doesn't apply to all iPads as it requires the latest generation iPad Pro 12.9 and a Mac with Apple Silicon.
Desktop-class apps
With iPadOS 16's fancy new multi-tasking features, Apple also takes apps to the next level with additional "desktop-class" enhancements. Some examples in Apple's built-in iPad apps include customizable toolbars, search fields that appear in the exact location across apps, context menus that allow for multiple selections and actions, in-line undo and redo options, find and replace, and more.
Apple also mentioned app-specific desktop-class features in iPadOS 16. One of which is for the Files app, where you will be able to change file extensions and access additional details about your documents and folders. In the Mail app, you can drag and drop contacts for quick sharing, while the Calendar app will allow you to see the availability of participants invited to a meeting.
Weather
Speaking of apps, iPadOS 16 will bring a full-fledged built-in Weather app to Apple's tablet for the first time. Previously only available as a widget, Weather on the iPad will look and feel similar to the app on your iPhone with the same playful animations for weather conditions and detailed climate information — just on a larger scale.
On the iPad, you will be able to see modules for a 10-day forecast, hourly forecast, precipitation, UV index, and more, all at a glance. Tapping a weather module will provide additional details, charts, and projections. For developers, Apple has introduced WeatherKit, which allows them to build Apple's weather data right into third-party apps.
Freeform and colloboration
While it won't launch with iPadOS 16, Apple will be bringing another new app to the iPad, iPhone, and Mac later this year called Freeform. Essentially, Freeform is a whiteboard app that allows users to share links, Apple Pencil sketches and notes, diagrams, and more with others in real-time. Edits made to a board are shown to others with the collaborator's name, and visual indicators highlight the exact spot that is being updated.
Other new collaborative features in iPadOS 16 include a way to initiate sharing of a document with others right from the share sheet. If you have a team or group conversation already going on, you can share a collaborative document with everyone with just a tap instead of sending each person a link. Documents shared via the share sheet are also no longer copies, so you can keep everything nice in tidy in one file.
Once people join a document that you are sharing, you will see a new toolbar item in Apple's apps that lists all participants and allows for initiating FaceTime calls. Shared documents will provide notifications for any edits, and if you are sharing via Messages, you will see update alerts for anything you might have missed while away.
Handwriting improvements
Despite not being announced during the WWDC Keynote, Apple is also introducing a pretty significant feature for those that like to handwrite on the iPad called — Handwriting Straightening. As the name suggests, iPadOS 16 will allow users to clean up their handwritten notes with a new option that will automatically align text.
Using the feature in iPadOS 16 requires just a couple of taps as it follows the same process that we already use for selecting text. Just tap and drag over your notes, and you will be presented with a new Straighten option alongside existing options for things such as copy and paste.
iPadOS 16 availability
iPadOS 16 is now available for download for registered developers, with a public beta coming next month. For the rest of us, iPadOS 16 will be available for free sometime in the fall, presumably alongside the introduction of new iPhone and iPad models.
Master your iPhone in minutes
iMore offers spot-on advice and guidance from our team of experts, with decades of Apple device experience to lean on. Learn more with iMore!
Christopher spends most of his time writing and dreaming about all things HomeKit and the Home app. Whether it is installing smart light switches, testing the latest door locks, or automating his households daily routines, Christopher has done it all.