iPhone DIY repair: Ultimate guide to fixing your iPhone 5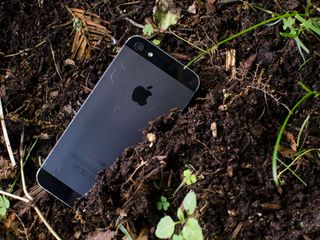 Having issues with your out-of-warranty iPhone 5 and need to know how to fix it? Whether it's a broken screen, bad battery, stuck power button, or something else, almost anything can be fixed with the right tools, parts, instructions, and a little determination. If you think you've got what it takes to tackle an iPhone 5 repair on your own in order to save some cash, iMore can provide you step by step instructions for each repair as well as recommend high quality part and tool suppliers to make sure the job's done right!
How to fix an iPhone 5 smashed screen
Have an iPhone 5 with a busted screen? Broken screens aren't ever covered under the standard AppleCare warranty, and if you didn't opt for AppleCare+, a replacement iPhone 5 can cost a few hundred dollars. However, a replacement screen itself isn't that expensive. And as luck would have it, an iPhone 5 screen replacement only takes a few minutes and is one of the easier repairs to perform, unlike it's predecessor, the iPhone 4s.
How to replace an iPhone 5 battery
The iPhone 5 is going on almost 2 years old and that means the battery is probably starting to show its age. Whether your iPhone 5 is overheating or just isn't holding a charge like it used to, a replacement battery could solve either problem. Another common issue many iPhone 5 users have seen is their phone randomly turning off between 20-40% battery life and not turning back on until it's plugged in. This is a pretty common defect with iPhone 5 batteries and one that is easily solved with a replacement battery. Luckily, this is another super simple repair to perform!
How to fix a stuck or broken power button in an iPhone 5
The power button has been an iPhone pain point since the introduction of the iPhone 4. However, the iPhone 5 seems to be even more prone to faulty power buttons. Apple even issued a power button recall that allows iPhone 5 owners that meet the criteria to send their iPhone 5 off for repair, free of charge. Unfortunately, not everyone that has the issue qualifies. If you're one of those individuals, we can walk you through fixing the issue that causes your power button to become recessed or stop depressing. It isn't one of the easiest repairs to perform, but it's definitely possible!
How to fix a problem Home button on your iPhone 5
Like the power button, Home buttons are another issue for many iPhone owners. After all, it's one of the only 2 buttons that are used regularly. While iPhone 5 owners don't seem as prone to Home button issues as the iPhone 4 and iPhone 4s, it still happens from time to time. Typically symptoms of a bad Home button include double taps registering as single taps, a soft spongy feel, or in extreme instances, the Home button ceases to work at all. if any of those sound like you, replace the Home button cable should have you fixed right up in no time!
How to fix a broken charge port or headphone jack in an iPhone 5
The iPhone 5 introduced the Lightning dock for charging. We no longer have to remember which way to plug our cord in and there are less moving parts to break. However, corrosion from moisture can still happen and parts can still fail. The dock assembly in the iPhone 5 contains both the charge port and the headphone jack. So if you're experience issues with either including your iPhone 5 not charging, no sound playing with headphones plugged in, or intermittent charging, hit the link on a complete guide for replacing the entire assembly.
How to replace the wifi antenna in an iPhone 5
We consume a lot of data on our iPhones and that makes the wifi antenna extremely important. Without it, it's possible to rack up all kinds of carrier charges for data usage. A broken wifi antenna in an iPhone 5 could present in many ways including no wifi signal or the inability to locate any wireless networks and not being able to connect to a network at all. In rare instances, some folks have been able to successfully connect to a network but data never loads. If any of these scenarios sounds like something you're experiencing, a wifi antenna replacement could fix the issue.
How to fix a broken earpiece in an iPhone 5
The earpiece in the iPhone 5 is located on the back of the screen assembly. When you're on a phone call, it's what you listen to callers on, and shouldn't be confused with the loud speaker. If you're experiencing distorted sound or you can't hear people when they talk, you could need a replacement earpiece assembly.
How to fix a blown loud speaker in an iPhone 5
The other part of the sound we hear on an iPhone 5 is contributed to the loud speaker. This is what plays music when headphones aren't plugged in, plays audible alert tones, and broadcasts our callers over speakerphone. Many things can go wrong with the speakerphone included distorted sounds, intermittent sound, and in the most extreme cases, no sound at all. If any of those scenarios are something you're experiencing, you could need a new loud speaker.
How to fix a broken vibrator in your iPhone 5
The vibrator assembly in the iPhone 5 is known to be finicky. In many instances, people that are having hardware issues with the vibrator either find that flipping the switch sometimes doesn't work, or the vibrate get very weak over time. If this happens, the vibrator assembly only takes a few minutes to swap out and you'll be in good working order again.
How to fix the FaceTime camera in an iPhone 5
The front facing, or FaceTime camera, in the iPhone 5 is what we use to take selfies, use FaceTime video, and more. Like any hardware component, it can be prone to failure too. Symptoms of a failing FaceTime camera typically involve lines through the screen, but only with the front facing camera activated, or a black screen when you rotate to use the front camera. In rare instances, random pixelation could occur or the Camera app itself may freeze up when trying to use the FaceTime camera.
How to replace the rear iSight camera in an iPhone 5
The rear iSight camera in the iPhone 5 has been prone to fringing and purple spots on the lens since it debuted. While Apple will certainly swap any defects that are within their warranty period, a replacement camera for out of warranty folks is a much cheaper option. In rare instances, some people also experience flash issues which would require the entire camera assembly to be replaced as well.
Even more iPhone repair guides
Don't have an iPhone 5 but have a different iPhone? We've got those guides too! Whether you're rocking an iPhone 5s or an iPhone 4s, we can help you get any issue you may have in working order again! Just hit the following link for a complete list of all our DIY repair and hardware info!
Master your iPhone in minutes
iMore offers spot-on advice and guidance from our team of experts, with decades of Apple device experience to lean on. Learn more with iMore!
iMore senior editor from 2011 to 2015.