iPhone 5 vs. Samsung Galaxy Note 2: Which one should you get?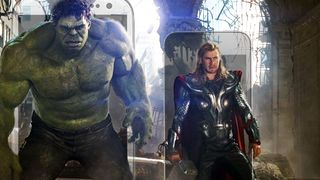 Apple has released the taller, thinner, faster, lighter, brighter iPhone 5 -- and we've got your definitive iPhone 5 review right here -- and now Samsung is bringing their next-generation giant, the Galaxy Note 2 to market.
As much as Samsung has been labeled a "copyist" over the course of the last couple years, the Galaxy Note series has always been a big exception, literally. Due to its size, some have labeled it a "phablet", half phone, half tablet. While it's both of those things, it's also neither. It's really a Wacom-style digitizer put into highly mobile form. And as anyone who's ever used a Wacom knows, it resembles a stylus in shape only.
So what happens when you put Apple's precision up against Samsung's power? The iPhone 5's elegance against the Galaxy Note 2's enormity? Let's take a look.
Samsung Galaxy Note 2: Hardware and software
Android Central is working on a full review now, and we'll add a link to it here as soon as it's live. In the meantime, here are James Richardson's first impressions and hands-on with the Galaxy Note 2.
Apple iPhone 5: Hardware and software
The iPhone 5 has a newly re-designed unibody aluminum chassis to allow for a bigger 4-inch screen in a phone that's 12% smaller by volume. It's taller but not wider, thinner and also lighter. That 4-inch screen also uses in-cell technology to combine the touch sensor right into the LCD. At 1136x640 and 326ppi, it's still backlit LED, and still IPS, and technically the best, most advanced panel on the planet for now. Apple also rolled their own, custom Apple A6 processor this time, based on ARM v7s, for amazing performance and excellent power management. There's still no NFC, but there is CDMA, HSPA, and international LTE.
iOS 6 comes loaded on the iPhone 5, and includes a new, controversial Maps app, some great extensions to Siri, deep Facebook integration, Passbook, and enhancements to FaceTime, Mail, Safari, Photo Stream, and Accessibility. And because Apple makes both the hardware and the software, there's no integration, no added interface layers, and a seamless experience overall.
Apple iPhone 5 vs. Samsung Galaxy Note 2: The bottom line
While the story of the Apple iPhone 5 vs. Samsung Galaxy S3 might remain one of precision vs. power, when it comes to the iPhone 5 vs. the Galaxy Note 2, the elegance vs. enormity line requires deeper inspection. A 5.5-inch phone display is something that fits the needs of a very specific niche -- namely those that want more than a traditional phone -- those who essentially want a mobile notepad.
For this reason, for most people, the iPhone remains the default choice, and the perfect blend of killer design and absolute ease of use. If you don't like something about the iPhone, there are also a bunch of great alternatives to consider, including the Samsung Galaxy S3, HTC One X, or the upcoming Nokia Lumia 920.
The Galaxy Note 2, due to its size and its Wacom technology, is a very, very specific one, and you'll likely know if you need it.
Get the best of iMore in in your inbox, every day!
Rene Ritchie is one of the most respected Apple analysts in the business, reaching a combined audience of over 40 million readers a month. His YouTube channel, Vector, has over 90 thousand subscribers and 14 million views and his podcasts, including Debug, have been downloaded over 20 million times. He also regularly co-hosts MacBreak Weekly for the TWiT network and co-hosted CES Live! and Talk Mobile. Based in Montreal, Rene is a former director of product marketing, web developer, and graphic designer. He's authored several books and appeared on numerous television and radio segments to discuss Apple and the technology industry. When not working, he likes to cook, grapple, and spend time with his friends and family.
Obvious conclusion is obvious. While the spec comparison is interesting, the conclusion itself was obvious from the title. With the possible exception for those who do not know what the Note is build to do.

The only obvious conclusion I see is that if you already decided to get an iPhone 5, this article is perfectly adequate. But, if you are a consumer who is genuinely interested in both but needs an education about the pros and cons of each, this article is pretty darn useless. The pro-Apple bias is also obvious (if know anything about the Note 2) when the article bills the Note 2 as a niche device. If you threw away the stylus and just regarded the Note 2 as a normal smartphone, it is everything the iPhone is plus way more. Bigger, faster, and more capable. Unlike the iPhone, you could actually use the Note on Verizon and surf the Web at 4G speeds while still talking on the phone. Having the digitizer and stylus does not make it a niche product. It takes it outside the box that all the other smartphones are in. The market is not a corner of the box containing all the other smartphones. The market is that whole box plus more! Note (heh): The Note 2 has a bigger screen than the original Note, but the actual phone is NARROWER and thinner. 80.5mm wide versus 83 on the Note, and 9.4mm thick versus 9.65mm on the original Note. It IS 4 mm taller than the original Note, though.

once again Rene makes a shity one faced article...
please stop with this nonsense and change the title to just "buy iphone5" I mean because there is no competition the way you write it.
sign the petition online to get Rene fired!

I love how delusional haters continue to go onto apple-oriented sites and complain about bias towards apple, then proceed to be complete hypocrites and display their ardent anti-apple bias. get a life losers.

Maybe we should have one to get you banned. This is iMore, a site devoted specifically to iOS and says so. If you thought there was going to be any other conclusion than "get the iPhone", then you are delusional. Rene would be as likely to do that as Phil on Androidcentral would recommend getting a Blackberry. If you want device comparisons that even pretends to be unbiased, go read Techcrunch or Gizmodo.

"If you want device comparisons that even pretends to be unbiased, go read Techcrunch or Gizmodo" True. Sadly, that was our point. Thanks for reaffirming it.

No, you missed mine. Do you expect a site devoted to, say, Chevies to say go buy a Dodge?

@walkingsad. I'm putting a petition together to see who gets to beat your ass........takers?

I'm so NOT surprised that you're not volunteering to do it yourself. You need a petition why? Because your mommy can't do it for you right now? *sigh*

Haha, why are you still here? I'm not positive, but I'm pretty sure Jenna Jameson was too busy scissoring your mom last night to start that petition.

You do realize that this is an Apple-centric site, right?

The article is pretty much correct imo. It is a niche phone because half of the smart phone users may not want such a huge device. So the Note 2 caters to power users that need more which "isn't" majority of smart phone users.

The Note 2 is smaller than the original Note. They sold a BUNCH of the original Note. More than a lot of the other, smaller, phones. It does everything those other phones do plus more, and costs roughly the same as other high end smartphones. How is it a niche product?

Note 2 is narrower and taller. Get your facts right

The Note 2 is approximately 4.5mm taller, 2.5mm narrower, and 0.25mm thinner. So, thinner and narrower, but taller. But, most people will hold these phones in Portrait mode, so the thinner and narrower part will be what they feel in their hand. If that doesn't qualify as "smaller" to you, that's fine. Are those facts straight enough for you?

Nope..tell me specs in detail then i will be satisfied.

Well sure bc a majority of smart phone user's are simple minded people who need a simple phone. Can't blame frail simple minded people.

I think this clearly illustrates the other side of the equation... Having had both brands...and previously being an fan of the one in actual fact, i gladly chose this time and will keep choosing the other...the clear winner for all my staff and friends...The Galaxy note 2.... Leap years ahead!

If I want a small tablet with me, I carry a Nexus 7 (and I'll most likely scoop up an iPad Mini). My phone, on the other hand, is something I have with me at all times, has to fit in my pocket, and I must be able to generally operate the core functions with one hand.

I think apple needs to add a iPhone Pro line that are larger. I'm just saying I understand about the whole Thumb thing, but there are people that need something a little larger and don't want to carry even a Ipad Mini just a larger phone.

I defenatly agree u have a point sometimes you. Need something like this!!

i agree as well, i have a 4s and i like the iPhone, but its too small for my huge hand. Unless i have an otterbox or some case on it, the phone is too small, and i like my phones naked.... =(

I love the design of the new Iphone 5 the Lumia has great Screen tech and camera, the only turn off the is the glossy back which the S3 has and is prone to get fingerprints, and that is kind of annoying, and is also thicker, now until Microsoft releases more info on Windows 8 there isnt much to talk about.

Wow. That had nothing to do with the article...

I am shocked by this conclusion. Shocked. Shocked I say!

I think I'll stick with my OG Note for a while. It fits with more than enough room in every pocket on every pair of pants/shorts I own, I barely have to stretch to use it one handed, and it is excellent for YouTube/Netflix, as well as basic browsing/Facebooking. The only time I've ever had an issue with battery life was when I was running a marathon and listening to music on it (still made it back to the charger with 10%). The only downside I've faced is I haven't been able to find any stable Jelly Bean ROMs so far, but I'm happy with the Ice Cream Sandwich ROM I have. And for perspective, I owned a 3rd and 4th Generation iPod Touch before getting an iPhone 4. I used the iPhone 4 for a little over a year before switching carries (I HATED Verizon's customer service). I have absolutely no regrets making the switch. I have enough self esteem not to freak out when someone sees me talking on the phone and says, "My God! What is that thing?" I was even able to find an excellent app to replace the music/video syncing. I'll probably get the Note III when it's released.

it's amazing. I think in my entire life only two people have ever seen me on a phone and commented about it. One was my mother asking if i got a new phone, and the other was a friend that was there when i bought my old phone a slider so when i had a shiny new slab on the table it stood out. but i simply don't end up in coversations about phones in my peer group as much as many people seem to.

Right ... "perfect blend of killer design and absolute ease of use." ... I love conclusions, but I am not sure how much is accurate and impartial. Will have to try the Note2 myself.

The galaxy note 2 has some nice features, apple held off for a long time with a larger screen, LTE and 1 gig of ran on the iPhone, we finally got it after waiting for so long. We get to have the expire some had wanted for years, next year they won't have anything to bargain with. Android is a much more feature rich operating system and its getting more stable and faster with every release, unless apple has something major in store for ios 7 they are going to lose alot of the faithful in 2013.

I wouldn't go as far as saying apple will have nothing to offer for ios7 and so on!! I have owned every iPhone from 3G to the best of them all IPhone 5( my opinion ) and have jailbroken each time. I say and again my opinion apple will start mirroring the best jailbreak features to date and slowly giving them the apple makeover and integrate them more fluently!! Apple already has a cult following and real talk don't need to take customers away from android they just need to keep there true to life followers happy!! That's why they finally gave us a larger display. Speaking for myself I want a bitesms style quick reply on ios7 that minor upgrade would hands down keep me and numerous apple fans calm and collected for years! Just my 2 cents!!!

Rene, have I ever mentioned how much I love that you're a Hulk fan?

Don't see any difference between the GSIII and the Galaxy S Note. They're just trying to rip you off especially since the Note was barely release a year ago and the fact that the ATT Galaxy Note was released less than six months ago.

The difference is the S-Pen functionality, which equates to both hardware (the pen) and software enhancements. While it is very similar to the GS3, the S-Pen sets it pretty far apart and makes it into a different sort of device all together. This, from someone who owns the Note and GS3. The Note 2 also has a better screen and much faster internals than the original Note (which was laggy). Then there is the bigger screen in a smaller form factor. It's actually more of an upgrade than the iPhone 5 was over the iPhone 4s.

With galaxy note 2 samsung has leap frwd than apple. the few features like pop-up window.. s-pen cursor.. s-pen functionality, seriously this phone has kept the new bench marks in mobile industry. n i have to sadly say thou apple is faster, bigger n good looking.. there is no major new feature added in it frm the last iphone. plus the map fiasco has made apple look like a ordinary company. they should sue less n make efforts on makin their products more better.

I just got my iphone5 and pit it against the Galaxy Note 1 that I rented from gizmotakeout for 20 $ or so. The Note 1 is big in my big hands, but I think I can like it. The iphone 5 feels better ie more comfortable, but I recommend everyone check out the bigger screen Note. It is VERY good.
I think the Note 2 is smaller. I will definitely check out the Note 2 also from gizmotakeout when available.

What a strange review. Nobody that is looking at the Note is going to consider the iPhone, the smallest smartphone on the market.

@wizzy....nice take bro, bit you got it wrong. Bear selling smartphone. PERIOD!

To much cum in your little brain to speak proper English. Lol mad.

i'm sure somebody will cause somebody does everything. I won't though.

Okay, can somebody reply to my message that speak English as a FIRST language?

I am evaluating a Note vs an iPhone 5. I don't think I fit the article's described user for the Note. Background:
*iPhone user for past 2 years – primarily phone and text. Very pleased with iPhone.
*Wife and son both have iPhones
*age 50 (male) and wear reading glasses - I want a larger easier to read screen
*Sales of advertising with strong focus on internet marketing – use a dell notebook/tablet for work
*I am a geek from way back, but I prefer things to work first, dinkability second Was going to get the iphone 5 with new larger screen but was disappointed by the new "larger" screen. I am not a big fan of the stretched out 16:9 format. (And yes I do know the Note 2 moves to a 16:9 that is longer with less resolution) I have been intrigued by the Note and played around with it at the ATT store several times. I liked the larger "tablet like" phone but was not sure I could live with it day to day based on the size. So before buying a phone on my contract I bought a used Note to try for a couple months to help with decision. Here are my thoughts after 3 weeks of use:
*I use the Note for email, browsing and reading documents attached to email. The 3.5" screen on the iphone was too small for me to do those comfortably.
*I can see the phone, messages and contact screens without reading glasses
*When people comment on the phone (often), I will show the cool s pen. I don't use it much on a regular basis. Not using the s pen does not make the Note less of a choice.
*I don't care for having to use iTunes to move files, music and video to and from my phone. I much prefer just using windows explorer to manage files on my phone
*I expanded the storage on the Note by 32gb for $28. Support for an microSD card is a definite plus.
*Note is cumbersome to use as a phone. It's just big. Can use single handed but not easily.
*Note is cumbersome to carry around. I am worried I'll break it when carrying it in my pocket. I got a belt holster last week and that goes a long way to addressing this concern.
*I find ios/iPhone easier to use. But there is a learning curve here as I am new to Android. It gets better every day.
*I REALLY MISS being able to drop my iPhone is my speaker/charging dock. So simple to charge and play music. I spend half my time with overnight travel and my Skullcandy pipe is the perfect companion.
**I have SERIOUS concerns about security and privacy on Android. Every app I install from the Play Store requires permission to access my entire usage of my phone; me, my contacts, my browsing history, my phone logs, ... This is just too much and I don't trust Google capturing all that info. No decision yet. These phones are so different it seems hard to imagine a comparison/choice between them, but I think more people may consider them as options. I do feel it would be hard to give up the bigger screen. I do prefer the smaller device for phone use only. I don't think I want a phone and a tablet to carry around. I believe the market for the Note is much bigger than this article suggested. The s pen is a beautiful addition but using it is not a necessity to like the Note. Another month and I'll be able to pick up a Note 2 or the iPhone 5. I think it's going to be a tough choice.

After a month and a half I can say that it would be very difficult to go back to the iPhone. Nothing wrong with the iPhone. I just really like having a mini-tablet that comes along with my big phone. I now read my email from my phone, not my laptop. I use the phone for light browsing internet. Even watched a couple of movies via Netflix. Gotten use to the size and while still noticeably large the benefits are worth it. Now the delima over moving to the Note 2. All around it is spec-ed out better, but I like my 800 resolution and don't want to drop to 720. I have played around with the 2 and it does have a more comfortable feel in my hand. Will eventually move that way but happy enough with the Note 1 that I am not in the hurry I thought I would be. The Note and iPhone are very different but I can see it being reasonable to bring you choice of a new phone down to a Note 2 vs iPhone 5. It will be a personal preference not based on specs winning out.

I agreed with you completely. I was using the iphone since the beginning and there is apprehension to move to Android device like Note 2. But to my surprise, the transition is easy. Jelly Bean is much easy to adapt than I thought and the Note 2 just blow my iphone 4s away. I can understand that Android before v4.1.1 is inferior to iOS but with the new Jelly Bean, it is way ahead of it. The Note 2 takes Asia by storm and we have smaller hand than you guys. The keyboard with swype is great. Any email, sms, articles can be configured to be read by the amazing text to speech app than are not available in iOS. You can automate your phone such that wifi is on when you reach home/office and auto shut-off the data plan. Reading on the phone is so much easier. If you use your phone less on voice and more on sms, email, reading, video, music etc, Note 2 is definitely the choice. Map is big and make navigation so easy, clear and easy on the eyes. Unless Apple come down from its high horse and improve its os and product, I won't go back to it again.
Having said that iPad is still superior than any Android tablet because of a lack of apps. However, for phone, Android app is just as good as those available in iOS and in many ways. much better.

The iPhone 5 is only the "default choice" for people who want an iPhone and are willing to live with a sub standard maps program and pretty useless Siri virtual assistant. I've held the original note in my hand and it both fits perfectly in my hand and the bigger screen is much easier on the eyes. That, a bigger battery than the iPhone 5, and the fact that it has Google maps, which obviously destroys Apple maps in functionality. If the Note 2 comes to Sprint, that may be my next phone. As the iPhone 5S is likely going to be Apple's next iPhone 4 rehash, I'm not going down the iPhone 4 design road again.

Yeah, Apple dropped the ball on Maps, but IMO it's blown way out of proportion. You can still use Google Maps via the web, or install an actual navigation program from Garmin/Navigon, TomTom, or any of the dozens of others in the App Store, which has been my plan for when I get an iPhone since before the Maps fiasco. I have no comment on Siri as I've never even seen it "live", and how you feel about Siri is how I feel about the similar function on the Droids. There are reasons other than navigation to get a particular phone. I'm planning on switching back to an iPhone because in the past four years, I have completely failed to find a suitable replacement for iTunes that syncs live updating smart playlists to my device, as well as other media, as iTunes does with iDevices. And the last few times I've tried to sync iTunes to my Droid, the intermediary software has corrupted my microSD card to the point I had to throw them away as I couldn't even format them.

Hey man, if iTunes is your thing and that's your reason for wanting an iPhone, couldn't you accomplish your iTunes thing with an iPod Touch? My issues with the tiny screen of my 4S, the decreased battery life after the iOS6 update, and Apple touting Apple Maps as the second coming, when it turned out to be utter crap, can't be solved with iTunes. Removing a working fully functional program from MY PHONE without MY CONSENT, is a problem for me. I never gave APPLE permission to remove ANYTHING from my Phone. I don't see Google doing that. I'd like the choice to run whatever programs work for me on MY PHONE, versus having a great map program replaced with a piece of crap map program that Apple's first response to it's crappiness was "It will get better if you use it more". REALLY Apple? THAT'S UTTER BS. Cook had to FINALLY apologize to the public because he can't get his media yes men to sing the "party line" on the maps issue.

I already have one (3rd gen). Plus a phone. I want to get rid of one of them so I have less stuff to carry with me. If you know of a way to manage my music and sync my media to a Droid as well as iTunes to an iDevice, please tell me. I've been looking for YEARS. As for Maps, you are aware that you can use Google Maps in your web browser, right? And that Google is going to release an iOS maps app?

I was using Mapquest before iOS 6 and I still use it, so having another map program to use or even using Google Maps from Safari isn't my issue. This is MY PHONE and Apple chose to REMOVE something from MY PHONE, which I OWN. It doesn't belong to them. And Eric Schmidt publicly said this week that Google is NOT working on an iOS 6 Maps program. Google has no incentive to do so. It's in APPLE's best interest for that to happen and therefore, it won't. As for your issue, the only solution that will work with iTunes is an iPhone. Get what works for you. I'll get what works for me, but it my case, it isn't going to be an iPhone 5 or iPhone 5S.

WTH does this nonsense have to do with the article you posted it in? Are there any moderators on this site???

Seriously Rene. These interlopers aren't even discussing anything related to the article. This is spam. You DO have policies here against Spam, don't you? Where's Georgia when we need a virtual bouncer. :-)

Do you run to mommy when someone says something you don't like vagina? Lolol don't get mad about other peoples opinions. Sorry you and your keyboard are powerless in this world :]

Read latest review about samsung galaxy note II here http://www.techviral.com/gadgets/samsung-galaxy-note-2-review/ it covers all the main features of note II and also software and hardware specification.

I have used both phones and am getting tired of the same old iPhone shit. It never changes, if anything it got worse. Cheap painted aluminium that dents really easily. Keyboard flickers. I now have a galaxy note 2 and this phone is far superior to the icrap. Also Rene you are deluded ifyou think apple are selling more. Samsung have been outselling apple for months now and the increase in sales is due to apple fans buying Samsung because we are getting tired of Apple's same old bullshit phones that don't do anymore than there first phone.

I have a galaxy note and I love it! Love the big screen. Very fast. Crisp vibrant colours. Excellent camera and webcam. My best phone so far.
Thank you for signing up to iMore. You will receive a verification email shortly.
There was a problem. Please refresh the page and try again.