iPhone 5S event preview: How Apple will attempt to brighten our day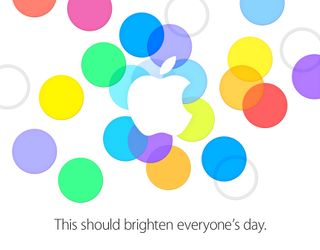 On September 10, at 10am Pacific Time, Apple will hold their first major product event since October of 2012, and only their second event of 2013, following the developer-centric WWDC Keynote. That's compared to countless Samsung, HTC, LG, Sony, Motorola, Nokia, BlackBerry, and Facebook events. It's also in stark contrast to previous years, where Apple had the Macworld keynote, and later had the spring iPad event to keep the flow of new products more evenly spaced. That doesn't mean we'll get everything this month, however. Far from it. The "This should brighten everyone's day" event is being held in Apple's small Town Hall venue in Cupertino, and looks to be incredibly focused. For the first time ever, Apple seems poised to not only introduces the new flagship iPhone 5s, but a second, less-expensive iPhone 5c as well. iOS 7. Could there be anything else? Could there be iPods or iPads or Macs... or one more thing? We'll be doing complete coverage on our amazing new iPhone event page, but here's a quick roundup of what we expect - and don't expect - to see!
So, yeah - SPOILERS!
iPhone 5s and iPhone 5c event preview podcast
Rene and Peter, joined by Mark Gurman of 9to5mac, round-up all the rumors surrounding Apple's upcoming iPhone 5s and iPhone 5c event including design, chipsets, radios, cameras, fingerprint sensors, pricing, and more! If you don't want to read, you can watch or listen.
Intro
Apple's CEO, Tim Cook, has been kicking off all of the events since he took the reigns of the company, and that's unlikely to change. He'll come out, give us an update on Apple in general, and throw some - likely very big - numbers at us, including Apple Retail. He'll also reiterate Apple's culture and corporate values. Made by Apple in California was the signature at WWDC. Whether they stick with that or evolve it, the focus on making great, meaningful products should be as loud and clear as ever.
Once done, Cook will hand off to the executive team, and the fun will begin.
iOS 7 recap
Craig Federighi, senior vice president of software, will almost certainly handle the heavy lifting when it comes to recapitulating the iOS 7 presentation from WWDC back in June, likely with the same assist from senior vice president of internet services, Eddy Cue. In succession, they'll go over the new design language, and the new tent-poll features: Control Center, Notification Center, Multitasking, Camera, Photos, AirDrop, Safari, iTunes Radio, and Siri. Any new, previously undisclosed features won't get announced during this segment, however. Those will be shown off with the new hardware.
Given how hard everyone at Apple is working on getting iOS 7 ready, it's difficult to imagine they've had any time left over for new stand-alone apps or significant updates. If any are in the pipeline, they may have to wait until the next event. Any re-designs that help show off iOS 7 on the iPhone, however, like the new iBooks, could get some time in the spotlight.
The iOS 7 gold master (GM) candidate for developers will likely be announced as available later the same day. We should also get the date general availability (GA). If past years are any indicator, the GA date will be on or around September 18. Whether Federighi announces that, or Cook picks it up during the transition or summation is a matter of how they think the event will best flow.
The biggest wildcard is whether or not Apple releases both the iPhone and the iPad version of iOS 7 at the same time. They did that last year for iOS 6, but given that the iOS 7 for iPad beta came out later than the iOS 7 for iPhone beta, it's possible Apple might choose to focus on iPhone right now, and then switch to focusing on iPad for October.
iPhone 5s and iPhone 5c
Tim Cook might update us on the iPhone business, including the new trade-in program, but the torch will pass to Phil Schiller, senior vice president of worldwide marketing, to tell us more. For the last few keynotes, Schiller's taken to the main stage and knocked new product announcement after new product announcement out of the park. He'll do the same this year. It's where he's come to live. For dramatic effect, we'll probably see the iPhone 5s first, since it's the better known quantity.
After summarizing everything we already know and love about the iPhone 5 platform, Schiller will dive into what's new. That'll include the Apple A7 chipset and any specific benefits it offers. (Oh, my kingdom for a dedicated, on-board Siri parser!) Power efficiency might get some attention. It certainly did for the Haswell MacBook Air back at WWDC. Anything else that's gotten a boost, including audio, improved LTE, etc. will get its fair share of time as well.
Photography will probably get special emphasis, like it has for the last few years. That includes whatever is going on with the Apple A7 image signal processor (ISP), as well as more front-facing features like the rumors 120fps video recording.
Then it should be fingerprint scanner time.
During S-variant years, there's usually a big, exclusive feature to make the similar looking iPhone seem experientially all new. That was Siri's job in 2011. It'll most likely be the fingerprint reader in 2013. It'll make for a great demo, and a great commercial.
Tim Cook may or may not come back out to explain the business thinking behind the iPhone 5c, but Schiller will likely tell us all about the less expensive iPhone. Since it won't have any new features aside from the colorful plastic shells, that'll be what gets shown off.
We'll get pricing for the iPhone 5s, which will hopefully include a new 128GB version, and availability, including a date for initially launch countries and later rollouts. We'll also get the new color options, which should include at least pale gold, and the off change of steel gray. If Apple holds to pattern, the ship date for the iPhone 5s should be Friday, September 20. Apple doesn't always hold to pattern.
Pricing and availability for the iPhone 5c, however, will be far more interesting. That's because it has very little historical precedent. Both the iPod and the iPad have had less expensive variants announced, but neither had carriers to factor in.
A video with Jony Ive, though probably not Bob Mansfield, will sum everything up, give us a peek behind the scenes at manufacturing and design, and show off all the new features.
Although many would love it, the odds of a surprise, big screen iPhone 6 announcement seem like they're infinity to one at this point. Check back next year.
New iPods + iTunes
Last year Apple's September event felt like two events in one - the iPhone 5 introduction followed immediately by the traditional fall iPod + iTunes event. This year there's been little to nothing suggesting new iPods or major new iTunes versions are on the way.
If Apple shows off new iPods at all, it might just be with refreshed, iPhone 5c-like colors. If iPod touch goes to 128GB, maybe that could get a mention. Given how the iPods have been selling lately, however, it's not impossible to imagine them getting folded into a single slide, or out of the event and into a press release one day.
iTunes featuring iTunes Radio could get some time. Hopefully, like iWork, Apple will one day launch the iTunes media side into the cloud, leaving only device management on the local machine, but that could still be a ways off. There'll be a new version to support iOS 7, but how big a new version, and whether or not it gets any attention is another story.
New iPads + media partnerships
Apple is working on new iPads, of course. Back in January iMore learned the iPad 5 would be lighter and look more like an iPad mini. We also learned they were working on a Retina iPad mini. The problem is, until recently, physics and economics meant Apple could have thin/small/light, Retina, or battery life, but only 2 of the 3. For the iPad 4, they had Retina and battery life. For the iPad mini, lightness and battery life. (No one wants an iPad with bad battery life, certainly not Apple.) That was then, this is now...
...But not right now. Last year Apple did iPhones in September and iPads in October. This year, they'll likely do the same.
New Macs + New displays + Mavericks
Apple is also working on new Macs. The new Mac Pro has already been previewed, and the new Haswell MacBook Air has already been released. What we're waiting on now is the Mac Pro release date, the OS X Mavericks release date, and any sign of Haswell-updated MacBook Pros, Mac minis, and iMacs.
For the last couple of years Apple has released new versions of OS X after the company's quarterly financial release. That would mean October is the next window. Last year Apple bundled new iMacs and the 13-inch Retina Mac Pro with the iPad event, also in October. Haswell spec bumps in and over themselves might not be big enough to warrant anything more than a press release, howevdr.
If Apple brings out a new Thunderbolt2 Display to go with those new Macs, then that seems much more likely to get a mention. Typically Apple puts new panels in iMacs first, then when they've gotten sufficient stock, pushes them out to the cinema display line. The Thunderbolt display didn't get the thinner iMac-style packaging, however, so maybe they're due? Retina would be interesting, so would 4K (UHD, aka 2160p).
Last time, Apple television rumors turned out to be the 27-inch iMac. This time, they could turn out to be a 4K display. If it happens though, it doesn't seem likely it'll be at this event. Mac might once again join the iPad in October.
All the more things
There are rumors of an Apple TV refresh. It'll be getting iOS 7, just like it gets the new version of iOS every year (even though Apple insists on masking it behind a second, more confusing variant version number). Whether that comes with a similar visual redesign as iPhone and iPad is unknown and by no means necessary at this point. The long-in-gestation Apple TV SDK still seems to be gestating while new channel partnerships keep getting announced. Such a mythical SDK would require new, less constrained hardware, however, so if all we get is a software update, or an update to the latest chipsets, it probably means it's be gestating yet longer still. If Apple does take Apple TV to the next level, that feels like it'd deserve more time on a bigger stage, and also not for September.
Apple's iWatch project seems well under way, but for 2014 rather than 2013. Everyone wants Apple to dent the universe again, yet no one wants them to rush out bad products.
And the television seems further out than the band.
And... wrap
Tim Cook will return to sum up all the announcements, cap off any missing release dates, and remind us all again what making great products means to Apple. We might get a musical number, if September retains any of its musical meaning for Apple. Then we'll fade to black and wait for Apple.com and the Apple Online Store to update...
iMore will be covering it all, so make sure you join us on our special iPhone event page
Get more iMore in your inbox!
Our news, reviews, opinions, and easy to follow guides can turn any iPhone owner into an Apple aficionado
Rene Ritchie is one of the most respected Apple analysts in the business, reaching a combined audience of over 40 million readers a month. His YouTube channel, Vector, has over 90 thousand subscribers and 14 million views and his podcasts, including Debug, have been downloaded over 20 million times. He also regularly co-hosts MacBreak Weekly for the TWiT network and co-hosted CES Live! and Talk Mobile. Based in Montreal, Rene is a former director of product marketing, web developer, and graphic designer. He's authored several books and appeared on numerous television and radio segments to discuss Apple and the technology industry. When not working, he likes to cook, grapple, and spend time with his friends and family.