iPhone 6 vs Galaxy S5 vs HTC One M8: Camera shootout!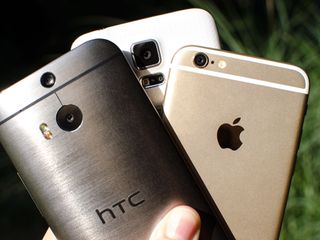 The iPhone 6 features the same 8 megapixel, 1.5 micron, f/2.2 iSight camera as its predecessor, the iPhone 5s. However, both the iPhone 6 and iPhone 6 Plus feature an all new sensor that includes focus pixels, and an all new image signal processor (ISP) thanks to the Apple A8 chipset. So in traditional fashion, I stacked the iPhone 6 camera up against two of the hottest Android phones on the market, the Samsung Galaxy S5 and the HTC One M8. From low light to HDR and back again, here's all the samples you need to see before deciding which smartphone camera you want in your pocket next!
iPhone 6 Plus vs. Nokia Lumia 1520 camera shootout
iPhone 6 vs Galaxy S5 vs M8: Specifications
Swipe to scroll horizontally
| Header Cell - Column 0 | Apple iPhone 6 | Samsung Galaxy S5 | HTC One M8 |
| --- | --- | --- | --- |
| Row 0 - Cell 0 | Row 0 - Cell 1 | Row 0 - Cell 2 | Row 0 - Cell 3 |
| Megapixels | 8MP | 16MP | 4MP |
| Resolution | 3264 x 2248 | 5312 x 2988 | 2688 x 1520 |
| Sensor Size | 1/3-inch | 1/2.6-inch | 1/3-inch |
| Pixel Size | 1.5µm | 1.12µm | 2.0µm |
| Aperture | ƒ/2.2 | ƒ/2.2 | ƒ/2.0 |
| Flash | Dual-LED | LED | Dual-LED |
| Front camera | 1.2MP | 2.1MP | 5MP |
iPhone 6 vs Galaxy S5 vs M8: Consistency
In order to keep these tests consistent across the board, I let all the software behind them do the work whenever possible. That means using only the vendor-provided, default camera app for each phone. If I had to tap to focus, like for macro shots, I tapped in the same area on each phone. Aside from that, I let each phone decide what settings to use.
Note: You can right click on any of the samples in a desktop web browser in order to view a larger side by side comparison of each set. Towards the bottom of the article there are also 100% crop samples for you to view and can be enlarged as well.
Everyday and HDR shots
From left to right: Galaxy S5, iPhone 6, HTC One M8
The first thing I noticed when viewing the above samples side by side is that all three devices perceive color differently. The HTC One M8 always seems to oversaturate colors to my eyes, particularly blues. In many photo samples that I took of the sky, the M8 showed it to be a teal color that just wasn't there, and that bothered me. The Samsung Galaxy S5 and the iPhone 6 did a much better job portraying the actual colors that were in front of me. In most of my samples, the S5 produced cooler images while the M8 leaned towards the warmer end of the spectrum. The iPhone 6 always seemed to fall in the middle and balanced whites better.
In very bright light, the Samsung Galaxy S5 and HTC One M8 both struggled to not blow out images. You can clearly see this in the photo with sunlight directly in front of me and of the road with trees on both sides. Both the M8 and S5 experienced lens flare to some extent while the iPhone 6 did a great job balancing the entire scene.
Winner: iPhone 6
Macro shots
From left to right: Galaxy S5, iPhone 6, HTC One M8
While shooting macros with the iPhone 6, I never felt as if I could crop in as close as I could with the S5 or M8. I always lost focus before I got to that point. I was almost certain that meant they'd produce better macro shots. However, after uploading them to the computer, I found that all three did a decent job but the M8 seemed to focus on smaller areas and blur the rest faster. The Galaxy S5 did a good job and managed to stay sharp 99% of the time. The iPhone 6's lack of letting me move in as close wasn't for no reason. I found that it consistently produced sharper images and has a larger field of view without creating a bokeh effect at the outlying portions of the image. And in case you were wondering, that almond croissant was delicious, thank you for asking.
However, the iPhone 6 and Galaxy S5 seem to be able to hold focus over a larger area than the M8 when at close range.
Tie: Galaxy S5 and iPhone 6
Zoom shots
From left to right: Galaxy S5, iPhone 6, HTC One M8
I've never been a fan of digital zoom in smartphones because, well because it's not optical and it almost always sucks. Don't expect that to change here. In each of the samples above, I zoomed in as far as each camera let me. And as you can tell, it's very obvious. My solution to digital zoom graininess it just don't use it. Move closer to your subject if at all possible or crop later. And if that's not an option, just set your expectations properly and use the zoom as sparingly as possible.
Winner: None of the above, digital zoom sucks
Low light shots
From left to right: Galaxy S5, iPhone 6, HTC One M8
Looking at the samples above, the first thing you should notice is that the Samsung Galaxy S5 quickly drops off in terms of balance. In the photos of the boat dock and lighthouse, you can see the iPhone 6 and HTC One M8 shots are consistently brighter. While the S5 shot isn't terrible, it's definitely darker than the other two. Sometimes I'd get lucky and the S5 was on par with the other 2 but more often than not, it produced much darker and grainier images.
Low light is also where I found the Galaxy S5 camera to be the perfect example of why more megapixels and a higher resolution does not always equal better photos. As you can see from the specification chart above, the M8 and iPhone 6 have larger pixels than the S5, and it really shows in low light scenarios. The M8 has the lowest maximum resolution of the bunch yet still manages to smoke the S5 in terms of low light photography. The iPhone 6 also holds its own and in my experience, may not produce as bright of images as the M8 in low light, but manages to be much more consistent across varying scenarios. For instance, the M8 struggles when any kind of lighting is presented, as evident by the basket on the fence. So for most people, most of the time, the iPhone 6's consistency will serve you better.
Winner: iPhone 6
Flash photography
From left to right: Galaxy S5, iPhone 6, HTC One M8
I found the HTC One M8 consistently cast a yellowish hue on subjects when the flash was used, which is odd since it has a dual-LED flash similar to what is found in the iPhone 6. The Galaxy S5 produced much cooler images than both, but I still felt they were more balanced than the M8.
The iPhone 6 did the best job at producing a natural light that wasn't too intense or blown out. And again, it was much more consistent than the other two, which many users will appreciate.
Winner: iPhone 6
Motion shots
From left to right: Galaxy S5, iPhone 6, HTC One M8
I had no issue with motion shots in broad daylight. In both of the photos above, it was rather windy. I only gave each camera one shot to capture the flag and grass blades blowing. The iPhone 6 did a better job consistently balancing the scene as a whole, which seemed to be a pattern throughout many of my tests.
In lower light scenarios, your mileage will vary depending on what you're photographing. If the subject is still and the lights are low, you'll most likely be fine. However, if you're combining motion and low light, things could get a little hairy no matter what device you're using since it comes at the price of either leaving the shutter open longer or using an insanely high ISO, which means more noise.
Winner: iPhone 6
Panoramic shots
From left to right: Galaxy S5, iPhone 6, HTC One M8
In the above panoramas, I wasn't happy with the way the Galaxy S5 completely blew out the sky in the first photo. The M8 does a sort of live stitching process that allows you to take individual images and then the software stitches them. While it kept things balanced, I again wasn't happy with the hues it settles on when it comes to blues. Again, the sky looks teal and as much as I like the idea of a teal sky, that's not what's in front of me.
The iPhone 6 uses the same panoramic capture method as the S5 and as its predecessors. It's one place you can really tell that Apple blows the competition out of the water when it comes to image signal processing and raw power. Not only are both iPhone 6 panoramas more pleasant, they are the most accurate representation of what was actually in front of me.
Winner: iPhone 6
Selfies!
From left to right: Galaxy S5, iPhone 6, HTC One M8
I don't use the front-facing camera on my iPhone very often but when I do, it's for selfies. Yeah, I just went there. As you can tell, all three cameras do an acceptable job but pay attention to the background. In both samples, the iPhone 6 was able to balance the image while the M8 and S5 both wash out everything behind the subjects.
Winner: iPhone 6
100% crop samples
From left to right: Galaxy S5, iPhone 6, HTC One M8
The above samples are pieces of some of the images I used in this comparison, but at 100% resolution. As you can see, the S5 may have a higher megapixel and resolution count but at its max, it isn't anything to brag about. And in most cases, it's actually worse than its competitors. The HTC One M8 has bigger pixels than the iPhone 6 but the same size sensor. So keep in mind that even though some of the M8 samples look better and less grainy, they're also at a much smaller resolution than the iPhone 6. If I were to scale the iPhone 6 samples back, you'd most likely see less grain than the M8.
There's nothing to judge here but it should give you an idea of what you can expect at full resolution for each camera, across the board.
iPhone 6 vs Galaxy S5 vs M8: The bottom line
Smartphone cameras are getting better and the software driving them is getting smarter. While the iPhone 6 may not have received a bump in specs, there are definite improvements under the hood that should make a huge difference in how your images turn out, and in meaningful ways.
Apple is currently striking the right balance between megapixels and pixel size, between quality of lens and power of image signal processor. They don't have the biggest glass, but they have the best chipset, and now that they offer manual camera controls for third party apps, I'm running out of reasons not to recommend the iPhone camera to anyone or everyone.
As of today, if you want to take great photos with your phone, the iPhone 6 is your best bet.
iPhone 6 Plus vs. Nokia Lumia 1520 camera shootout
Master your iPhone in minutes
iMore offers spot-on advice and guidance from our team of experts, with decades of Apple device experience to lean on. Learn more with iMore!
iMore senior editor from 2011 to 2015.