iPhone 6 vs. iPhone 6 Plus camera shootout!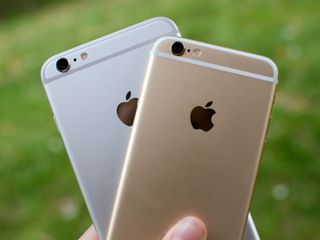 The iPhone 6 and iPhone 6 Plus are almost identical in every single way, with only a few exceptions. While both models got an updated sensor, iPhone 6 Plus also features optical image stabilization, or OIS for short. The iPhone 6 does not feature OIS. So the question becomes, does it really make that big of a difference? And more importantly, should it affect your purchasing decision if you take a lot of photo and video on your iPhone? That's exactly what we're going to find out!
iPhone 6 vs iPhone 6 Plus: Camera specifications
The iPhone 6 and iPhone 6 Plus both feature a 5 element lens with an updated 8 megapixel iSight camera with 1.5µ pixels and an f/2.2 aperture. Other features of both cameras include a True Tone flash, backside illumination, and more. The only difference between the two is that the iPhone 6 Plus features optical image stabilization (OIS) while its smaller counterpart does not.
Many readers are asking themselves whether or not that matters, and even more important, why it matters. For those that don't know, optical image stabilization allows the lens to "float" in order to counter-balance things like your hand shaking. For instance, if you take a photo while walking, OIS should compensate for your movement and still produce an image that doesn't contain motion blur, the same theory should apply when recording video.
Theoretically OIS could also offer an advantage in low light settings by allowing the shutter to stay open slightly longer without experiencing motion blur. Whether or not Apple took advantage of this on the software side is something I was interested in finding out.
iPhone 6 vs iPhone 6 Plus: Consistency and environment
In most photo comparisons, I take a good amount of photos in several different categories. I'm not taking the same approach here simply because the iPhone 6 and iPhone 6 Plus have the exact same camera with the exception of OIS. That being said, I focused solely on scenarios where I felt the OIS in the 6 Plus could produce better, if not more consistent images. When it comes to everyday photos, you can expect the same great results from both the iPhone 6 and iPhone 6 Plus.
As for testing the cameras, I let the software behind them do all the heavy lifting. I left the flash off on both and kept HDR set to auto. For most images, I let the camera choose focus points and if I did have to tap to focus, I tapped in the same area on both cameras to keep it consistent. Nothing else settings wise was changed on either device.
Note: You can right click on any set of images below in a computer browser and choose Open image in new tab to view a larger version.
iPhone 6 vs iPhone 6 Plus: Low light and motion blur
From left to right: iPhone 6, iPhone 6 Plus
When taking low light photos, optical image stabilization should allow the shutter to stay open longer in order for the sensor to gather more light. This means low light photos with OIS should be brighter without coming at the expense of motion blur. From the samples above, both the iPhone 6 and iPhone 6 Plus do a decent job with low light. I don't think I'd be out of line to say that the new sensor does a better job than its predecessor, which was found in the iPhone 5s.
All of the above photos were taken either at dusk, after dusk, or in common indoor and outdoor settings where noise and motion blur often present themselves. In well lit situations, and even at dusk, I did not have problems with motion blur with either device, even when I had to move my hand or body slightly in order to snap an action shot.
While both the iPhone 6 and iPhone 6 Plus did a decent job in low light, there are a few obvious photos where the iPhone 6 Plus does slightly better. In particular, notice how the iPhone 6 photos of the boat docks at night are noisier than the iPhone 6 Plus shots, particularly in the skyline. The photo of the lighthouse museum sign is also a good example where text seemed sharper and brighter, if only slightly, in the iPhone 6 Plus sample. The photo of the candle is another example of how the iPhone 6 Plus did a better job at reducing noise. Interestingly enough, both cameras had almost the exact same lens flare issue in that photo.
Both cameras did great but the iPhone 6 Plus seems to do a better job of reducing noise in low light photos.
Winner: iPhone 6 Plus.
iPhone 6 vs iPhone 6 Plus: Panorama samples
Top to bottom: iPhone 6, iPhone 6 Plus
I decided to take a couple panoramas with both the iPhone 6 and iPhone 6 Plus because I've never been the greatest at this without experiencing some level of shake. As you can see above, both cameras performed wonderfully. I see very little difference in any of the images that would make me choose one camera over the other. A lot of this can be attributed to the software behind both cameras. My iPhone 5s did a wonderful job stitching together panos and you can expect the same great experience on the 6 and 6 Plus.
Winner: Tie.
iPhone 6 vs iPhone 6 Plus: Video samples
Video is where I really expected the iPhone 6 Plus to fare much better than the iPhone 6. Surprisingly, both were about even in most of my tests. You may come across extreme circumstances where OIS may save the day but Apple's on-board image signal processing (ISP) does a fabulous job to begin with and that seems to be the case with the iPhone 6 as well. In a few of the video tests, you can tell the 6 Plus did slightly better, but I definitely wouldn't hinge a purchasing decision on it.
Winner: iPhone 6 Plus, but by a very small margin.
iPhone 6 vs iPhone 6 Plus: The bottom line
The iPhone 6 and iPhone 6 Plus both have fantastic cameras. The iPhone 6 Plus does slightly better in low light situations due to the OIS allowing the shutter to stay open for longer but the difference in many cases will be negligible and unless you're comparing side by side, you'll be happy with the photos off each of these devices. Apple has always done a fantastic job with it comes to the software behind the iSight camera. Keep in mind that even though the iPhone 6 doesn't have OIS, it does have auto image stabilization by way of software, and it does a pretty fantastic job.
Ultimately, the iPhone 6 and iPhone 6 Plus are so close in quality, it's not worth hinging your purchase decision on camera merits alone. Buy the device that best suits your personal needs as a whole. If you like the smaller form factor of the iPhone 6, buy it and don't look back. If you want a larger phone, the OIS is an added bonus, but nothing more. Both produce stellar images that you'll be happy with for years to come.
If you still need help deciding which device you should purchase, check out our buyers guide via the link below!
See also:
Get more iMore in your inbox!
Our news, reviews, opinions, and easy to follow guides can turn any iPhone owner into an Apple aficionado
iMore senior editor from 2011 to 2015.