iPhone 7 may come in a dark blue color option instead of Space Gray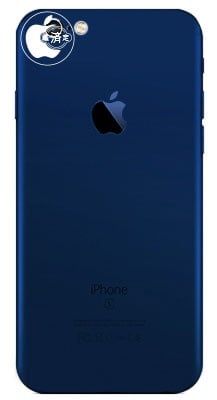 It looks like Apple may ditch the Space Gray color variant of the iPhone 7, instead offering a deep blue color option. That's according to Japanese blog Macotakara, which posted an alleged render of the upcoming iPhone in blue.
The publication notes that the blue color option will be offered alongside Rose Gold, Silver, and Gold variants. Given that the Space Gray variant is usually one of the first to sell out at stores, it is highly unlikely that Apple would discontinue the color option.
The report goes on to say that Apple will stick with the same LCD glass surface as the current iPhone. With the company rumored to make the switch to OLED next year, we could see the same display tech used in the iPhone 6s make its way to this year's iPhone.
Get the best of iMore in in your inbox, every day!
The clumsiest man in tech.
I like the idea of a dark blue version. Instead if replacing space gray with dark blue would be nice if they replaced it with a space black model and added the dark blue model. I would definitely go for a black on black iPhone. Sent from the iMore App

That's fine, but black has to stay as an option.

Yes I want space black iPhone Sent from the iMore App

I don't think dark blue would go well with either white or black front glass. Sent from the iMore App

Simple- have a dark blue front glass!

Don't get me wrong, the more options the better. For me though dark blue is not a colour I'd go for either for the casing or the front glass. Sent from the iMore App

So does that mean they'll release iPads, MacBooks and MuddyBass Inc headphones in matching dark blue as well? Meh, whatever. I just hope they retain at least one model with a black front panel. I can't stand iPhones with the glossy white front that resembles cheap bathroom ceramic.

Ya I don't like the white front either Sent from the iMore App

Is it just me or does anyone else seem to notice those amazingly crips screens on those galaxies? Apple won't get out of bed with 1080p lcd will they. Apple its 2016 just in case you forgot. But for profits? Sure I would stay on that 1080p lcd for good! I mean Who wants a better display anyways...... Sent from the iMore App

One of Apple's primary concerns has always been longevity. Note that the 4s can still run ios9 just fine. No android phone from that same year can run the latest android os, even if it was still being supported. Heck, no android phone that old would still be functioning! Current OLEDs degrade over just a few years. When Apple licks that problem, you will see it on their devices. Sent from the iMore App

I don't care if they add another color option, but KEEP SPACE GRAY!!!!!!!!!!!!!!!!!!!!!!!!!

Space gray or Space Black. They need one of them. There's no way this rumor is true.

So Apple has been very successful without asking my opinion, however here it goes. BIG MISTAKE. If they want a blue add it but don't take away Space Gray. I have two 6s one Space Gray and other white/gold. Would not by a blue iPhone but think those that want one should have the option.

My motto is "once you go black…" Guess I'll be going to silver because there's NO WAY I'm having a blue phone. Sent from the iMore App

What an awful awful decision but I can definitely see them making it. Apple is so predictable as a company if you pay close attention so blue makes sense. For example when iOS 7 came out with the ugly all white on white design, all the marketing and the push visually was with the silver/white iPhone models because those 'matched' the UI styling much much more and they looked great with the UI in marketing shots. Now looking at the tea leaves of code, rumors, and the styling of the WWDC app - it's clear that Apple will introduce a 'dark theme' mode at WWDC and that 'dark' is a really deep dark blue... so it would make sense for them to release a dark blue iPhone that goes really well with the dark blue theme option that will be in iOS 10. That being said, I sincerely dislike this. I'd love to have a dark theme, but I REALLY REALLY REALLY would love to have a black phone again. Even space gray, although it's grown on me, is still too light. I want the black phones back.

Cobalt blue is more appropriate Sent from the iMore App

I will be super ****** if this is true. Space grey is the best color option in the history of mobile phones. The contrast with the black screen is classy and, in my opinion, better than the slate before it. If they take it away for blue I'm going back to white and silver I guess. Believe me I'll be ****** about it though. Sent from the iMore App

If it comes with dark blue glass in the front, I'm all for it. But then I'd need a matching Watch.

I would really love more colors but I can't imagine there not being some variant of black/grey with a black front available for business people.

It's completely subjective but blue is my color and I would love to have it in blue. I just hope if it true there's a white front on it. Never been a fan of the black glass and even less so with Touch ID. Sent from the iMore App

See, I'm the opposite. I hate the white front glass, but I also hate both gold models. I think they're gaudy.

A blue color would be cool. But I'll protest if they take away my Space Gray!!!

I like the color arrangement they have right now. What I would love to see is interchangeable front-colors. I personally want silver with a black front glass. Or even rose gold with a black front glass :D

When I get my next iPhone in 2018 if it proves accurate, dark blue will definitely be there next colour I'll go for as it's my favourite colour and I think that shade of blue can be pulled off on an iPhone. Sent from the iMore App

Space Gray is a sell out color there is no way that color will cease anytime soon. Sent from the iMore App

If they get rid of the space gray or black there's gonna be a war. Fortunately, I don't think they could possibly be clueless enough to do that.

I don't like it . Hopefully they keep space grey . It's nice that they're adding new colors though . Sent from the iMore App

All these people wanting their favorite color, I wonder if they know about dbrand. I got the Space Grey phone because I wanted the front black (for contrast), but I didn't care what the back was, because I slapped a mahogany dbrand skin on it. And a retro Apple logo. Looks better than any stock iPhone, easily. Because it's my design. Anyone wanting a blue or green iPhone can get one now, for about ten bucks and a little effort.

Maybe this rumored deep blue is more of a slate and closer to the Space Gray on the new MacBook. Keep in mind that Apple's use of "Space Gray" spans a wide spectrum of colors! Sent from the iMore App
Thank you for signing up to iMore. You will receive a verification email shortly.
There was a problem. Please refresh the page and try again.