Best iPhone and iPad apps for Major League Baseball fans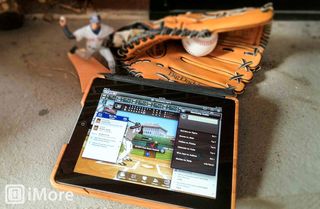 The bases are loaded, the pitchers are on the mounds, and Major League Baseball season has begun! So now it's time to take me -- and my iPhone -- out to the ballgame!
Ok, the season officially opened the other day, but the Red Sox play their first game today so that makes it the real opening day. Thankfully, baseball fans are never far away from the action if they have their trusty iPad or iPhone by their side. There are apps for watching baseball, scoring baseball, finding food at the ballpark, playing casual games, and managing the ever-important fantasy baseball team.
Here are the home runs...
Following the game
As I write this, the season has just started and the Red Sox and Tigers are scoreless after the top of the second inning. I know this, because today, and most days during the season I have one of my all time favorite apps fired up – MLB.com At Bat.
MLB.com At Bat is free for the "Lite" version – but if you are a real baseball fan, pony up the $14.95 for the full season pass available as an in-app purchase. The information in this app is really staggering. I can follow every pitch of every game. I get this very cool visual of the batter and can see the pitches (in real time) wiz by his head. I can look at the plays of the game or the box score at the same time on the right hand side of the screen and follow the scores from other games at the top of the screen. Throw in video highlights, MLB TV (if you are a subscriber) and free game-day audio and this is the ultimate baseball app.
Free - Download Now (opens in new tab)
If I am not using MLB.com At Bat, I am usually using Safari loaded on www.redsox.com. I am told that each major league team has their own web site that is formatted beautifully for the iPhone or iPad, but why would anyone go anywhere else?
Most cable providers have an app for following local sports teams. In New England we have NESN – the New England Sports Network which has a free app for following local teams.
Free - Download Now (opens in new tab)
At the Ballpark
MLB.com has a new app out this year called At the Ballpark. When you fire up this app, you can then choose your local ballpark or any of the Major League ballparks and start exploring. You can see the ballpark map, get directions, look at schedules of events and even order food and drinks if the ballpark supports it.
Free - Download Now (opens in new tab)
Managing your Fantasy Baseball team
Fantasy Baseball may not be as popular as Fantasy Football, but it is still popular and important to many baseball fans. The original fantasy baseball provider was Yahoo and Yahoo sports is still the most popular fantasy baseball service.
Yahoo Fantasy Baseball '12
Fortunately, there is a free Yahoo Fantasy Baseball 12 app that allows you to login, adjust your teams and manage the full fantasy baseball experience.
Free - Download Now (opens in new tab)
ESPN Fantasy Baseball 2012
The other huge Fantasy Baseball site is ESPN. Like Yahoo, ESPN has its own Fantasy Baseball app as well.
Free - Download Now (opens in new tab)
It is hard to say which of these is better – it really comes down to which leagues you participate in and who hosts them.
Playing a quick baseball game
This is where iOS seems to strike out –- there are not many real quality baseball games to play on iOS at this point. Hopefully with more powerful devices like the iPhone 4S and the new iPad, we get more in-depth games soon!
Probably the most popular baseball game for iOS is Baseball Superstars 2012 from Gemevil. This has a definite Asian/anime feel to it. Gameplay reminds me of my old Atari, but people seem to love it.
Free - Download Now (opens in new tab)
New this year is Chevy Baseball from Small Planet Digital. This game is sponsored by Chevy, so it has adds and lots of product placement. The game was developed by Freeverse and the graphics are pretty good. The home team is the Camaros and the visiting team the Silverados, but aside from that, it was fun.
Free - Download Now (opens in new tab)
For a quick game to play, I like Homerun Battle 2 from Com2US. The goal of this game is very simple – just hit home runs. You can play in Arcade or Matchup modes and occasionally you are asked to try to hit the ball in a specific spot – but basically, you try to hit the ball out of the park. It is simple, quick and fun and uses the accelerometer to guide where to swing.
$0.99 - Download Now (opens in new tab)
Whether you want to follow the Red Sox (or perhaps, some other team) or catch the latest news, score a game at the ballpark or play a casual arcade game – it is a great time to be a baseball fan. There are options for literally countless hours of fun and action on your iOS device.
Download an app or two, follow your favorite team and enjoy springtime with America's favorite pastime.
Game time!
Let us know how you follow baseball on your iOS device – just jump to this forum thread to share your thoughts.
Get the best of iMore in in your inbox, every day!
Great Posting.
HOMERUN BATTLE 3D is now free for limited time.
For iPhonehttp://itunes.apple.com/app/homerun-battle-3d/id313833267?mt=8
For iPadhttp://itunes.apple.com/app/id364507270?mt=8
Enjoy!

Sportacular is pretty good and the alerts are awesome.

9 Innings is by far the best baseball game on iOS. 2012 version out soon.

oh great another bandwagon boston fan.

Go Tigers! Swept the Red Sox! Tampa Bay is next!

Hi, i think that i saw you visited my blog so i came to return the choose?.I'm trying to find issues to enhance my web site!I suppose its good enough to use a few of your ideas!!

Homerun Battle 2 is a joke. They temp the kids with outfits that you can either only buy, for ridiculous prices or win with an obscene amount of gold balls you must win. I had to delete it because my 6 year old was nagging the crap out me to buy new outfits, new bats, glasses, etc. it's just a way for them to rake in more money AFTER you already spent money purchasing it. You would have to play for a year to win something without buying having tobuy it. Come on guys, cut it out!!!

Hello, i believe that i saw you visited my website so i came to go back the choose?.I am trying to in finding things to enhance my web site!I assume its good enough to make use of some of your concepts!!
Thank you for signing up to iMore. You will receive a verification email shortly.
There was a problem. Please refresh the page and try again.