The iPhone Blog Week in Review for February 02, 2009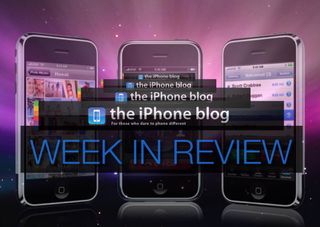 Every week I will be bringing you what I think are the week's biggest stories and articles. Let's get started, after the break!
Review: SoundClip for iPhone
Do you find your iPhone volume too low? Here is a great alternative to hacking your phone for louder volume; SoundClip! How does it work? Read more!
The iPhone: Indie game lovers dream?
Oh yeah, the iPhone pwns this market. The 2009 Independent Games Festival Mobility Category 11 of the 14 contestant apps were on the iPhone!
Review: Griffin California Roll
No, it isn't sushi, but a roll to "roll-up" your electronic gadget; including iPhone! Looks cool, what did Brian think? Read on for more!
Firmware 2.2.1 is now out!
Well, it didn't add much other than some mail photo saving bug and tidying up mobile Safari, I swear I am getting above average EDGE speeds...
Remember the iPhone 2.0 Push Notification Service?
I wonder if Apple does. If I remember, this was supposed to be out in September. Hmm, must have hit a snag in the road. This is too bad because there are plenty of apps that could benefit from this. My guess? Postponed till software 3.0...
Is new iPhone hardware on it's way?
The 2.2.1 firmware update hints at a new version number for the iPhone. At each version update, there is a new revision in hardware. What is going on Apple! iPhone HD? Hey, that sounds cool... iPhone HD. Yeah.
iTunes Plus now upgrade your library individually!
Cool Apple! Now instead of being forced to update every song and video, you can now selectively choose what you want. Way to go!
"Premium" iPhone gaming section to hit app store?
The Internets are a' crawlin' with rumors of a $19.99 high-end section of the App Store for games, etc. This will help to eliminate the competition with the $.99 titles. I think it is a good idea and I think that people will take App development more seriously and start to crank out some major titles. What do I think is in the pipe? Microsoft Office (yeah they announced this a while back) and Documents to Go. Exciting!
Review: PogoStylus for iPhone
Man, there are some mixed views in the comment section on this one! This "stylus" works great for drawing apps and in cold weather...
The iPhone Blog Live Podcast #6
If you haven't listened yet, what are you waiting for! Primary topic of the night; the Palm Pre...
Killer combo: iPhone and Apple TV=Ultimate gaming console?
Well, I have both and the idea really is intriguing. Hey, I would like to just play my iPhone games on the TV... but imagine having your Apple TV turn into a gaming console and you can use the iPhone/iPod Touch as a game controller... I am salivating!
Want to hook your iPhone up to the radio in your car and stream those tunes? Now you can with Road Trip. What did Rene think? Read on for more...
So Flash is coming to iPhone after all?
I am confused. But, it looks like Adobe is working closely with Apple to make this a reality. I really hope they do. Even though I am not a fan of Flash, some websites out there are only in Flash... so this would be handy indeed.
Master your iPhone in minutes
iMore offers spot-on advice and guidance from our team of experts, with decades of Apple device experience to lean on. Learn more with iMore!
Software trainer, blogger and mobile technology enthusiast living in the suburban Midwest.