iPhone with on-display fingerprint sensor and Face ID coming in 2021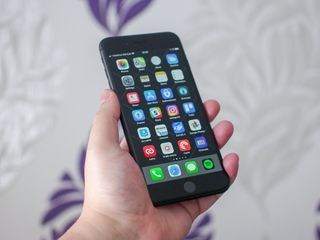 (Image credit: iMore)
What you need to know
Noted Apple analyst Ming-Chi Kuo believes Apple will re-introduce Touch ID as a fingerprint on display (FOD).
An iPhone equipped with Face ID and FOD could arrive in 2021.
Kuo cites Apple patents, not supply chain activity, in his prediction.
With the iPhone X, Apple ditched Touch ID and stepped into the future of facial biometrics. But come 2021, via MacRumors, the company could re-introduce Touch ID as an on-display fingerprint sensor.
The report comes from Ming-Chi Kuo, who is basing his prediction on Apple patents, not info coming down the supply chain, meaning his info his highly speculative. Still, Kuo appears confident enough that the fingerprint on display (FOD) is worth mentioning.
Kuo says that the two systems will complement, not compete, each other. When one system is inconvenient to use, the other will be available, and vice versa.
Over the past few years, companies have introduced devices with on-display fingerprint sensors while Apple has completely eschewed fingerprint biometrics for Face ID. One of the big reasons Apple's mobile lineup (iPhone XS, iPhone XS Max, iPhone XR) uses Face ID is the technology is much more secure.
As we've learned on numerous occasions in the past, just because Apple has filed a patent doesn't mean it'll translate to a real product. Although Kuo believes a future iPhone will adopt FOD, we'd be skeptical now that Apple appears all-in on Face ID.
Get the best of iMore in in your inbox, every day!
Bring it on. Been waiting for this since they removed it for crappy farce ID.

I don't understand why you write comments like you do, you could just simply say "I'm looking forward to this because Face ID doesn't really work for me" rather than saying crappy farce ID all the time, it's just childish

Pot kettle black. Farce I'd is a crappy way of being first authentication on a phone. Simple. It's not near as reliable for 99% of humans without clammy gams. Simple. I have seen farce I'd fail with my friends and family and be forced to passcode authentication than the Touch ID ever did. Even people like yourself with clammy gams syndrome. A quick wipe of your mits in your pants, you could unlock quickly with Touch ID. You are the exception not the rule. Contrary to what you believe

Your "exception to the rule" is just the same as only allowing entrance to a building via stairs and telling someone in a wheelchair that they're the exception too
Thank you for signing up to iMore. You will receive a verification email shortly.
There was a problem. Please refresh the page and try again.