Have a secret second iPhone? Here's how to turn off Emergency Alerts to keep it safe and private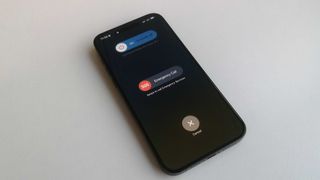 (Image credit: Future / Ruth Hamilton)
Though this method will work for future Emergency Alerts, the US test going live today will be exempt from it, according to FEMA. If you don't wish for your phone to make a sound, turn it off entirely during the whole test, which will last 30 minutes. Below is our original report.
For iPhone users in the United States, an Emergency Alert test will be going live today at 2:20 p.m. Eastern Time but there may be some security concerns you aren't aware of. Just popping your iPhone on silent mode won't stop the alert from blaring as they are designed to work regardless of how your phone is normally set up.
Emergency Alerts are a way of informing millions of people in advance about an oncoming disaster such as weather information, imminent threats, AMBER alerts, and local incident information targeted to specific areas. Given most people use a phone of some kind, it's a very effective communication system.
As you might imagine, turning off your iPhone entirely or putting it into airplane mode will stop the Emergency Alert test from pinging on your phone but this also stops your iPhone from functioning as it should — something that may be a concern to those who need a second phone.
Though you should try to avoid turning off Emergency Alerts where you can, there are plenty of good reasons people might not want to be pinged. In this case, it is quite easy to turn them off.
How to turn off Emergency Alerts
First, make sure your iPhone is on and operational, then unlock it.
From your home screen, go into Settings
Scroll down to Notifications
Go all the way to the bottom of the page where you will see an Emergency Alerts sections
Turn off Extreme Alerts and/or Severe Alerts
Why someone might not want Emergency Alerts
If you or someone you know is in a bad home environment, they might have a second phone to make plans without a partner checking through their phone. In this case, that Emergency Alert could give away its position.
Those who suffer from anxiety or become overstimulated quite quickly might dislike the rather loud ping of the Emergency Alert too. Emergency Alerts tend to go on for about ten seconds and blare at a high volume, which can be quite distressing in any environment. Today's test will be operational for 30 minutes but you can turn it off manually once it starts.
These alerts are an incredible tool allowing governments to get out information quickly but they're also a security concern for those not in the know. This is especially important as today's Emergency Alert is a test to make sure devices are working — not a real Emergency. Hopefully, those who need a second phone can keep it hidden today.
Master your iPhone in minutes
iMore offers spot-on advice and guidance from our team of experts, with decades of Apple device experience to lean on. Learn more with iMore!
James is a staff writer and general Jack of all trades at iMore. With news, features, reviews, and guides under his belt, he has always liked Apple for its unique branding and distinctive style. Originally buying a Macbook for music and video production, he has since gone on to join the Apple ecosystem with as many devices as he can fit on his person.
With a degree in Law and Media and being a little too young to move onto the next step of his law career, James started writing from his bedroom about games, movies, tech, and anything else he could think of. Within months, this turned into a fully-fledged career as a freelance journalist. Before joining iMore, he was a staff writer at Gfinity and saw himself published at sites like TechRadar, NME, and Eurogamer.
As his extensive portfolio implies, James was predominantly a games journalist before joining iMore and brings with him a unique perspective on Apple itself. When not working, he is trying to catch up with the movies and albums of the year, as well as finally finishing the Yakuza series. If you like Midwest emo music or pretentious indie games that will make you cry, he'll talk your ear off.