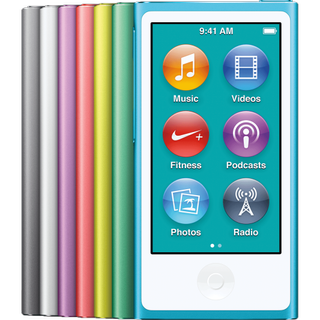 Apple's iPod nano is now in its seventh generation. The diminutive touch-based digital music player has been a mainstay of Apple's line since 2005, when it replaced the iPod mini as the "downsized" iPod. But don't confuse its small size and relatively low price as second-rate — it stands on its own in Apple's iPod pantheon.
The original iPod digital music player changed Apple's fortunes — it brought millions of customers to Apple products for the first time. The combination of the iPod, iTunes and later the iTunes Store would change forever how people bought and listened to music on their computers.
Apple first shrunk the iPod into the iPod mini in 2004, creating a smaller digital music player that worked just like its big brother, only it was easier to fit into a pocket and carry unobtrusively.
But Apple could do better, and Apple did do better. In September 2005, Steve Jobs introduced the iPod nano during a special media event. The original iPod nano measured 1.6 x 3.5 x 0.27 inches, and weighed a scant 1.5 ounces. The first iPod to use flash storage, the iPod nano could store from 1 to 4 GB of data.
For five generations, from 2005 through most of 2010, the iPod nano sported a click wheel just like the full sized iPod, making it an immediately familiar experience for anyone who'd ever held the larger device.
In 2007, Apple changed its fortunes once again by introducing the iPhone, and shortly thereafter they introduced the iPod touch. So it seemed inevitable that the iPod nano would be headed for a touch interface. Apple revealed that device — along with a radically reworked design — in September 2010.
Two years later Apple would rework the iPod nano yet again, into the current form factor that's sold today. The seventh-generation iPod nano measure 3.01 x 1.56 x 0.21 inches and weighs 1.1 ounces. On its front is a 2.5-inch multitouch display, and inside is 16 GB of storage. It connects to a Mac or PC to transfer files via iTunes using a Lightning connector, just like the iPhone and iPad.
While you can't load new apps — the nano doesn't run iOS like the iPod touch — it includes apps to listen to music and podcasts, watch video, a built-in pedometer via Nike+, and an FM radio. It also supports Bluetooth connectivity for hooking up to a wireless speaker system or other audio output source.
Apple makes the iPod nano in blue, green, yellow, pink, purple, space gray, silver and — if you're buying it from the Apple Store — red. All that for $149.
There's no Wi-Fi, and because it doesn't work with iOS there's no iCloud support, so the iPod nano is a lot more limited in what it can do than an iPod touch. But if an iPod touch is just too much and you want a good amount of audio and video to keep you company at the gym, on a run or on a trip, the iPod nano is a small and light package that will do the job.
Thank you for signing up to iMore. You will receive a verification email shortly.
There was a problem. Please refresh the page and try again.