New iPod touch, iPod nano, iPod shuffle now available for pre-order from Amazon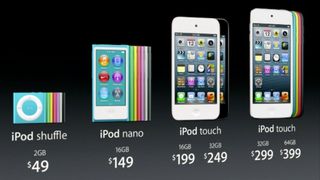 If you've had your eyes on a new iPod touch, iPod nano, or iPod shuffle, but prefer doing your pre-ordering through Amazon than Apple, you're in luck -- Amazon has just put their new iPod pre-order page live!
It's the same iPod touch, iPod nano, and iPod shuffle you'd get from Apple -- absent the Apple exclusive Product (RED) versions -- and you'll likely get them around the same time as you would if you ordered from Apple, but options are good, and Amazon is one of the best.
The new iPod touch has the same 4-inch 16:9 display as the iPhone 5, as good a camera as the iPhone 4, along with an even thinner design, and a convenient carrying loop. Comes in 7 colors.
The new iPod nano has a home button, a wider-screen display, and is even thinner than the touch. Also has Bluetooth at long last. (What will Apple do with that?)
The new iPod shuffle isn't really that new, aside from matching the new colors of the other two. Still, cheap and convenient.
So, if you want to pre-order your new iPod from Amazon, you can do so via the link below. (iMore is an Amazon affiliate, so you'll be supporting the site at the same time -- win, win, win.)
Master your iPhone in minutes
iMore offers spot-on advice and guidance from our team of experts, with decades of Apple device experience to lean on. Learn more with iMore!
Senior Editor at iMore and a practicing therapist specializing in stress and anxiety. She speaks everywhere from conferences to corporations, co-host of Vector and Isometric podcasts, follow her on Twitter @Georgia_Dow and check out her series at anxiety-videos.com.