iTether app brings USB tethering to iPhone without the need for a tethering plan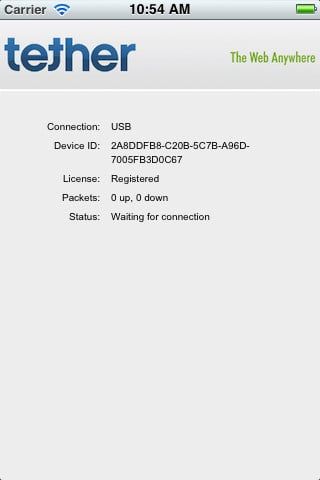 The iTether app has arrived in the app store and it enables a user to tether their iPhone to a Mac or PC and use its data connection. The app does not appear to require a tethering data plan with your carrier so it is really a surprise that this app has been approved by Apple; it may be that its life is short lived. If you have been waiting for a way to tether your iPhone without the need to jailbreak or pay extra for the privilege, don't hang about with this one.
The iTether app requires a small program to be installed on the PC or Mac as well as the app on the iPhone. Once both are installed, plug in your USB cable and then you can use your iPhone's data connection to surf the web, check email etc. A word of warning, a carrier may be able to see that your data connection is being used in this way and attempt to charge you an additional fee for the data.
iTether is available in the App Store for a price of $14.99.
[App Store link (opens in new tab)]
Have an app you'd love to see featured on TiPb? Email us at iosapps@tipb.com, tell us about your app (include an iTunes link), and we'll take a look.
Get the best of iMore in your inbox, every day!
UK editor at iMore, mobile technology lover and air conditioning design engineer.
I downloaded it and it works great. 6.15 down and 1.09 up with 4 bars ATT on my 4S.

It still shows in the store, but I get a message that it's not available in the U.S. store. I'm guessing apple posted it for everywhere outside the US and included us by mistake.

Hey Dustine, can you plz send me iTether via email? it is no more available online... my email is montu_r at yahoooo dot com, hope you can get it right...

Just downloaded it. It says please register your copy. Not working for me. I tried to visit their website but it's down.

just keep relaunching the app. their servers are getting swamped at the moment but eventually it will work.

works great for me on my 4S on Verizon!

Also, there is a limitation to the app that you can't do anything on your phone while the app is running, because if the app quits, you lose your connection. I just discovered that I can use Siri to make calls and send texts without losing the connection.

I've used Tether before on my Blackberry. Upon further review of how it works, I have some privacy concerns, since this application proxies all of your traffic through servers owned by Tether, where they track all of your usage. I opted to not use it after discovering how they routed the traffic,

they route the traffic through their own server so it looks like your phone is using a mobile website, and not being used for tethering; this is a loophole so verizon or att or whomever doesn't slap you with $40/mo tethering fee based on the traffic that's going through your mobile phone.

Is this a fact? I need to turn on WiFi on my phone and run a packet sniffer to see exactly how the traffic is routing. My guess is the phone is the proxy, not Tether's server. If you have documentation on exactly how it routes I would love a link.

Why pay for an app when you have the Personal Hotspot for free and built-in?
They have the same capabilities.

because the personal hotspot is NOT free. You have to pay your Carrier for it.

ah sorry, i didn't think of that. i live in turkey and tethering is free

Youre so right. Im there with you. Your weblog is asbloutely worth a read if anyone comes throughout it. Im lucky I did because now Ive acquired a whole new view of this. I didnt realise that this issue was so important and so universal. You undoubtedly put it in perspective for me.

What happens if Apple Pulls it? will it still work?

Yes. Until they update the OS enough that it breaks something. This happened to me back in '08 with the Netshare app.

I have it for my Blackberry and it doesn't require a tethering package... been using it for years.

I fail to see your point.

I must point out my love for your kind-heartedness supporting poeple that must have help with this area. Your very own commitment to getting the solution all-around had become pretty effective and have regularly permitted women just like me to arrive at their pursuits. Your personal invaluable guide entails a great deal a person like me and even further to my peers. Many thanks; from everyone of us.

I like the idea of this, but not the price tag on it. :/

The wording of the article is problematic, IMO.
The title says "without the need for a tethering plan.". The body says that the carrier may be able to see that your data is being used this way and attempt to charge you. Which is it?
It took reading the comments to see any mention of the app camouflaging the tethering, but by then the article (and the price) had already sparked misgivings in my mind.

Its gone... no longer in US

FREE $10 ITUNES GIFT CARD!!! go to the app store and download the app "app trailers" then when you sign up mention the username "promogiftcard" and receive a $10 iTunes gift card! Not sure how long this is going on for so hurry!!!

Yep. Seems to be gone. Should have checked in 6 hours ago.

If I'm not mistaken, this is from the same developer of Tether for Blackberry when I was on a berry. Quite reliable actually! Worked pretty well. Don't think that this will get pulled anytime as the it doesn't really go against Apple's terms and conditions, just that it contravenes certain network operator's policy on tethering usage which doesn't much concerns Apple. Where I am in Malaysia, tether is absolutely allowed under fair usage and part of the data plan.

I can't seem to find the app in iTunes.

It's yanked.
http://9to5mac.com/2011/11/29/apple-yanks-the-itether-app-out-of-the-app...

Mac = Apple
PC = Microsoft Windows
Drop open standard and let Apple and Microsoft rule the world.