iWatch and trying to predict the market size of mythical products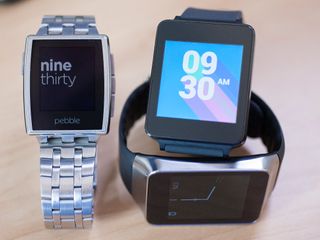 Everyone seems to believe an iWatch is coming. It's been talked about for ages, yet there have been no solid leaks on which to base any meaningful projections. The Pebble has been on the market for a while now. Android Wear is just now starting to ship. (Both pictured above.) It remains to be seen how successful "smartwatch" will be as a category in general. We can only guess that Apple's executive recruitment trends are geared towards turning the Cupertino mobile and computing giant into a luxury brand.
If Apple releases a new product that consumers find useful, I have no doubt it will sell in huge quantities. And since Apple has a pretty solid track record for releasing awesome products, I'm confident it will continue to do so over the next few years.
But this hasn't stopped Morgan Stanley analyst Katy Huberty from speculating on pricing and volume sales of Apple's still-mythical new wearable device. I don't have a copy of Huberty's report, so I'm basing my comments around Fortune's report and other tidbits from around the web.
When a company is about to release a new product, like a wrist watch, many industry analysts (or equity analysts) are tempted to explore its market potential by looking at the existing market for products that bear the same label. But a watch is not a watch, right? I mean … that old Timex is not the same as a Rolex is not the same as whatever Apple might bring to market just as that old BlackBerry wasn't the same as a Vertu, which wasn't the same as the iPhone. Apple brought new innovation to an old product category. So while we might still call them all phones (or now watches), only the label is identical. The product is drastically different.
I say this because I don't think Apple has any interest in, nor would they be able to sell mass quantities of any watch that wasn't somehow surprising to us in terms of what it can do. I do not wear a watch because I already have one … in my pocket. So many of us are now ditching watches because we just check the time during the hundreds of times a day (on average) that we check email, Facebook, Twitter, SMS, etc.
Suffice to say I expect that if Apple releases a wearable device it will need to knock our socks off to make a meaningful dent in revenue. Since Morgan Stanley's Huberty assumes that Apple will sell the iWatch for $300, she must also be of the opinion that there will be incredible utility in the accessory.
According to Huberty's "bull case" and "base case" projections, which mirror her calculations of the iPad and iPhone growth rates respectively, she thinks Apple will sell anywhere from 30 to 60 million iWatches in the first 12 months. That's anywhere between $9 billion $18 billion of new revenue, or about 5-10% revenue growth. Yes, that's correct folks. No typo here. If Apple posts $18 billion of new revenue it would only amount to about 10% growth compared to last year's whopping $170 billion in total revenue.
It's sometimes easy to forget just how enormous Apple is already. This is why a new product has such a tough challenge if it is to move the needle, financially speaking.
Huberty raised her Apple target from $99 to $100 assuming that the base case actually happens. That means Apple sells 30 million iWatches, adds about 5% to the revenue line and $0.49 to the earnings per share figure. I assume that she is expecting Apple's P/E multiple to rise slightly in the event this base case, which would explain her assigning a 10% higher target price for only 5% additional revenue. But like I said before, I have not seen her research note or her financial model.
In my humble opinion this isn't going to come down to iWatch sales figures. It's going to come down to what the darn thing can actually do. If Apple can somehow give us a compelling way to track a variety of health metrics or do something else that makes us slap ourselves and say "Oh duh, of COURSE I want this product", then we'll have a lot more people interested in entering the iOS ecosystem. That means more iPhones, iPads, iCloud services... more everything.
That's what will really drive Apple to the next level.
Get the best of iMore in in your inbox, every day!
Former sell side analyst, out-of-box thinker, consultant, entrepreneur. Interests: Wife & kids, tech, NLP, fitness, travel, investing, 4HWW.
I agree. It MUST have built in health features. Plus, it should do everything Notification center does and more. I suspect that it will meet my needs. I don't need an Apple device to be a single tasker watch.

There is no way in Hades that an "iWatch" is going to sell anywhere near those numbers. No way. At $300 the profit margins would be thin.

I think the article is exactly right. No one is paying $300 for a device whose sole function is to avoid the necessity of getting your phone out of your pocket. If an iWatch adds some compelling functionality to the mix of electronics - health sensors, whatever - then I can see it. But not just to have the time and/or Notification Center on one's wrist.
Thank you for signing up to iMore. You will receive a verification email shortly.
There was a problem. Please refresh the page and try again.