Join the discussion: Are you saving up for an Apple Watch Series 3?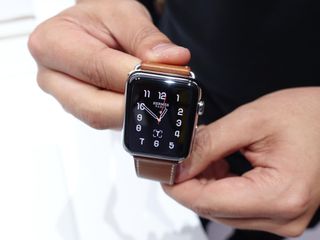 When the Apple Watch Series 2 was announced last year, people were pumped about new waterproof features, the new rose gold and other color options, and even the new Disney faces!
Now there's a chance that the Apple Watch Series 3 is on the horizon, which begs the question: are you saving up for one?
Some people say that if the Apple Watch Series 3 doesn't knock their socks off, they'll go for the Nike+ this year...
While others say that they'd really have to be blown away to pick up a third watch in 3 years...
But what do you think?
Hop on into the iMore forums and join the discussion today to let us know if you'll be picking up an Apple Watch Series 3 once it launches!
Get the best of iMore in in your inbox, every day!
Cella writes for iMore on social and photography. She's a true crime enthusiast, bestselling horror author, lipstick collector, buzzkill, and Sicilian. Follow her on Twitter and Instagram: @hellorousseau
Just got Nike series 2 from bestbuy with the 70$ discount so I'm content for while.

Heck ya. I've bought the cheapest option for both the original and Series 2, migrating the original to my wife. When I get the 3, she'll get the 2 and I'll sell the original. I may pop for the larger size this time due to my eyesight.

Will only upgrade if the AW series 3 gets a cellular option. They better not change the watch band lugs or I'm going to be out alot of money. Can we please get official podcast support????

I have been putting off getting a Watch for as long as I could. I never used to wear a watch until a year ago last Christmas when my sister got me a Ministry of Silly Walks watch that shows the time by the positions of his legs..
Since then I've been saying I won't get an Apple Watch until it does what this one does: It makes me smile every time I look at it. But my nephew just got a Watch as a perk of his new job, and a neice of mine just got a rose gold one for her birthday, so I'm watching them very closely.
I did go ahead and order a Pride watch band for the Watch I don't have yet, so, yeah I guess I am holding out for the Apple Watch 3.

I've still got the original aluminium 38mm Sports watch and I have no plans to buy another. It still does what I need it to do and the battery is still running the same after two years of use.

I got a stainless steel gen 1 Apple Watch at launch and then bought a Nike Series 2 at the beginning of the 2017. The only reason I upgraded was because I was never comfortable wearing that stainless steel watch working out or any rough outside activity and if I was going to drop money on a new watch, may as well get the latest. My job requires suit and tie a couple of days a week so I usually break out the gen. 1 for those days and church on Sunday and wear the Series 2 the rest of the time. I'm still perfectly happy with the gen. 1 seeing that I still wear it at least a third of the time so it would really take a lot of bells and whistles to make me buy a series 3.

I bought the apple watch series 0, and i won't change my apple watch until it doesn't work 👍🏻 (i've done kayaking, and mountain biking with my watch always on)
Thank you for signing up to iMore. You will receive a verification email shortly.
There was a problem. Please refresh the page and try again.