Join the discussion: How many smartwatches do you have?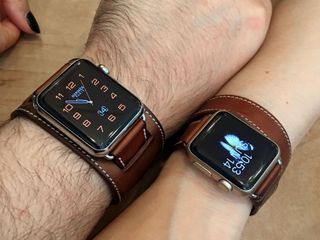 Owning a smartwatch can be beneficial for you in a billion different ways, but some people like variety in their wearable accessories, so it's no surprise that some have collections of sorts.
Are you one of those people who has a couple of different smartwatches to choose from? Or do you have one reliable piece that's your go-to for everything?
Some people claim that they have around 4 different smartwatches in their collection...
While others have the original Apple Watch and are happy to be stickin' to it!
But what about you?
Hop on into the iMore forums and join the discussion today to let us know how many smartwatches you have, which ones you intend to pick up in the future, and which ones you'd avoid like the plague!
Get the best of iMore in in your inbox, every day!
Cella writes for iMore on social and photography. She's a true crime enthusiast, bestselling horror author, lipstick collector, buzzkill, and Sicilian. Follow her on Twitter and Instagram: @hellorousseau
First I got the Moto360 Gen1, then the Moto360 Gen2 and then the Huawei watch Gen1. After using those for a few years I recently picked up a new series 2 Apple Watch and I like it a lot. Although the battery blasts half or less as long as the Huawei watch, it's much more useful in my opinion. I actually use the apple watch and it's not just an accessory for my wrist.

One. I only have one wrist that uses Watch.

4/ ZenWatch-meh
Samsung Gear S2 Classic 3G-very nice
Samsung Gear Fit 2- nice, works well
Apple Watch 2 Sport- love it the most, by far- awesome phone integration and messaging capabilities, would not be without it.
Thank you for signing up to iMore. You will receive a verification email shortly.
There was a problem. Please refresh the page and try again.