Join the discussion: What are the best third party bands for Apple Watch?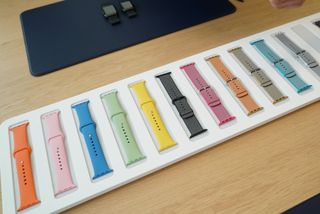 Are you someone who prefers the classic look of the milanese loop? Love the style of the Hermes bands but don't want to break the bank? Obsessed with the comfort and flexibility of the sport band while you're chugging along on your daily jog?
If you're someone who's totally obsessed with their Apple Watch, you might think that buying a variety of bands to customize your wrist's BFF is one of the funnest parts of actually owning it.
With the internet at your fingertips, it's super easy to dig in and find official watch bands from Apple as well as fantastic third-party ones from other companies, independent artists, and more! But with so many options out there, which third-party Apple Watch bands reign supreme?
Some people are big fans of Pad & Quill bands because of their quality and style…
… While others say that they prefer using Apple-made watch bands.
Now what about you? Hop on into the iMore forums and tell us what your favorite third-party watch bands are, chat about which bands are better and why, and get some ideas for your next Apple Watch band purchase!
Get the best of iMore in in your inbox, every day!
Cella writes for iMore on social and photography. She's a true crime enthusiast, bestselling horror author, lipstick collector, buzzkill, and Sicilian. Follow her on Twitter and Instagram: @hellorousseau
My preference is a set of new bands that I found at Indiegogo: https://www.indiegogo.com/projects/add-the-swiss-touch-to-your-apple-wat... I have an issue with irritation from most athletic bands, but this one is lighter and more breathable because of the holes in the band. Plus, mixing and matching gives me a little more creativity.
Thank you for signing up to iMore. You will receive a verification email shortly.
There was a problem. Please refresh the page and try again.