Join the discussion: What's the oldest iOS product you still use daily?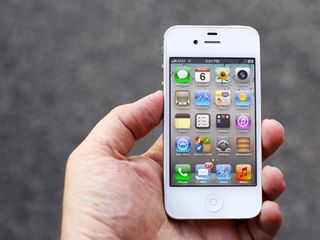 Every year Apple hardware updates get a little bit better, sleeker, faster, and more awesome, but some people have some older-fashioned tech that they like to partner with whatever the current iOS is.
Whether you're still using an iPod, the very first version of the iPhone, or anything in between, is there a vintage iOS device that you just can't seem to let go of?
Some people say they still use an old iPad still...
While others are attached to their iPhone 4...
What about you? Is there a piece of retro tech that's too close to your heart to say bye to? Let us know which dated gadgets and gizmos are still in use around your home and office in the iMore forums and join the discussion today!
Get the best of iMore in your inbox, every day!
Cella writes for iMore on social and photography. She's a true crime enthusiast, bestselling horror author, lipstick collector, buzzkill, and Sicilian. Follow her on Twitter and Instagram: @hellorousseau
2nd generation iPod Touch, iPod Classic, iPad 3, all working fine in their respective roles.

I use a 30GB iPod Classic (2003?) in my 2002 Honda daily. Yep, use a cassette adapter - which works just fine. Change available music about twice a year. This was my first Apple product since an Apple IIe in the early 80's. FWIW, the number of Apple devices has increased dramatically in the last 14 years :).

iPad 4th generation here, and I just got an iPhone 6 Plus that replaced my ancient iPhone 4. :)

I still use the iPhone 3GS daily but only for listening to podcasts.

I daily use as my main computer driver an early 2009 Mac Mini.

iPhone 5S and an iPad Air. Bought them both new when they were released in autumn 2013. So ya, looking forward to later this year when I plan to get an Anniversary iPhone Plus, and a new iPad Pro.. I just haven't decided which size iPad yet. :-)

I still use my iPod Nano 5th Gen. Battery life isn't so great, so it stays plugged into power. It's a great device for my old home stereo.

iPad 2. Still gets used every day since we got it when they first came out. Yes it's a bit slow nowadays but as outlasted the windows laptop that I bought the following year. Posted via the iMore App for Android

Still got my iPad 3, having upgraded to an iPad Air 2.
Planning to mount it in the kitchen for general recipe use & music streaming etc.

My brother still plays in his 1st generation iPad and doesn't think of replacing it.

If it works why replace it :) just jailbreak and you can do whatever you want still

iPhone 7 Plus is the oldest iOS device I use daily 🤣

Original iPad Mini and we have two of them. My two boys (4 yrs and nearly 3 yrs) use them for YouTube and Netflix. This way they keep their hands off my iPad Pro ;) I have to say though, they are *painfully* slow.

The oldest iOS device I use every day is my original gen. 1 iPad. I use it to play music every night. 😴

I'm on an iPhone 7 and the 9.7" iPad Pro though thinking of selling the later to get the new one.

I have an iPhone 5 that I use as an iPod touch. It's amazing that at nearly 5 years old, it is running the latest iOS (10.3.2), but it won't get iOS 11. Don't really care as it's not needed to just play music. Also have an iPod touch 4th gen that still works fine, running iOS 6.something. It's only 8GB, but it's perfect for walking/bike riding.