LEGO's AR-Studio app lets you combine real and virtual LEGO sets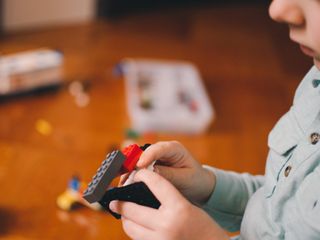 LEGO, the company behind the dream toy for lovers of creativity (and haters of bare feet) everywhere, will unveil its first ARKit app today. Called AR-Studio, the app will let kids and kids at heart bring popular LEGO sets to life — complete with fire-breathing LEGO dragons — and then record mini-movies of their favorite animations. Best of all, it's not meant to replace the awesome LEGO sets you already own. Instead, the app will combine with your physical LEGO creations to add another layer to your play.
Tom Donaldson, VP of the Creative Play Lab at the LEGO Group, explained the company's intentions for the app in a chat with Wired:
In addition to enhancing real life fun, individuals can also use the app to test out sets they may be looking to purchase. The virtual sets to be featured in AR-Studio at first launch match up with actual physical sets you can buy, including the train set (opens in new tab), the fire station set (opens in new tab), the police station set (opens in new tab), and various Ninjago sets (opens in new tab). While trying before you buy seems smart, it'll definitely be difficult to convince kiddos that they don't want all the actual sets once they play with them virtually. Don't say we didn't warn you, parents and guardians.
Though AR-Studio can currently only sense tabletops, floors, and other flat surfaces, Donaldson did also say that in the future LEGO would like to further incorporate the physical blocks, making it so the app learns to recognize the sets being played with and further blurring the line between AR and regular old R:
As of right now the app is yet to be released, but once it is we'll link it here so you can find it on the App Store. It will be free to download, so you won't have to worry about paying to play and can just focus on creating (and presumably dragon-ing).
Questions?
Are you excited to try LEGO's AR-Studio? Give us a shout in the comments!
Get the best of iMore in in your inbox, every day!
Tory Foulk is a writer at Mobile Nations. She lives at the intersection of technology and sorcery and enjoys radio, bees, and houses in small towns. When she isn't working on articles, you'll likely find her listening to her favorite podcasts in a carefully curated blanket nest. You can follow her on Twitter at @tsfoulk.
Thank you for signing up to iMore. You will receive a verification email shortly.
There was a problem. Please refresh the page and try again.