LG UltraFine 5K Display FAQ: Everything you need to know!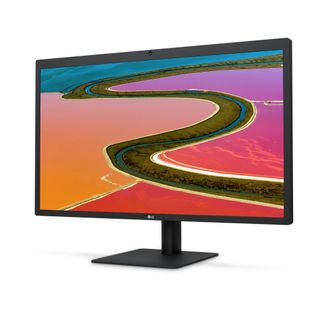 So did Apple announce a 5K display?
Are you sitting down? The answer is no. Despite rumors suggesting Apple would announce a 5K display at its Mac event, the company didn't have one to show us.
However, Apple did reveal a 5K display from LG. Apple says it worked together with LG to create the display, so you know it'll work well with your new MacBook Pro!
See at Apple (opens in new tab)
How big is it? What's the resolution?
The LG UltraFine 5K Display is a 27-inch behemoth! It supports the P3 wide color gamut (like iPhone 7, the 9.7-inch iPad Pro, and iMac) and has a 5120 x 2880 resolution (it's got more than 14.7 million pixels).
How will I connect it to my Mac?
It comes with a Thunderbolt 3 cable (USB-C port) that not only serves up your MacBook Pro's display, but charges your Mac as well.
How does it compare to Apple's Thunderbolt Display? Will it work as a hub?
Yep. The display has three USB-C ports, built-in stereo speakers, a camera, and a microphone. It's a lot like a Thunderbolt Display … it's just not made by Apple.
Why's it called UltraFine?
Well, the 27-inch display has a crap-ton of pixels (14.7 million), it's super bright, and it's got wide color. Basically, it looks very, very good, hence the "UltraFine" name.
Cool, when can I buy one?
Not yet. Apple says the display will be ready in December. It'll run you $1,299.95, so you've got plenty of time to save up!
See at Apple (opens in new tab)
What if I don't want to wait?
Well, it didn't get a mention on stage, but LG has a new 21.5-inch UltraFine 4K Display. That's a 4096 x 2304 resolution (more than 9.4 million pixels) with the same wide color support and three USB-C ports.
Best of all, you can order it today, though shipping is out 5 - 6 weeks.
See at Apple (opens in new tab)
Get the best of iMore in in your inbox, every day!
Mikah Sargent is Senior Editor at Mobile Nations. When he's not bothering his chihuahuas, Mikah spends entirely too much time and money on HomeKit products. You can follow him on Twitter at @mikahsargent if you're so inclined.
So either: A) Apple will not be doing their own branded monitor anymore or
B) The rumored 5K Thunderbolt Display with built-in GPU was ready in time for this keynote I'd like think it's B

oops. Regarding (B), I meant to say was not ready in time

Rumored, remember, rumored. That means it very likely isn't true.

probably a silly question but if i bought this monitor and have the MBP MADE BEFORE THE NEW ONE THAT THEY SHOWCASED TODAY WHAT IS THE RESOLUTION GOING TO BE? I can see it has thunderbolt which is good. i love the 5k imac but its so much more co venient to have the laptop and monitor separate. loved my 27" thunderbolt but if Apple truly helped with this then it should comparable. wonder if its glossy or matte

Will this be supported by the new 13 inch MacBook Pro (with just the Intel graphics) or will it need the 15 inch with discrete AMD Polaris graphics?

The 13" MBP will support one external 5K display. 15" MBP will support two

They called it the perfect docking station, but that (at least in workplace environments) isn't really the case unless they add ethernet to it as well -- or pack a USB-C to Ethernet dongle in the box. Granted, that brings up the question: would that even work? ...plugging an ethernet dongle into the back of the monitor?

Do we know if it's glossy or matte?

Does anyone know what is the resolution of the built-in camera? Traditional Apple 720p?
Thank you for signing up to iMore. You will receive a verification email shortly.
There was a problem. Please refresh the page and try again.