LiftMaster's MyQ app will work with Nest to help with energy use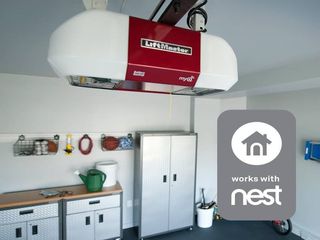 Garage door maker LiftMaster has announced a new partnership with Google subsidiary Nest that will enable the company's MyQ app to work with the thermostat so it can better regulate heating and cooling use in the home.
Liftmaster stated:
The MyQ app is currently available for Android and iOS devices but there's no word on when the Nest features will be added. What do you think about this new partnership between LiftMaster and Nest?
Source: LiftMaster
Free: Download now (opens in new tab)
Get the best of iMore in in your inbox, every day!
I have been writing professionally about technology and gaming news for 14 years.
So it can tell when one person leaves the house but the rest of the family is still at home. or that you've left by the front door to take the bus. or the car that's in the driveway because you have to much crap in the garage to park it there? Hmm call me skeptical.

You should be skeptical. Nest is being too stubborn to admit that their auto-away feature doesn't work right. I've heard a few complaints about people that say they will have a house full of people and the Nest Thermostat will turn the heat down. I think Honeywell's Lyric is the right idea. You really need Geofencing and proximity features. Sometimes I open my garage and that has nothing to do with me coming or going. Having my thermostat engage during this times would be very annoying.

"The MyQ app is currently available for Android and iOS devices ..." It should be called "Rob MyHouse" on Android. Do you really trust Android? With 99% of all mobile malware all to itself? And no, I'm not talking about phishing. Thousands of apps on Google Play exhibit malware behavior. Good luck, fandroids.

Your so right. I mean there isn't a day that goes by that I don't see "Android users identity stolen" or " "Android users abandoning Android because their bank accounts where cleaning out for using a banking app on their phone."
Thank you for signing up to iMore. You will receive a verification email shortly.
There was a problem. Please refresh the page and try again.