Loewe Speaker 2 go review: Premium sound for a premium price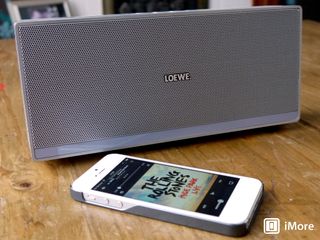 Speaker systems that hook into your iPhone or your iPod are nothing new, they've been with us for many years now. Neither is the idea of a premium speaker that does just that. Bose were one of the first to make a popular, mainstream, high-end speaker dock, and we've since seen efforts from others such as Bower & Wilkins with the mighty Zeppelin range. The fact both are available through the Apple Retail Stores helps their appeal, but now there is another way; Loewe.
Perhaps not the most recognisable name to many, Loewe has a reputation – especially in Europe – for building high end TVs and home entertainment equipment. At a recent press gathering in Italy, I went eyes on with the AirSpeaker, and learned first hand of their next project with a mobile focus; the Speaker 2 go. It recently launched to the public, and we've had the pleasure of taking a look at one.
The first thing you notice upon pulling the Speaker 2 go from its box is the weight. As a portable speaker, the weight is quite substantial. But, with the weighty nature you immediately get the feel for the quality nature of the product. This is a speaker for those who are serious about their music, and want that same quality sound away from their home set up.
In weight comes almost no plastic on the exterior at all. It's a beautifully minimalist design, and yes, it's just a box, but it looks fantastic at the same time. Underneath the Speaker 2 go has a stand that pops in and out as you wish, and when out angles the speaker up ever so slightly with a view to filling the room more with the sound. Up top you have the controls for the Bluetooth, power, volume and the speakerphone; yes, you can use this as an expensive hands-free for your iPhone.
The other main controls are situated round the back out of sight, and they include a USB charging port. This serves no other purpose than to charge your iPhone or iPod – or any device with a USB charging cable – from the internal battery. Loewe promises around 8 hours battery life from just using it as a speaker, and in a recent camping trip that proved more than ample to get through the weekend, including a quick phone charge along the way.
So, it looks great, but how does it sound. The short version is; awesome. For the £269 price tag that Loewe has instilled upon the Speaker 2 go, you would hope for an impressive performance where it matters. It's loud, and powerful, with good but not overwhelming bass. And when I say loud, I really do mean loud. Even on the lowest volume setting in my house, it's probably going to be heard by the neighbors. Sound quality is one of those subjective things, though, so click a little further below for a sample. It doesn't do it justice by any means, but it should at least give you a taste of what it's all about.
So, it looks and sounds superb, but since this isn't like previous speakers from Loewe, like the AirSpeaker, it works with anything you can stream music from via Bluetooth. iPhone and iPad, Android devices, Windows Phone, BlackBerry 10, all work perfectly. In fact, the Speaker 2 go has NFC connectivity that makes pairing with those devices even simpler.
The good
Excellent build quality
Very nicely designed
Powerful sound without overwhelming bass
Works with any mobile device that supports Bluetooth music streaming
On board battery life impressive as is the ability to use it to charge your phone
NFC for devices that support it
The bad
Very heavy for something billed as a portable device
Still quite expensive, even though it is a premium product
Speakerphone performance is somewhat lacking
The bottom line
If you're in the market for a premium speaker to connect your iPhone, iPad, iPod touch, or even any other mobile device, the Loewe Speaker2go has to be on the shortlist. If portability is top of the list, it's maybe not for you as it is quite heavy. But if premium sound, design and build quality are what you're looking for, the Speaker2go is one of the best you'll find.
Get more iMore in your inbox!
Our news, reviews, opinions, and easy to follow guides can turn any iPhone owner into an Apple aficionado