Logitech adds gaming keyboards and mice for Mac users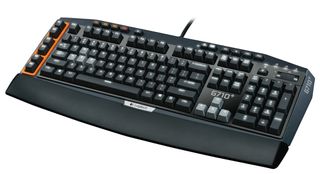 Peripheral maker Logitech (opens in new tab) has long sold gaming products for PC gamers - mice, keyboards, game controllers and headphones - and recently grouped the products more formally under the "Logitech G" brand. Logitech's new G lineup includes six redesigned mice and keyboards which hit store shelves later this month. Now Logitech has announced Mac support for them.
The products covered so far include Logitech's complete line of G-branded mice and keyboards. All of them sport features optimized for gamers - mice with specialized buttons for gaming functions, precision electronics within, durable materials, wired and wireless designs. The keyboards feature adjustable backlighting and special programmable "G" keys, built-in LCD displays that show you in-game information, multi-key rollover and anti-ghosting circuitry to make sure you're as precise as you can be.
The Mac support comes from Logitech Gaming Software, which can be downloaded from the company's support pages for each of the new G products.
Logitech's G line also includes surround-sound headsets and game controllers like joysticks and gamepads, but those remain Windows-specific at this point. The company won't say if those products will be getting the Mac treatment any time soon, but this is a good start for Mac gamers looking to outfit their rigs with some sweet gaming gear.
Source: Logitech (opens in new tab)
Get the best of iMore in in your inbox, every day!
welcome to iMore Peter, really looking forward to your insight!

How many people really play games on there computers these days? I'm curious, I'm not a big gamer on the computer. Great review? Welcome Peter.
Thank you for signing up to iMore. You will receive a verification email shortly.
There was a problem. Please refresh the page and try again.