Logitech Circle 2 vs. D-Link Omna 180: Which should you buy?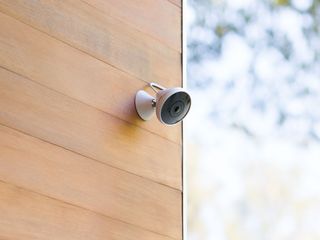 Our pick

The Circle 2 promises it's not just a pretty face, and for the most part, it manages to deliver on this. However, intelligence comes at a cost.
For
Super easy setup
Smart alerts and features
Weatherproof
Built-in microphone and speaker
Cloud storage
Against
Premium features only available for Circle Safe Premium subscribers
Only 24 hours cloud storage with free subscription
180-degree lens creates some distortion
Premium price tag
Solidly reliable

The Omna 180 performs well without additional charges. However, its video storage doesn't have the security that a surveillance camera probably should.
For
Easy setup
Connects well with Homekit
Motion detection and motion zones available without subscription
Built-in microphone and speaker
Cheaper price tag
Against
Fewer features
180-degree lens creates some distortion
Not weatherproof
SD video storage is not as secure as cloud storage
No wireless option
Comparing these two cameras largely comes down to purpose. If you want an extra set of eyes to make sure your pets haven't eaten the sofa or your children haven't overthrown the government, the Omna 180 will get the job done. However, if you want an actual security measure that can be positioned wherever you need it to protect, the Circle 2 runs rings around the competition.
One can see your living room, one can see everything
In some ways, these cameras are very similar. They have identical maximum video resolution and a frame rate at 1080p (the Circle 2 does have a lower resolution rate set as default, but this is easily altered in the app). Both cameras have built-in microphones and speakers for two-way communication. Both Logitech and D-Link have made a big deal about their 180-degree wide-angle lens, as many other models only have a range of 120 degrees. This means both cameras are able to cover most of a room or a large portion of a garden depending on where they are placed. However, this field of vision does come at the cost of some picture distortion in the center of the recordings. Another selling point they both want to cash in on is the lack of effort needed to set them up. Not including your preferred mount for the Circle 2, either camera can be activated using an app in minutes.
The Omna has minutely better infrared, claiming night vision up to 16 feet, against the Circle 2's oh-so-lowly 15 feet. The Circle 2's LED ring, which uses different colors to indicate different states of operation, can be turned off if required. The Omna displays a green light when active and two red lights when night vision is being used. These LEDs cannot be turned off, which could be a downside if you wished to disguise its presence from intruders.
Talking of intruders, let's discuss motion detection. Both have it, but it's a bit more interesting from the Circle 2's point of view. Its smart technology includes machine-learning Person Detection, customizable Smart Alerts, motion zones, and a Day Brief that gives you a time-lapse video of all motion detected. Unfortunately, most of its more impressive features are only available if you subscribe to the Circle Safe Premium package, which will also entitle you to 31 days of cloud storage instead of a mere 24 hours. If you use the free or basic subscriptions (basic increases 24 hours to 14 days), you'll still be well covered, but the Day Brief and Smart Alerts are simplified and less customizable.
Premium Subscription also allows you to use geofencing to stop notifications when you're at home, something the Omna is unable to match. Neither the Omna nor HomeKit support geofencing, which hinders you from creating some fun integrations such as only recording when you've left the house. Unfortunately, you cannot specify times for the Omna's motion detection to turn on aside from either always on or only on after sunset. Workarounds could be possible using additional devices, but not with the camera alone.
HomeKit, for example, can use motion detection to trigger other interactions like lights or smart plugs. It can also be modified for sensitivity, a re-trigger delay can be added, and motion zones can be specified. However, they can only be selected from a grid layout of the feed, whereas for the Circle 2, you can specify a custom shape and location for your motion zones to match the exact area you want to monitor. A few users have had issues connecting the Circle 2 to HomeKit, so if your setup is very reliant on HomeKit integrations, you may find the Omna suits your personal needs the best.
The Circle 2 has a few additional specs that the Omna doesn't offer, like digital zoom, 360-dgree camera rotation, operating temperatures of -20 - 50 degrees Fahrenheit, and a choice between a wired or wire-free model. Accessories available also mean the Circle 2 can be mounted on any wall, ceiling, window, metal surface, plug socket, or anywhere else you may need it. The operating temperatures and weatherproofing mean it can be used indoors or outdoors, and this versatility really gives it an edge over the not-at-all-weatherproof Omna.
Swipe to scroll horizontally
| Header Cell - Column 0 | Circle 2 | Omna 180 |
| --- | --- | --- |
| Dimensions | Without Mount: 71 x 71 x 31.9 mm | 132.08 x 58.42 x 58.42 x 132.08 mm |
| Weight | Without Mount: 84g | 231.05g |
| Video Resolution | 1080p (720p as default) | 1080p |
| Frame Rate | 30 fps | 30 fps |
| Zoom | Digital zoom | No |
| Lens and FOV | Up to 180° expansive fov (multiple options available via the app with recommendations based on mount attachment) | 180° wide-angle lens |
| Night Vision | Up to 15ft | Up to 16ft |
| Camera Rotation | 360° | N/A |
| Operating Temperatures | -20° C to 50° C | 0° C to 40° C |
| Motion Detection | Yes | Yes |
| Video Storage | Cloud Storage (depending on subscription between 24 hours, 14 days and 31 day) – unlimited streaming and downloads included | MicroSD card – supports up to 128 GB (microSD not included with camera) |
| Security Protocols | SSL | WPA/WPA2-PSK |
| Compatible with | Homekit, Google Assistant, Alexa | Homekit, Google Assistant, Alexa |
| Connectivity | 802.11 a/b/g/n WIFi 2.4GHz or 5.0 GHz | 802.11 n/g 2.4GHz or 5.0 GHz |
| Apps Available | Logi Circle (iOS and Android) | OMNA (iOS and Android) |
| Wireless | Wire-Free Model available | No |
| Price | $180 from Logitech | $130 from the Apple Store |
The Omna does well sitting on a shelf observing a room, as long as no objects are too close to damage its field of vision. It's about as versatile as a paperweight, with a chunky size and design that make it hard to mistake for anything other than a camera. This could be thought of as a good deterrence until you consider how the recordings are stored.
The camera only records when it senses movement, taking 20-second clips paced between 30 seconds to 5 minutes based on your preferences. These are saved onto an SD card, and while you can view the clips in your app, you can't download the footage onto your device from the app alone. Some customers like the lack of cloud storage since it makes footage harder to hack, but if the device is damaged or stolen there's no way to recover the recordings.
The Circle 2's smaller shape and choice of mounts allow it to be located out of easy reach, and its cloud storage means even if it's damaged in a break-in, the footage is safe. Unlimited downloads and streaming are available with all Circle Safe subscriptions, and as mentioned earlier, the length of time your footage is stored will depend on your package. The Circle 2 uses SSL to protect your data. There's also a privacy mode that continues to live stream, but won't record or send any notifications. The minimalist and sleek design also makes it easy to blend to any background in style.
The Omna has come to this battle with a couple of major disadvantages. The lack of cloud storage takes away its usefulness as a security feature. If an intruder breaks or walks off with the camera, you might as well have had a ceramic vase in its place. The Circle 2 has your back even if it's taken out of action. The accessories and wire-free alternative give you so much freedom. Need one outside? There's a weatherproof extension cable. Does the top of your fridge offer a great vantage point? There's a magnetic mount too.
Of course, as with the other fun bits of its technology, these additional mounts come at an additional cost, which is the biggest drawback of the Circle 2. Buying the camera alone won't unlock its full capability. The promised customizable Smart Alerts are only yours if you pay for a monthly or annual Circle Safe Premium Subscription. This offers longer cloud storage, but it will set you back. For one camera it's $10 a month or $100 a year. If you've decided to attach cameras to all your windows, there's a Home Plan package for up to five cameras at $18 a month or $180 a year, so you'll be cutting the cost per camera.
Really, it is all about your personal needs. If you just want to watch what your pets get up to when you're not around, the D-Link Omna 180 is a great option. If you're willing to invest in a security measure that will give you eyes wherever you need them to be, the Circle 2 is the better choice by far.
Putting the Smart into Safety
The potential to be extraordinary if you're willing to pay

The Circle 2 comes with a long list of smart features and abilities. Its wide-angle lens, machine-learning motion detection software, and secure cloud storage make it worth the price, but it is a shame that buying the camera alone is not the end of the cost.
Solid Performer
Not a security solution

The Omna 180 is perfect for a HomeKit-enabled house. It will open up your interactions, give you peace of mind about your pets and children, and even let you communicate with your family. However, it's limited by its lack of versatility and its SD storage.
Master your iPhone in minutes
iMore offers spot-on advice and guidance from our team of experts, with decades of Apple device experience to lean on. Learn more with iMore!