Mac games featured in this week's GOG Interplay deals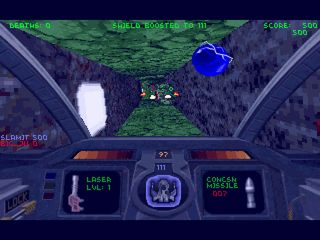 Recently we brought you news of classic Star Trek games available for OS X and Windows; the games were originally released in the 1990s under the Interplay brand, and are now available for download from GOG.com. This weekend GOG.com and Interplay have teamed up with 60 percent discounts on other classic games from the Interplay back catalog. If you're interested, act quick, because the deals are only available this weekend.
The games include:
Descent 1 + 2: Classic 3D shooter in which you pilot a spacecraft through labyrinthine tunnels, shooting enemies, blowing up power reactors and trying to make it out in one piece. - $9.99 $3.99 - Download now (opens in new tab)
Descent: Freespace Battle Pack: You return as a pilot for Galactic Terran Alliance, saving Earth from the marauding Shivans. - $15.98 $6.38 - Download now (opens in new tab)
Earthworm Jim 1 & 2: The Whole Can O' Worms: Side-scrolling platformer featuring an earthworm in a special super suit, on a quest to save Princess What's-Her-Name from Psy-Crow and Queen Slug-For-A-Butt. It's ridiculous fun and action-packed.
Redneck Rampage Collection: First person shooter based on the same engine that powered Duke Nukem 3D. Rednecks saving the earth (well, their backwoods anyway) from an evil alien menace. Includes Includes Redneck Rampage, Redneck Rampage Rides Again: Arkansas and Redneck Rampage: Suckin' Grits on Route 66.
MDK: Innovative third person shooter in which you use a stealth parachute and head-mounted sniper weapon to kill the alien leader by any means necessary.
Stonekeep: Fantasy-themed role playing adventure game from one of the designers of Fallout and Fallout 2. While the game is a classic dungeon crawl, it uses first person style graphics and an elaborate magic system in which players gain access to new abilities by inscribing runes onto their wand.
There are lots more, too. Many others are playable on the Mac. There are a fair number for Windows only, as well. Head over to GOG.com (opens in new tab) and check out the deals.
Thank you for signing up to iMore. You will receive a verification email shortly.
There was a problem. Please refresh the page and try again.