Mac Help: Improving poor Wi-Fi coverage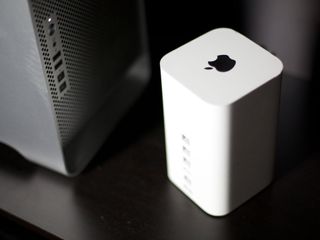 (Image credit: Rene Ritchie / iMore)
If your Mac (or iOS device) is working slow from a specific point in your home or office, don't blame it. Wi-Fi can be tricky business. Depending on your home or office's layout, construction and various other factors, your Wi-Fi network may be in need of a bit of an update instead.
T.E. writes:
After I asked T.E. some questions I found out that his AirPort Extreme, which he'd had for a few years, was connected to a cable modem in his office. His wife's new MacBook wasn't getting a very strong connection in the bedroom, the furthest room in the house from the office. That suggests the problem was with signal strength.
Apple's AirPort Express is a mini router and network extender that works with Apple's AirPort Extreme base station. It can improve Wi-Fi coverage in weak areas in your house. Just set it up where you do have coverage: In T.E.'s case, the living room might be a good spot. The AirPort Utility on the Mac (or the free iOS app can be used to configure the AirPort Express as an extension to the existing network.
The AirPort Express will fill in the gap nicely and should provide an ample boost to the Wi-Fi network's signal strength. The AirPort Express supports 802.11n, the older Wi-Fi network standard also supported by T.E.'s older AirPort Extreme.
Another added bonus: The AirPort Express has a 3.5mm audio jack that turns any stereo it's connected to into an AirPlay speaker system. So T.E. and his wife can enjoy Apple Music and other audio from their Macs, iPhone, iPad or iPod touch on the living room speaker system too.
For long-term planning, though, I think it's a better idea to replace that older AirPort Extreme with a newer one. A couple of years ago Apple refreshed the AirPort Extreme with faster 802.11ac support and a different design. My experience is that the newer AirPort Extreme works a lot better than the previous generation. In my house, anyway, I've gone from spotty coverage on the top floor to five solid bars and more reliable connectivity, even for devices that are use 802.11n, like my 2013 Retina MacBook Pro.
Especially if you've bought or you plan to buy Apple devices that support 802.11ac, you might be better off upgrading the AirPort Extreme now. What's more, Apple's AirPort utility makes it very easy to "clone" the configuration of your older AirPort so you don't have to create a new network. And once the new router is set up, you can use the old router to extend the network in any rooms in your house that still aren't getting good coverage.
Got Wi-Fi woes or any other questions? Lay 'em on me!
Get more iMore in your inbox!
Our news, reviews, opinions, and easy to follow guides can turn any iPhone owner into an Apple aficionado