Mac OS X 10.10 Yosemite now available to download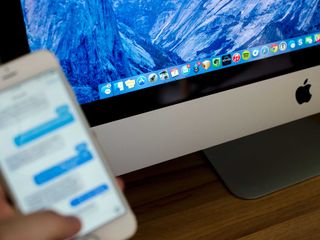 As noted by Apple CEO Tim Cook at Apple's Special iPad and iMac event, Mac OS X 10.10 Yosemite is now available for free through the Mac App Store. It took a while after the announcement for the update to filter through, but it has now arrived, bringing along of ton of improvements and new features with it.
We've already given it an extensive review but now it's your turn to go hands-on with it. Will you be downloading it right now or holding out to see how others make out with the update? Let us know in the comments if you're jumping in or waiting. Keep in mind, things might be a little bit slow as many folks are trying to get Yosemite downloaded.
Get the best of iMore in in your inbox, every day!
Editor-at-Large at Mobile Nations, gadget junkie, energy drinker, ranter.
Trying to download it now, but getting a "this item is temporary unavailable" message. Hopefully it's resolved soon. Sent from the iMore App

I was having the same issue. I just tried it again and it is currently downloading. 5.16GB in size. Sent from the iMore App

The download has now just slowed to a crawl at 50mb. Servers are probably getting hit pretty hard now. Sent from the iMore App

Getting about 300kb per 10 seconds at mo on a 152MB broadband fibre optic connection... :-) 22:46 in UK so will leave it over night methinx...

How do you see the download speed? Mine just says "downloading" on the Yosemite page and isn't showing up on my updates page...

Hover over the launchpad icon to see the download progress

Almost downloaded. Sent from the iMore App

When iOS 8 came out there were warnings not to enable iCloud Drive yet since it would sever the link to iMacs that were not yet running Yosemite. Now that Yosemite is out, does it matter which gets enabled first? Should I enable iCloud Drive on my iPhone/iPad and THEN on my iMac after I download Yosemite? Vice versa? Or does it not matter? Thanks!

I'm not seeing it either. I got the iTunes and Command Line Tools updates, but not the public release update.

Any luck? Mine is downloaded and installing... 18 minutes remaining. Poor little 2010 Core 2 Duo Mac mini gets one last hoorah.

Has anyone updated to the public release from the public beta? The build numbers are different so I would like to update, but the App Store isn't showing an update available, only the option to download the full OS again. Maybe that's the way, but asking the question.

I have not been able to yet either, I keep refreshing the store but no update. I am able to download Yosemite by itself, but the store does prompt me that I already have 10.10 installed and asks whether I want to continue or not. With this being my secondary machine, I'm going to try the full OS when it completes downloading...whenever that happens!!

I have updated to beta 6 today. Sent from the iMore App

I am having the same dilemma. Has this worked out for anyone using the public beta?

Normally you cannot upgrade directly from Beta version to a full Production version. You either need to downgrade to Mavericks copy and then upgrade like normal or else download a full OS X copy of Yosemite and clean install using USB (or external drive). I am already using Public Beta 6 and it never showed me the option to update. Downloading the full OS X installer. Completed 3.27 GB until now.

I liked being one of the few who had OS X Yosemite... ;(. At least I still got windows 10 Sent from the iMore App

Update killed my mac mini (late '12)... Hit install... Later said installed & then restarted... Now nothing but a black screen... Taken it to Apple store in morn :( Anyone else?!?!? Sent from the iMore App

I installed it on my 2013 macbook air. Trying to restart it and it just gets stuck on the boot screen. I'm gonna reinstall the OS, see if that fixes it Sent from the iMore App

I down loaded the new OS. But I am not sure how to make the hand off work. I have the iPhone and the Mac on Bluetooth Sent from the iMore App

I'm waiting until Lightroom 5 supports it, anyone here uses L5 with Yosemite ???

Just got Yosemite downloaded. Setting up iCloud drive now.

No need for me to hurry. Patience is mine. Sent from the iMore App

I'm too scared. Sent from the iMore App

Downloaded and installed on my iMac. So far, so good! Posted via iMore App

It works well on my mid-2009 15" MBP. Disappointed to see handoff won't work since this model is too old and does not have the low power BT.

Just upgraded to Yosemite. Went off without a hitch. I do enjoy the new look. Got to say I am loving the new font. More readable IMO. Will take some time to get over the new look dock. Although looking at earlier iterations of the dock screen in OS X this flat look is not entirely new. Translucency is also pretty cool. Will be reading iMore to learn all the tips about using this update.

Could you say this is called OSX X.X? Posted via the iMore App for Android
Thank you for signing up to iMore. You will receive a verification email shortly.
There was a problem. Please refresh the page and try again.