Apple announces OS X Yosemite available today!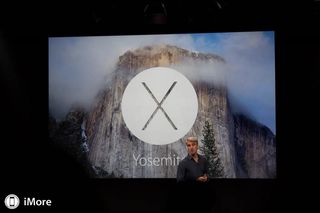 At the special event today in Cupertino, Apple has finally answered one of the burning questions we've had about OS X Yosemite since June when WWDC rolled around; when can we get it? The good news is that's been put to bed now and you'll be pleased to know that you can get it today!
As with Mavericks, Yosemite will be a free download and it will be offered through the Mac App Store.
Keep your eyes peeled for our OS X Yosemite review, coming real soon!
Update Here's Apple's full press release for OS X Yosemite
OS X Yosemite Available Today as a Free Upgrade Introduces New Design & Amazing Continuity Features
CUPERTINO, California—October 16, 2014—Apple® today announced that OS X® Yosemite, the latest major release of the world's most advanced desktop operating system, is available as a free upgrade for Mac® users from the Mac App Store℠. Yosemite delivers a fresh, modern look and introduces Continuity features that make it easy to hand off activities between Mac and iOS devices and even make and receive iPhone® calls from your Mac. Yosemite also includes a new Today view, a redesigned Spotlight® and updated versions of Safari®, Mail, Messages and iTunes®.
"OS X Yosemite is the most advanced version of OS X we've ever built, with a brand new design, amazing Continuity features and powerful versions of the apps you use every day," said Craig Federighi, Apple's senior vice president of Software Engineering. "OS X Yosemite ushers in the future of computing, where your Apple devices all work together seamlessly and magically. It's something only Apple can do, and it's available today."
OS X Yosemite has been redesigned with a fresh, modern look, while maintaining the power and familiarity users expect from a Mac. Streamlined toolbars make more room for your content, and use translucency to reveal additional app content as you scroll. Other translucent elements, such as window sidebars, take on the feel of your desktop picture and give you a sense of what's hidden behind the active window. App icons have a clean, consistent design, and a new system font improves readability on every Mac and looks stunning on a Retina® display.
Yosemite includes amazing Continuity features that make your Mac and iOS devices perfect companions.* Handoff automatically passes what you're doing from one device to another, like writing an email or surfing the web. Instant Hotspot makes using your iPhone's hotspot as easy as connecting to a Wi-Fi network.** AirDrop® now works between Mac and iOS, so you can quickly and easily share content across devices. All the SMS messages that previously only appeared on your iPhone now can automatically appear in Messages on your Mac and all your iOS devices. You can even make and receive iPhone calls on your Mac.***
Yosemite introduces innovative new features, including: Today view in Notification Center, giving you quick access to informative widgets for Calendar, Weather, Stocks, Reminders, World Clock and social networks. You can also add widgets like Yahoo! Sports from the Mac App Store to customize your Today view; a new Spotlight, delivering rich information right to your desktop from Wikipedia, Maps, Bing, App Store℠, iTunes Store®, iBooks Store℠, top websites, news and movie showtimes; iCloud Drive℠, so you can store files of any type in iCloud®, organize them any way you like, and access them from your Mac, iPhone, iPad® or even a Windows PC; a streamlined new Safari that delivers the fastest performance, as well as the longest battery life for web browsing and Netflix HD video streaming on the Mac; an updated version of Mail, which includes Markup for quickly filling out and signing forms and PDFs right within Mail, plus Mail Drop, which makes it easy to send large attachments up to 5GB for free; enhanced Messages, so now you can add participants to your ongoing group conversations, see their locations on a map, quickly access attachments and even mute notifications; iTunes 12, which has a sleek new look, is fast and simple to use, and makes it easier to switch between browsing your music library and discovering new music on the iTunes Store. A new Recents view makes it easy to access the media you just purchased or recently played; and Family Sharing, so family members can now browse and download each other's iTunes, iBooks® or Mac App Store purchases.
Yosemite also delivers platform technologies that make it easier for developers to create amazing new Mac apps. Swift™ is a powerful, next-generation programming language for iOS and OS X that's fast, modern, interactive and helps developers write safer and more reliable code. SpriteKit makes it easier for developers to incorporate realistic motion, lighting and physics in games and when integrated with SceneKit, makes it simple to create games with animated 3D scenes and effects.
Pricing & Availability OS X Yosemite is available as a free upgrade today from the Mac App Store. Yosemite supports all Macs introduced in 2009 or later, and some models introduced in 2007 and 2008. For a complete list of system requirements and compatible systems, please visit apple.com/osx/howtoupgrade. Continuity features require iOS 8.1, which is available as a free upgrade starting October 20. OS X Server 4.0 requires Yosemite and is available from the Mac App Store for $19.99 (US).
Some Continuity features require advanced Bluetooth LE and Wi-Fi features available only in more recent Macs. ** Check with your carrier for hotspot availability. *** Cellular data charges may apply.
Apple designs Macs, the best personal computers in the world, along with OS X, iLife, iWork and professional software. Apple leads the digital music revolution with its iPods and iTunes online store. Apple has reinvented the mobile phone with its revolutionary iPhone and App Store, and is defining the future of mobile media and computing devices with iPad.
Get the best of iMore in in your inbox, every day!
Nice Posted via the iMore App for Android

This is the only place I've read that it will be out today! Everywhere else says Monday!

Yep os x is available today but iOS 8.1 on Monday.

Apple said today on stage so it better be today!

Excellent. Then I assume everyone will update accordingly.

I tired to download but it says it isn't available in the US yet Sent from the iMore App

Same here Sent from the iMore App

Not showing up in Mac App Store yet (11:45Am PT), but there is an "Upgrade Now" button on the Apple web site that has a link to iTunes. Strange. EDIT: The link does go to the MAS and, like Tony above said, a pop-up window indicated it's not yet available in the US. (Not that I'm gonna install this guy for at least another day or two to make sure all is good in the 'hood.)

I hope it's today. I've been really wanting to work with the new UI and see how it handles on my collection of Macs.

they its today... but i still don't see it :(

Can anyone explain to me what happens to people like me on the public beta program, I'm still on the last beta 6 I believe? Do I get the final through the update tap or do I use the one that they put out on the app store?

Remains to be seen... if the build number on the public release is the same as public beta6 - there's no need to update... and if it changed, you can wait a bit to update just to make sure there are no serious issues with the public release version.

I tried from the latest beta and it asks if I am sure I want to install version 10.9 I currently have 10.10 installed.

Not yet available @ 15:11 EDT

Not available in Canada yet 3:38 EDT

Not available in the UK as yet Sent from the iMore App

Saying not available in the US. Bummer, will try later

Not available yet here in Patriot country yet. It's 4:02. Hopefully it will be available soon!

apple has a link to upgrade on their webpage that takes you to the app store and says not available. ?????

It's been over and hour since my previous post and still nothing. I guess we still have another 7 hours and 40 minutes before the end of the day.

nothing yet, what must have happened?

They're having a good lunch in Cupertino :-) Sent from the iMore App

No idea, not seeing it on this end.

It's live. 5pm Eastern. Canada.

Now in UK app store but download error ar present Sent from the iMore App

Null error here too! (UK) Sent from the iMore App

Just keep trying, was having same error message here in Accra, Ghana.
However, the download is currently now in progress.

Thanks, it's well underway now 1.36GB of 5.16GB Sent from the iMore App

Followed the link on apple.com, now it shows in the (US) mac App Store but then it says "temporarily unavailable" when trying to download.

Just checked on my 2011 17" MBP and no updates available

Go to the Yosemite page on Apple.com and hit the Upgrade button.

Now downloading in the UK Sent from the iMore App

I'm downloading! Sent from the iMore App

Mine is downloading......finally

Hello People,
Currently downloading OS X YOSEMITE on my mid 2012 MBP right about now.
currently done about 100MB of 5.16GB.

About an hour to download in UK. Now installing! Sent from the iMore App
Thank you for signing up to iMore. You will receive a verification email shortly.
There was a problem. Please refresh the page and try again.