Switch to Mac: Virtual pilots and their HOTAS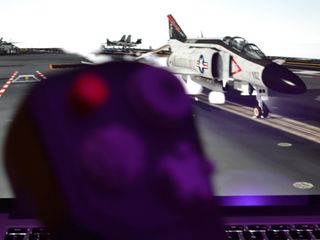 Flight simulation has been a fascination of computer programmers since the earliest days of graphical user interfaces. Those invested in the hobby get expensive joysticks and throttle rigs — accessories that work just fine on the Mac.
G.H. asks:
Hands On Throttle and Stick (HOTAS) systems help put you in the pilot's seat of a simulator the way nothing else does, giving you an intuitive and realistic way of experiencing the joy of flight from your office desk.
If you're coming from Windows, you might have spent hundreds on USB-based joysticks and other peripherals. USB is the key; it's a universal hardware interface that works great on the Mac. Software is a different story: Microsoft won't ever make a modern OS X version of Flight Simulator for Mac, and a lot of the games and commercial flight sims available don't run on OS X (or if they do, they don't run well).
The Mac does sport some great flight sim software, though. Top of the heap is X-Plane, which has long had integrated HOTAS support.
FlightGear for Mac OS X is a free, open-source flight sim. "AddOns" include multiuser racing tracks over places like Reno, Nevada and Narita, Japan. Lots of fun and challenge.
You can find flight sims and games available in the Mac App Store, too, though support for sticks and other USB-based game controllers vary from app to app. In a rare turnabout from what I've said in the past, I'll actually encourage you to check out Mac App Store user comments, because it often comes up.
If flight sims aren't your bag but instead you have a wheel and pedals you miss from your virtual driving days, make sure to check out Feral Interactive. They've got games like Dirt 3 Complete Edition (opens in new tab), and they take game controller support seriously.
Get the best of iMore in in your inbox, every day!
Love me some FlightGear :) "I'm da Blur boys!" - Me with 1200 ping. Fiber in Nashville? Save me based Google.
Thank you for signing up to iMore. You will receive a verification email shortly.
There was a problem. Please refresh the page and try again.