This mini retro Macintosh lookalike is actually a fast-charger for your MacBook
Shargeek Retro 67W charger even has a Matrix-style power display.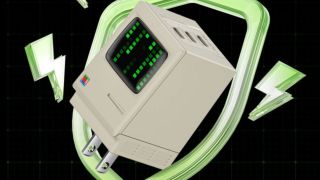 (Image credit: Shargeek)
Looking to bring some retro-charged charging power to your desktop setup? A new IndieGoGo campaign from Shargeek offers 67W of Macintosh-inspired juice to your devices.
The Retro 67 (opens in new tab) takes its cues from the original Macintosh, using GaN technology to charge three devices at once from its trio of top-mounted USB-C ports. Little bigger than a Zippo lighter, it also features an LED display that can show you the charging output status of your devices, as well as a 'Matrix digital rain' effect when idle.
Compatible with everything from an iPad to the latest MacBook Air with M2 chipset, you'll be able to get that particular MacBook battery to its full capacity within two hours, while you'll be able to boost an iPhone battery to 50% capacity with just a 30-minute charge.
Split power, safe charging
With three ports available for three devices, the Retro 67 intelligently splits its power output to make sure the devices which need the most juice get it the fastest. For instance, with all three ports occupied, the top two will deliver 15W to an iPhone and iPad, with the bottom delivering 45W to a MacBook's more demanding power needs.
And of course, the charger can be used with any other devices that are powered over USB-C too, including fast-charge compatible equipment.
It should be a safe charger, too. An internal Active Protection System checks product temperatures 180,000 times an hour, with overcurrent, overload, overvoltage, under-voltage, and short circuit protection included, too.
Earlybird backers can pick up the Shargeek Retro 67 for $39 (opens in new tab), before it hits a final retail price of $79 on release. Shipping is estimated to take place in March 2023, with matching cables and international plug adapters sold separately. A nice little accompaniment to the best MacBooks out there, and a fun hat tip to Apple history, too.
Get the best of iMore in in your inbox, every day!
Gerald Lynch is the Editor-in-Chief of iMore, keeping careful watch over the site's editorial output and commercial campaigns, ensuring iMore delivers the in-depth, accurate and timely Apple content its readership deservedly expects. You'll never see him without his iPad Pro, and he loves gaming sessions with his buddies via Apple Arcade on his iPhone 14 Pro, but don't expect him to play with you at home unless your Apple TV is hooked up to a 4K HDR screen and a 7.1 surround system.
Living in London in the UK, Gerald was previously Editor of Gizmodo UK, and Executive Editor of TechRadar, and has covered international trade shows including Apple's WWDC, MWC, CES and IFA. If it has an acronym and an app, he's probably been there, on the front lines reporting on the latest tech innovations. Gerald is also a contributing tech pundit for BBC Radio and has written for various other publications, including T3 magazine, GamesRadar, Space.com, Real Homes, MacFormat, music bible DIY, Tech Digest, TopTenReviews, Mirror.co.uk, Brandish, Kotaku, Shiny Shiny and Lifehacker. Gerald is also the author of 'Get Technology: Upgrade Your Future', published by Aurum Press, and also holds a Guinness world record on Tetris. For real.
Thank you for signing up to iMore. You will receive a verification email shortly.
There was a problem. Please refresh the page and try again.