MacBook Pro refresh may add an OLED screen above keyboard, Touch ID and more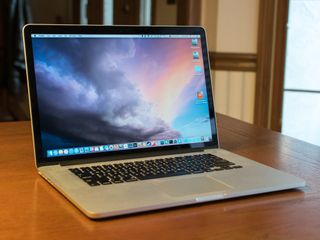 (Image credit: Joseph Keller/iMore)
According to new reports, Apple is said to be readying a MacBook Pro refresh for Q4 2016. The refresh may bring a thinner version of the Pro, along with an OLED display above the keyboard, Touch ID and more. Apple recently refreshed the MacBook lineup, boosting the processor speed and battery life, and many are left wanting a refresh of the Pro series.
The information was first reported by Apple analyst Ming-Chi Kuo of KGI Securities, and then 9to5Mac was able to corroborate the story with its own sources.
Previous reports have also said that Apple was looking to providing a way to unlock your Mac with Touch ID on an iPhone, but now it seems as though they may just add the hardware to the computer. Odds are we won't end up hearing about Siri integration in OS X at WWDC. Luckily, we don't have long to wait until Apple takes the stage again and makes its official announcements.
Would you be interested in a thinner MacBook Pro with an OLED display above the keyboard? Let us know your thoughts in the comments.
Jared started off writing about mobile phones back when BlackBerry ruled the market, and Windows Mobile was kinda cool. Now, with a family, mortgage and other responsibilities he has no choice but to look for the best deals, and he's here to share them with you.
I´d love Touch-ID, also as an USB-dongle for older MBPros and MacMini.

Q4? I was really hoping for a refresh at WWDC - I guess if the OLED display is true then they will need to await release of the next version of OS X.

Apparently the exact processors and GPUs they want to use won't be available in quality by then. Posted via the iMore App for Android

This "OLED" touch bar seems insanely stupid as described. It sounds like something Balmer might have thought was an "innovation" in 2004 or something Samsung thought up last year.

Lenovo gave it a try on the Carbon X1, but people didn't really like it. It's an interesting idea nonetheless, and perhaps Apple will do it well.

A lot of things are tried by others and flop before Apple does them 'better' Posted via the iMore App for Android

I would only consider the new MacBook Pro if the entire screen were touch enabled. Until then I stick with my iPhone, iPad, and Surface Book.

Would seem a bit redundant to have an ipad then a touch screen macbook. Seems pointless. You run into the windows problem then where it cant decide what it is.
Id rather they keep the macbook as a laptop. Trackpad is solid :) Sent from the iMore App

You'll be waiting a while. Apple seems quite content to keep iOS and OSX/MacOS separate. Posted via the iMore App for Android

I want Siri to macOS... Sent from the iMore App

That would be sweet but will still use my MacBook Pro from Mid 2014. Sent from the iMore App

I would love to see all these rumors come true in the next model. Sent from the iMore App

Why in the word do we need a 13" MacBook when we have a 12"?

More options for different people. Apple must have numbers to support an interest or they wouldn't be doing it. Posted via the iMore App for Android

I'd have thought we might see a 14" with the footprint similar to an old 13" laptop similar to how the 12" Macbook is similar in size to the 11". I'd certainly prefer the slightly bigger screen. If they could add in a few more ports on the bigger model (Thunderbolt, 2 USB C, SDXC and ideally 1 USB3) then they would have a real winner.

Absolutely! I was hoping for June but can wait till Sept. This is more than just a processor bump. Replacing keys is risky but I think they'll get it right. I hope they don't mess up on the number of connections on a pro model. Sent from the iMore App

I would like to see one with a good processor and a better video 2GB+. A thin laptop is not as important as good hardware. If they want to offer a thin lighter laptop, they can keep that with the Air and the MacBook. Pro means Pro, not bigger and thinner.

Something I haven't heard is the possibility of using the Haptic Engine to improve tactile feedback like on the touchpad. An array of multiple Haptic Engines could be used to give a more accurate sensation based on where you touch the strip instead of the same feeling everywhere - like individual buttons instead of one big button.
Thank you for signing up to iMore. You will receive a verification email shortly.
There was a problem. Please refresh the page and try again.