MAME returns to the App Store this time hidden in a game called Gridlee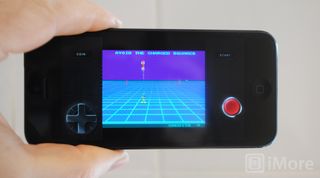 A new game has been released in the App Store that offers a little more than meets the eye. Gridlee was a game that was originally developed for the arcade back in 1982 and never released; that is until now. It is a really simple game as you would imagine as it dates back to 1982; what's interesting here however is that it is built on the MAME4iOS engine. The information comes from Touch Arcade whose eagle eyed forum members made the discovery.
This is going to be pulled from the App Store very quickly so if you want the opportunity to grab a working MAME emulator for your iPhone or iPad get this free game now. iMAME was originally released in the App Store back in 2011 with a small bundle of included games. When Apple discovered that more could be added by dropping ROM's into a folder, it was pulled soon after. This game is no different so expect a very short shelf life. Also as this is a MAME emulator, it offers full iCade support; if you have one of those do not miss out, download it now!
Free – Download Now
(opens in new tab)
Source: Touch Arcade
UK editor at iMore, mobile technology lover and air conditioning design engineer.
Done! Thanks for the heads-up.

Thanks! This is just awesome! I cant get any other rom to work when I place the zip files in the rom folder found in the app... I keep getting the error "The selected game is missing one or more required ROM or CHD images. Please select a different game." Any tips/ideas on how to get it to work? :)

Maybe I'm late to the game, but tried to find it on my iPad with no luck! Has it been pulled? Is there another way to get MAME on my iPad?
Get the best of iMore in in your inbox, every day!
Thank you for signing up to iMore. You will receive a verification email shortly.
There was a problem. Please refresh the page and try again.