The Avengers assemble on iPhone and iPad!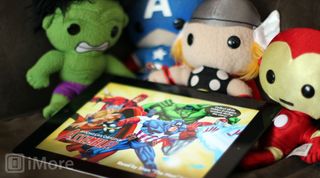 Iron Man Mark VII, The Hulk, and Avengers Assemble hit iOS to promote the next mighty Marvel movie!
Marvel has been hard at work getting preparations in place for what is, to some, one of the most highly anticipated movies of the summer: The Avengers. Part of those plans include iPhone, iPod touch, and iPad apps designed to help promote the release, and available now in the iTunes App Store.
As expected, all of the apps are beautifully designed and are built to capture Avenger fans new and old, comic book and movie. In total, there are three apps to choose from thus far: Avengers Origins: Assemble and Avengers Origins: Hulk both, from Marvel's parent company, Disney Publishing Worldwide, and Marvel's The Avengers: Iron Man - Mark VII from Loud Crow Interactive. If you're a Marvel fan, Avengers Fan, or simply an Iron-Man or Hulk fan, you'll want to check them out.
Marvel's The Avengers: Iron Man - Mark VII
If Iron Man happens to be your favorite Avenger, then the Iron Man - Mark VII app is the one you will be looking to download first. It's an interactive comic book that is 15+ pages long and takes you through the design logs of Tony Stark, explaining how the Iron Man suit came to be, and how it's evolved into what it will be in The Avengers movie. Embedded in the Iron Man app is music from the soundtracks to both the Iron Man and Iron Man II movies, plus you can opt to read the pages yourself or have them read to you.
The Iron Man app also features a sliding panel layout that reacts to tilt, touch, and even allows you to drag "pages" to flip through them. Almost everything you touch causes a reaction, making it fun to just tap or swipe random things to see what will happen. The artwork is great with it being done by Steve Kurth featuring a cover created by famous Iron Man artist Adi Granov. Iron Man fans may also recognize the writing by Fred Van Lente.
Although enjoyable, it feels like it could have been slightly more interactive in the long run. However; it is a free app and well worth the time if you're an Iron Man fan of any age.
Avengers Origins: Hulk
Avengers Origins: Hulk was built by Disney Publishing Worldwide and falls under the Marvel Storybook category. As the name indicates, it covers the origins of Hulk from his time as repressed, introverted Army scientist Bruce Banner to the moment the gamma bomb unleashed the monster within, to the present day. The Hulk app does so with a full-on interactive reading experience with optional narration by Stan "The Man" Lee himself (who does not let fans down).
For younger readers, the Hulk app includes an auto-turn function so that the story moves along in a timely fashion. It's filled with great artwork, music, sounds and mini-games. Overall, it offers a great look at the background of Hulk. Unlike Iron Man: Mark VII, however, Avengers Origins: Hulk is a paid app and does cost $1.99 in the iTunes App Store.
Avenger Origins: Assemble
Save the best for last as some folks say. If you're looking for the full Avengers package then Avengers Origins: Assemble is ready and waiting. Like the Avengers Origins: Hulk, it's a reading book once again narrated by Stan Lee. It features all the same reading modes and interactivity options but is jammed full of Avengers goodness.
In a way, it picks up where the Captain America movie itself left off (and the classic Avengers series started!) with Captain America being thawed out of a frozen slumber to find himself a man out of time. Now Thor, Iron Man, Ant-Man, and The Wasp need his help to defend Earth against all evil. The real question is, will he be willing to help? With hidden items throughout and again those mini-game like sequences built in, if you're looking for a full on Avengers experience -- this is the one to grab.
Master your iPhone in minutes
iMore offers spot-on advice and guidance from our team of experts, with decades of Apple device experience to lean on. Learn more with iMore!
Editor-at-Large at Mobile Nations, gadget junkie, energy drinker, ranter.