Maybe the MacBook Pro does need a touch screen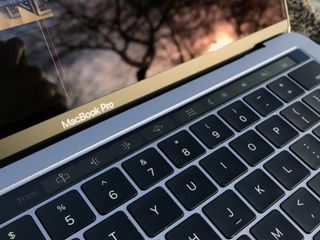 (Image credit: iMore)
When I first got my grubby little fingers on the new MacBook Pro with Touch Bar, I was immediately drawn to that tiny OLED screen that replaced the row of function keys. In addition to just typing away at my keyboard, I can now, also tap away at various tools that make interacting with apps easier.
An unusual thing started happening to my brain as I used the Touch Bar more. I wanted to touch the screen, too. I'm not saying I felt like the MacBook Pro was missing a touch screen, I literally kept accidentally reaching up to touch the screen, as if I were working on my iPad Pro instead of my MacBook Pro, which led me to ponder: maybe Apple should make a touch screen laptop.
You either want it or you don't
Now, I know this is a sticky subject. There are two main camps here; those that think Apple should make a touch screen computer and those that think Apple definitely should not. I used to be in the latter camp. I didn't even thing Apple Pencil support was a good idea. I keep imagining my shoulder getting tired while I tap and swipe at my screen instead of using a trackpad that is already positioned where my hand naturally rests. But, the Touch Bar has given me a taste for what could be, and even shown me that comfortably working on a touch screen laptop is totally plausible.
Why is a touch screen computer a bad idea? Partly because it puts fingerprint smudges all over your screen. That's something I've gotten used to on my iPad. I keep a microfiber cloth nearby to wipe it clean every once in a while. It's not something I want to deal with on my $2,000 + computer screen, though. But, really, when you think about it, how is wiping your laptop screen any different then wiping your tablet screen? This would just require a shift in thought.
Another reason; comfort. I have never used a computer – desktop or laptop – with a touch screen, but I imagine myself getting tired of holding my arm out every time I want to scroll down a web page or swipe to go to a different window. It seems awkward and uncomfortable. But, isn't that exactly how I work on my iPad Pro? I have my tablet connected to an external keyboard case, essentially turning it into a very lightweight (though less productive) laptop. I type. I swipe. I scroll with my finger. And, there isn't even the option of using a trackpad. If I want to move a cursor, or otherwise access something on the screen, I have to reach up and touch the screen. At least a laptop with a touch screen would likely also include a trackpad so I could use both.
So why isn't Apple making a touch screen computer?
Well, if you're listening to Apple's Senior Vice President of worldwide marketing, it's because it just doesn't feel right. When talking with BackChannel's Steven Levy, Phil Schiller explained that a touch screen computer doesn't fit with Apple design process.
Schiller also explained that optimizing for touch screen would negatively affect the way people use a mouse or track pad to navigate their computers. You can't properly optimize for both. In the end, one method or the other (or both) would suffer.
Is there a touch screen Mac in our future?
I think Apple is working on a touch screen computer, even if Schiller has said they tested it, and don't think it's the right thing to do. I think the company will keep trying to figure out a way to make the software work with the hardware. The problem is not that the technology doesn't exist. It's that the technology isn't perfect, which is what Apple wants before it will delve into a new way of doing things.
Take the Apple Watch, for example. Smart watches had been flooding the market a full year before Apple finally released what it considered to be the perfect wearable device experience. The smart watch market took a nose dive in 2016, but Apple continues to sell record numbers of its watch because it didn't enter the market until it had perfected the technology.
I have high hopes that there is a touch screen Mac in our future. I believe it could be the best touch screen experience anyone has ever had on a computer, and it would last much longer than what the current PC companies have on the market. I also believe Apple's version would make computer companies rethink how their software and hardware work together to make a touch screen computing experience. But, I'm an optimist.
Get the best of iMore in your inbox, every day!
Lory is a renaissance woman, writing news, reviews, and how-to guides for iMore. She also fancies herself a bit of a rock star in her town and spends too much time reading comic books. If she's not typing away at her keyboard, you can probably find her at Disneyland or watching Star Wars (or both).
I think an iPad with an onscreen trackpad would be the right balance.

"Onscreen trackpad" sounds wrong on so many levels that that's just never going to happen. Maybe a trackpad connected via an external keyboard, but not on the screen

I want an iPad Pro with a smart keyboard with a trackpad. This with an enhanced file browser experience would really help the iPad Pro be pro.

The last decade has been Apple putting the multitouch display out in different shapes. The multitouch mac will come, but who says it will be limited to the screen? The touch bar is a preview of the OS changing the keyboard to suit the current application.

The Mac will always have a physical keyboard though, _unless_ (and that's a big unless) they develop a way to be able to feel the keys through a touch screen. Otherwise touch typists like me will not be able to use the keyboard

I think that if Apple does release a touch screen Mac, let's say an iMac as an example, they would add features to make it easier to use. Like being able to tilt the display to a horizontal position and rest your arm on it while you use it.. And they would probably make Apple Pencil support dominant, and add touch screen support as a side note.

Good point. And with a laptop it makes more sense with products like the Lenovo Yoga so a different design might eventually come for laptop as well. I wouldn't expect to use touch very much but from time to time scrolling by touch would feel very natural and convenient.

Not exactly, I'm thinking more flat sitting on top of it's stand hinge, not lowering down towards the ground.

Maybe it needs a touch-screen track pad instead! The touch-pad on the MacBook Pro is big - with that much real estate developers could explore some interesting things. With iOS already on board I can imagine some intriguing possibilities. For my part I hate reaching up to manipulate my iPad screen when using a keyboard. Just HATE it. But I'm an old fart.

Navigating the iPad screen with a mouse cursor wouldn't be very comfortable either though, as iOS on a whole is designed for touch. Icons are bigger, menus are hidden through swipe gestures, it'd be a pain with a mouse cursor unless there is a "mouse cursor" mode where the UI changes accordingly

I hate it too. They just need to implement mouse/trackpad support in iOS to start this ball rolling. JUST DO IT APPLE!!

As mentioned, I think arm fatigue is perhaps the biggest reason for not implementing the touch screen. But at the same time, it's all about the option. Even as a seasoned Mac user with new MacBook Pro with Touch Bar, there are times when I wish the screen was touch enabled (e.g., reading a book or lengthy article, swiping photos, selecting an item).

Arm fatigue??? Bwahahahhahahah!!!! Lift a weight or two.

Maybe not arm fatigue but I would argue for conservation of hand/arm movement. Using a keyboard and trackpad will always be faster than removing your hand(s) from your typing position to touch your screen. I don't really even see the benefit of the new MBP Touch Bar but that's me...

Well, that's the fun part, it does integrate pretty well into a desirable hand/arm movement. What I've noticed when using the Surface Pro 4 is that I rather press a confirmation button then having to move the cursor and click. Same applies to closing screens, I just tap the screen instead of having to move the cursor. It feels quite natural. Now when tapping options on the Touch Bar I feel the same desire to just tap the screen.

I think that an Apple Mac touch screen wouldn't be for short intervals of time, like tapping an item. More like extended periods of time that you would use the touch screen for e.g. Games, iBooks, Apple Pencil on Mac.

What about arm fatigue from using the iPad pro with keyboard and having to touch the screen all the time. Apple is two faced on this point. On one hand they say the iPad pro can replace your laptop, and on the other they talk about laptops that should never have touchscreen. Make up your mind Tim Cook!!!

Funny, Windows 10 seems to work fine with or without the touch screen.

As someone who spends a goodly amount of time each week using windows 10 on a touch screen, I would argue that windows 10 doesn't work fine, with or without a touch screen. It works poorly compromised both ways. With absurd sizes for some things when I'm using the mouse, and too tiny targets on other things when I'm trying to touch. Rather than the "No Compromises" Microsoft promised, my experience has been rather the opposite. It is neither as good a tablet, nor as good a PC, as dedicated hardware, and every time I'm forced to subject myself to it, I simply cannot wait to get back to a Mac, so I can get some real work done.

Disagree. I have a Win10 device, (SP4), and it's fine. Personally I'd rather have the option.

It may depend on the size of your fingers, but as a general rule Microsoft, Google and Apple all have UX guidelines for touch where a touch-target must be of a certain size for comfortable touchscreen use by everyone. So logically if an application isn't designed for touch, some people are going to find it very difficult with a touchscreen

+1. At least for the touchscreen side of things, there are still many, many applications not optimized for touch, so it's very fiddly trying to hit small targets

Until Apple does it you don't need it, then you will be writing articles on how Apple made the right choice etc

No one "needs" it except for artists who want to draw via a stylus on a touchscreen. This isn't the transition from non-touchscreen phones to touchscreen phones, where non-touchscreen phones were actually slow to navigate in many circumstances. The Mac has no problem with using a trackpad/keyboard. Having a touchscreen is a "want" for many people, but it's rarely a "need"

I have to agree that Win10's implementation needs some work, but isn't horrible. You just get confused at times as to whether you are using it like a tablet or a laptop, and sometimes the interface is confused as well. Time will tell if Apple's approach with the touch bar is better, but it's too early to say.

The problem there is that in Apple's ideology, the last thing they want is for the user to be confused at any point, so that wouldn't suffice for Apple. If Apple implement it, it needs to be very clear as to whether applications will work well with a touchscreen or will work better with a trackpad

Here's how it worked out for me. Your mileage may vary. 1) Launch Duet: https://www.duetdisplay.com.
2) Connect an iPad and launch a favourite app, (in my case FCP X).
3) Use Mac OS on second iPad screen (with build in Multi-touch).
4) Curse how terrible using a mouse driven interface is with touch.
5) Vow not to do it again. If the interface is touch driven I'm all for touch : I'd love it for example if they released a full fat Final Cut optimised for the iPad, but as it stands it's just terrible: the scale of Mac OS is not designed for digits and some things just work well with mouse and pointer. Spreadsheets anyone? Who knows in future maybe the UI will change on the fly if it senses a fingertip, but the trackpad, Touchbar & keyboard work pretty well right now.

Exactly my point. Touchscreen only works if the UI is designed for it, this is why Microsoft, Google and Apple all have UX guidelines for touch, like the fact that touch-targets need to be of a certain size for example.

"the scale of Mac OS is not designed for digits and some things just work well with mouse and pointer. Spreadsheets anyone?" I agree. So just let us use our mouse when we are using Apple Numbers or Excel on our iPad instead of having to make us pay $2000 for a MacBook Pro we don't need!!

I feel that the Touch Bar is a well intentioned but overly complicated touch option in lieu of simply moving to a touch screen on the MacBook Pro.. Very disappointed that Apple added the Touch Bar, and had the nerve to then charge a $300 or so premium for it. (Also, starting the 15" MacBook Pro with just a 256gb SSD? wow)

I partially agree, the touch bar has good intentions, but sometimes when you just want to quickly tap something, you take about ten seconds hunting for what you want to use. Other than that, I think that the touch bar is much more natural than reaching up to touch the screen in most cases.

No... it does not!
If I want "touch screen" capabilities I'll use a iPad with a bluetooth keyboard or the on-screen keyboard. I've used several touch screen laptops and abhorred the all. Most were too light in weight making the tippy whenever you touched the screens. With a good keyboard and trackpad, you are actually wasting time and effort touching your screen.
Lastly, I detest fingerprints on my screens and only tolerate them on phones and tablets.

Why is it fine to have fingerprints on your tablet but not on your laptop? People want a machine that does both Mac OS and iOS . Either give iOS mouse & trackpad support and a file system or give us Mac OS with touch screen.

"It does not feel right" ok, I see their point, but how did they arrive at this? Beta units? I think if it was a feature, it would be well accepted. An iPad with a physical keyboard is no problems for me. I would love for my MacBook Pro to have a touch screen. It would put a new meaning to "It just works" work flow would be better in many ares. Photo editing, music production, video production just to name a few. The power of a MacBook Pro with a touch screen, your imagination could be endless on what could be accomplished with it. Sent from the iMore App

Putting a physical keyboard on the iPad is a far, far easier task than putting a touchscreen on a Mac, not to mention a physical keyboard will always offer a benefit for touch-typists like myself. A physical keyboard can easily be implemented on anything because all it has to do is just input the button presses to the device. However, if you want to put a touchscreen on the Mac, the whole UI needs to be redesigned for touch. That doesn't just mean the OS, but all applications as well which requires developers to redevelop their applications. As a previous commenter said, he tried using Duet on his iPad to control his Mac via the iPad's touchscreen, and it wasn't a pleasant experience at all

Apple is missing the point. They don't have to add a touch screen and then ditch the mouse/trackpad. Why not include a touch screen for those that want it but also allow users to use a trackpad or mouse. Using the iPad Pro as a laptop replacement is hard to go all in on because it lacks a trackpad/mouse and needs a file browser (iCloud Drive is an ok start, but it needs more functionality like Finder). It is funny to me that Apple always brings up how bad of an experience it would be to take your hands off the keyboard to touch the screen, but out of the other side of their mouth sells the iPad Pro as the perfect laptop replacement. I don't want a Mac that I have to touch the screen to use it, but it would be great to be able to use the Apple Pencil to make annotations, draw, take notes, etc. It would be great to be able to scroll with my fingers when it feels right and scroll with the trackpad when it feels right. At first I understood Apple's position and figured they'd ad touch support once they perfected the UX. As time goes on I'm starting to lose hope that they will ever see the light. If a year or 2 from now Apple still hasn't added touch support to the Mac I will likely consider switching to a Windows (makes me sick to even think about it) 2 in 1. Sent from the iMore App

Apple is missing the point. They don't have to add a touch screen and then ditch the mouse/trackpad. Why not include a touch screen for those that want it but also allow users to use a trackpad or mouse. Using the iPad Pro as a laptop replacement is hard to go all in on because it lacks a trackpad/mouse and needs a file browser (iCloud Drive is an ok start, but it needs more functionality like Finder). It is funny to me that Apple always brings up how bad of an experience it would be to take your hands off the keyboard to touch the screen, but out of the other side of their mouth sells the iPad Pro as the perfect laptop replacement. I don't want a Mac that I have to touch the screen to use it, but it would be great to be able to use the Apple Pencil to make annotations, draw, take notes, etc. It would be great to be able to scroll with my fingers when it feels right and scroll with the trackpad when it feels right. At first I understood Apple's position and figured they'd ad touch support once they perfected the UX. As time goes on I'm starting to lose hope that they will ever see the light. If a year or 2 from now Apple still hasn't added touch support to the Mac I will likely consider switching to a Windows (makes me sick to even think about it) 2 in 1. Sent from the iMore App

The iPad Pro isn't bad as a laptop replacement because it doesn't have a trackpad, the touchscreen is fine for pretty much any task. The iPad Pro is bad as a laptop replacement because it doesn't have a file browser like you said, and is missing Pro apps which could be optimized for touchscreen usage. If the Mac does get touchscreen support they will need to perfect the UX, making the whole OS work well with touch, and then they've got to try get developers on board as well

Well, I actually think Apple is wrong with its "no touch on the Mac" stance. I've bought the Surface Pro 4 when it initially came out last year and, although I primarily use the trackpad I feel myself sometimes tapping the screen to just get things done. Last weekend I purchased the new 15" MacBook Pro (I had a late-2008 MacBook Pro which still worked but its screen started to show the wear and tear). Now when using the Touch Bar I feel myself compelled to start tapping the screen to confirm options or close windows and such. It's pretty much the same instinct I'd already developed when using the Surface Pro.
And regarding the iMac, I think Apple really needs to reverse its position. Microsoft has shown there's a real business case in a desktop sized computer with touchscreen.

It kind of seems silly to implement a touchscreen on a computer if you're going to seldom use it. Apple is already stripping out features that people very rarely use (SD card slot), so to implement a touchscreen that's going to be using 20% of the time is a pointless effort for Apple unless they can implement in a way that will make people want to use it most of the time

Microsoft has got the right idea of desktop and tablet in one device. The problem from the tablet side is windows tablet apps suck. iPad apps are great though so if Apple did the same thing with Mac os/iOS it would be the holy grail for the consumer. They won't though because they are cheap and want to make people buy both a MacBook Pro and an iPad Pro.

There is indeed a big difference between a touchscreen on a MacBook versus one on the iPad Pro - the user interface. I have had the privilege of working with Windows tablets as part of my job. And since they were tablets you had to use touch - no mouse or keyboard shortcuts. Every interaction with standard windows screens needs deliberation. "I need to enter text on this field, so let me click this just right...", "Oops! clicked on the field below by mistake", "Oops, clicked on the other window by mistake... now let me find this window from the taskbar again... oh, no Alt-Tab, right". It was a very frustrating experience, and that is an understatement. At my present job most of us have touchscreen Windows machines (I don't because I got an older machine). No one reaches out to touch a screen to do anything. I can remember one person touching an excel sheet to point out a value, but no one touches it as part of their work. In fact when they do touch it, its usually followed by an, "Oops!", as in, "I didn't realize I'd make the cursor jump". I am not saying Apple should or should not make a Touch Screen Mac. Just that if they do, MacOS will need a whole new interface as the icons, screens, fields - everything on MacOS currently is highly non-optimal for touch. Kudos to Apple for seeing that, and shame on Microsoft for not. I sincerely feel sorry for anyone who has to use a Windows tablet without a full keyboard and trackpad/mouse.

+1. It seems the people that do have a Windows tablet with a connectable trackpad/keyboard, seem to use the touchscreen very little, so little that it makes you question why it's on there in the first place. Touchscreen on the Mac would have to start with a very big UI redesign of the OS and its built-in apps. Then the next hurdle is getting all the app developers on board too…

Hope you're right Lori, would love to see Apple not only bring a touchscreen to the Mac, but also bring iOS to the Mac. I think this would force Apple to bring more dynamic designs to the desktop form factor to accommodate iOS ala Microsoft surface studio. Voice, and the stylus would just feel so natural to use then