Media Browser working on iPad client for its home multimedia server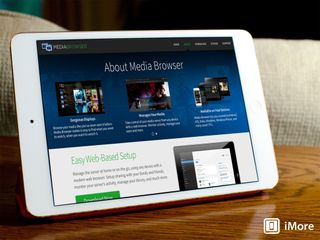 Media Browser is a handy service, which turns your home PC into a multimedia server. With apps available for Windows 8, iOS, Android and Windows Phone, the team have been working on an iPad-optimized version. Today, an update has been published on the official blog detailing some features being worked on for iPad owners.
If you're not familiar with the name, it enables consumers easily transform their home PC into a media server. To help users make the most of Media Browser on an iPad, the team have implemented media caching, enhanced scrolling, searching with locally stored metadata for instantaneous functionality, and more. Not everything the team has planned for the iPad will be included in the initial app release, but updates will be published post-release after the feature list has been re-evaluated.
Expect to see the app arrive on the App Store for iPads soon enough (they're aiming for May 10). For now, if you own an iPhone, check out the iOS app already available on the store. Note that you need to have the server configured before using the apps (it's available for free and runs on OS X).
Get more iMore in your inbox!
Our news, reviews, opinions, and easy to follow guides can turn any iPhone owner into an Apple aficionado
I'm unfamiliar with the Media Browser program. Can you compare it to Plex and its apps? I have a feeling this doesn't do on the fly transcoding, but could be wrong.

Yes, we do transcoding on the fly when needed.

Transcoding is supported by all of our apps, feel free to download the free server and some of our clients (most are free/free trial as well).. and put us through your paces. Only you can truly evaluate us against Plex (or others) and see what works for you.
-MrWebSmith

Thanks for the replies! I'll definitely give it a go this weekend. I appreciate your help and support on the application!

I've tried for MB3 and Plex. I personally think MB3 is a lot more powerful then Plex. The metadata management is far more superior. The devs seem to update their apps for more frequently too.

I've been lucky to be on the beta testing program and it's already a great looking and functional app, bringing everything into the native ipad look. The server does all the transcoding on the fly and you can choose the quality from the app

Good day Valdan, As Mark said, the mb server support transcoding on the fly, the mb dev done really great job on this, my personal view to anyone, to test it yourself when you have a time and see what it can do. My best

As an AVID fan of the entire Mediabrowser family of products (and our amazing userbase) for years, i cannot wait to add this iPad specific app to my arsenal. I have used competing media collection interfaces before and I keep coming back to MB as my main platform year after year. The project has new lifeblood and the development is fast and furious on the app side (ipad as a specific example here) but also on the server site. please give us a chance and let us know what you enjoy and what we can improve. www.mediabrowser3.com

I much prefer the MB Server/Media Browser Theater combo to its Plex counterparts. Can't wait for this app - it looks absolutely stunning.

Been using Media Browser 3 since it was out and the generations before it. The features, support community and general buzz around MB3 blows my mind. I prefer it all other alternatives.
Give MB3 a go, you'll never look back! I use all clients currently available and can't wait for the for the new iPad client, screenshots look amazing!

I've used Media Browser almost exclusively for several years. I'm so excited about the direction they are taking lately. Multiple clients, central server, independent media player (seperate from Windows Media Center). I've used several other media center apps (XBMC, Boxee in the old days, tried Plex) but I've never been able to match the usability of Media Browser. I always seem to be able to find the UI I want and the consistency of performance. Not to mention the responsive assistance by the developers and fellow users in the forum. Can't wait for the iPad version (coming very soon).

A long-time user of Mediabrowser, I've tried Plex and XBMC and always find myself returning to MB - it's the best front end around, and its metadata management capabilities are second to none. Worth a go.

I have both Plex and MediaBrowser. I think that the cutomizability of MediaBrowser is much superior to Plex and you can really have it look however you want. I also really like the latest LiveTV feature they've added which allows me to stream tv to almost any networked device in my house with a browser (iPad, iPhone, Xbox One, etc). The one thing that I sometimes use Plex for still is to stream directly to Samsung TVs. I am hoping MB adds this capability one day but for now there are many other ways to enjoy the program that I still use it in all other cases.

This is simply awesome, the iPhone version works extremely well and I just can't wait for the iPad version!

I've used Media Browser since its MB2 days, and I have to say, MB3 is by far the most comprehensive, feature-rich media experience I've ever seen. Primarily, I use it through Windows Media Center on an HTPC setup, but I'm thoroughly excited for the standalone Theater client they have in the works so I can eventually, and finally, divorce myself from 7MC. As for the iOS apps, I have the one for the iPhone and I use it very often. The fact that I can be literally anywhere in the world and watch my stuff as long as I have cell service... It's amazing. Just bought an iPad a few days ago and then found out they've got this in the works! I've never used Plex personally, but I feel no need to.

The new iPad app "Media Browser Client" has been officially released in the AppStore! The iPhone version was a special surprise, but this thing is super impressive. Very, very good for its debut, and it's already being improved upon. I was especially delighted to see they worked in AirPlay support for the initial launch! Super stoked about that! I started out using MyMovies about 8 years ago and began using MediaBrowser for Windows Media Center sometime after. I have never looked back. The product has experienced unprecedented growth in the past year and has completely changed the game with its stunning array of product support and cross-platform availability. If you're a Windows Media Center user like myself and need something to replace that void left by Remote Potato (also awesome in its day), then look no further. Media Browser Server is not restricted to use by Windows Media Center by any means. Its a separate back-end that can be used by many independent clients to access and present your digital media the way it was meant to be enjoyed. Give it a look see. You will NOT be disappointed.

Helluva release, absolutely loving it. My iPad is officially complete!
Stellar job, team.