Media picks of the week: Godsmack, Guardians of the Galaxy, Black Jesus and more!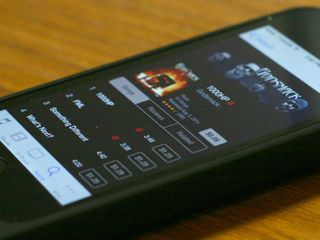 Every week Apple adds tons of new media content on iTunes — music, books, movies and more. It's impossible to keep up with all of it, but it's not impossible to pick out the very best. Here they are! This week we've got Godsmack, Guardians of the Galaxy comics, new experimental hip-hop and more!
1000hp - Godsmack
Massachusetts takes a lot of pride in home-grown Godsmack: the release of their first new album in four years was a big enough deal in Boston for the mayor to name August 6th Godsmack Day. 1000hp is a collection of ten new tracks that show Sully Erna and crew in fine form. Some of these are straight up Godsmack head-thrashing rockers — I challenge you to listen to the title track without throwing goats when Erna howls "Turn that shit up louder!" FML, Locked & Loaded and What's Next continue the fist-pumping jams. You won't find any ballads here, but Godsmack does let up a little bit on the gas with more melodic offerings like the aptly named Something Different, showing a softer side of these masters of alt-metal. But even when the melodies come out, Godsmack still rocks it.
Lese Majesty - Shabazz Palaces
Remember Digable Planets? They were the jazzy hip-hop trio behind the huge 1993 crossover hit Rebirth of Slick (Cool Like Dat). Ishmael "Butterfly" Butler, rechristened Palaceer Lazaro, continues his work pushing the boundaries of hip-hop with Shabazz Palaces. Lese Majesty is the followup to 2011's Black Up, and it does not disappoint: the same jazz sensibility that infused Digable Planets is still here, though it's very abstracted. Shabazz Palaces is solidly hip-hop but infused with hugely experimental sounds, sound effects, almost Parliament Funkadelic/George Clintonesque sonic psychedelic experimentation and some sonic minimalism that evokes Philip Glass and Brian Eno. There's a lot to listen to here.
Rich Hill
Rich Hill, MO is a small town that's like many that cover the American midwest. This documentary takes a year-long look at the teenage boys that populate this one town, the circumstances that dominate their day to day life and the situations that can possibly affect their future — parental instability, poverty, and small-town life. These kids deal with struggles just like we all do, but their perseverance and their outlook will give you some hope that they'll make it in the end. Rent it for $6.99 or pre-order it to buy for $14.99.
Black Jesus
This live-action comedy comes from the mind of Aaron McGruder, best known for creating the cartoon strip The Boondocks. As the name implies, McGruder is still pushing back against the white establishment with his newest effort, which places Jesus in Compton, CA, on a mission to spread love, kindness and understanding despite everyone else's best efforts to the contrary. Sure, you can watch it for free on the Adult Swim web site (or on TV), but this lets you watch without any censoring and without ads.
Guardians of the Galaxy, Vol. 1: Legacy
Marvel Studios' hit movie was a comic book for a long time before it saw a movie adaptation. Guardians of the Galaxy's lineup has altered a lot over the years, so the lineup isn't exactly the same as you see in the movie, but many of the same characters are here. This is the first in what was ultimately a 25-issue run; there's a lot of folklore before this series starts and a lot after, but it's a great story that will give you a terrific flavor of what made Guardians such a great series to make a movie from.
Severed Souls - Terry Goodkind
A new story of Richard Rahl and Kahlan Amnell — the world depicted in the Sword of Truth series (Legend of the Seeker): a world of magic, where an army of the dead marches on the world of the living. This book is sold without Digital Rights Management (DRM).
Your movie, TV and music picks?
There are my media picks for this week. What have you found in iTunes that you love? Let me know in the comments.
Master your iPhone in minutes
iMore offers spot-on advice and guidance from our team of experts, with decades of Apple device experience to lean on. Learn more with iMore!