Media Picks of the Week: Homeland, Harry Potter Complete Collection, Sound City and more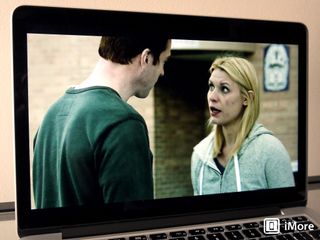 Every week, the editors and writers at iMore select some of our favorite, most useful, and most extraordinary apps. We're trying something new this week by extending the concept to some of our favorite media too. Let us know what you think of these picks (and this idea).
Homeland - Richard Devine
Homeland has quickly become one of my favorite shows, despite missing the first two seasons as they ran on TV. Thankfully, iTunes has both seasons one and two available to purchase, making it one of the only places right now you can actually get hold of the second season, though it does look to be only available in select regions like the UK at the moment (sorry U.S!) I started watching it on my wife's recommendation and I'm extremely pleased that I did.
Everything centers around Carrie Mathison and Nicolas Brody, played by Claire Danes and Damien Lewis. She's a CIA analyst with a particular speciality in a terrorist known as Abu Nasir, while he's a U.S. Marine, recovered from the clutches of the enemy where he'd been held for 8 years. Unlike something like 24, Homeland has a central plot that runs throughout the first two seasons, and will carry on into the third when it eventually airs. It literally has everything; action, suspense, plot twists, and honestly I think it's one of the best shows made in recent years. If you haven't seen any of it yet, I cannot recommend it highly enough. Just wish season three would hurry up and get here!
Harry Potter Complete Collection - Ally Kazmucha
Anyone who is a regular reader of iMore probably knows that I'm a huge Harry Potter fan. I was left a little disgruntled several months back when several of my Harry Potter movies mysteriously disappeared from iTunes in the Cloud. Apparently Warner decided they wanted to attempt their own distribution method, which was a completely ridiculously one.
Obviously that fell through and to my delightful surprise, my movies resurfaced recently and I also noticed the complete Harry Potter collection made its way to the iTunes Store complete with the final part of Deathly Hallows. If you haven't picked up any of the Harry Potter movies through iTunes yet, you can pick up all 8 titles in one pack for a very reasonable price, in HD of course.
To top it off, a few of them are even the extended editions. Not a bad deal for every single movie.
Chances are if you listen to any music from the 70's, 80's or even 90's, then you've listened to an album recorded at historical Sound City Studios. Neil Young, Tom Petty and The Heartbreakers, Elton John, Fleetwood Mac, Cheap Trick, Nirvana, Rage Against The Machine, and Red Hot Chili Peppers have recorded albums at the now defunct Sound City Studios, along with many other artists. In 2013, Foo Fighters lead singer Dave Grohl documented the history of Sound City Studios and the now famous Neve 8028 analog mixing console used by the studio to create multiple gold record albums and Sound City - Real to Reel is the end result.
The album created for the documentary is also superb. It's compiled from many of the artists who originally recorded at Sound City using the Neve 8028 analog mixing console which, Grohl now owns and uses in his 606 Studios. If you're a music fan this is one documentary not to be missed. I slept on it for so long that I when I actually sat down and watched it, I found myself asking why I had waited so long.
American Gods: Tenth Anniversary Edition (Enhanced Edition) - Joseph Keller
American Gods by Neil Gaiman is one of my favorite books. Shadow, recently released from prison, ventures across America as the bodyguard for the mysterious Mr. Wednesday. American Gods shows the struggle between the old and the new, and the effect that America has had on the different folk tales, myths, and traditions of the Old World, personified by the struggle between old gods like Odin, and the new gods, manifestations of Media and the Internet. Pulled in to this fight for reasons beyond his comprehension, Shadow must unravel the mystery at the heart of the conflict to bring it to an end. In addition to the primary conflict of the book, Gaiman weaves in smaller stories of different figures of folklore living in America, and how they react to changing times.
The tenth anniversary edition of American Gods contains an additional 12,000 words over the original release. Additionally, downloading the Enhanced Edition includes audio clips read by Gaiman himself, an interview, along with excerpts from the audio version of the book. Intelligent, intriguing, and, at times, quite funny, American Gods is a must-read. Pick it up from the iBookstore for $9.99.
Louis Jordan: Let the Good Times Roll - The Anthology 1938-1953 - Peter Cohen
Anyone who grew up with Tom & Jerry cartoons probably remembers the "Solid Serenade" episode, where Tom woos his date by playing an upright bass as he sings the popular hit (in its day), "Is You Is Or Is You Ain't (My Baby)." The cover of the song played in the cartoon is a serviceable rendition, but Louis Jordan topped the charts with that track before it became a cartoon. "Is You Is" was the B-side to another big hit of Jordan's, "G.I. Jive." You can find those and 44 other Louis Jordan hits on this anthology.
Louis Jordan and his Tympany Five band pioneered the "jump blues" sound, an upbeat and eminently danceable combination of jazz, blues and boogie woogie that gave the big swing bands of the era a run for their money. The impact Jordan and his contemporaries had on pop music was huge - impacting rhythm and blues, jazz, rock and roll and later modern hip hop and R&B. Seventy years later, Jordan's swinging sounds will have you out of your seat and dancing like Tom in the cartoon. Just try to avoid waking up any angry mice, or you might end up with a pie in the face.
Battlestar Galactica: The Complete Series - Rene Ritchie
There's currently a sale on in the U.S. App Store that has both Battlestar Galactica and its spin off, Caprica, on sale for $20 a season, HD. I couldn't find the same sale in Canada - C$35 - C$40 per season here - but I did find something else: Battlestar Galactica: The Complete Series. It comes in two parts for C$50 each which, when taken together, is pretty much the same pricing as the U.S. To compound matters, I've been told BSG is available to stream on Netflix in the U.S. It isn't in Canada.
That highlights one of the problems with media. Unlike apps, there are all sorts of different licensing deals in different territories, and pricing that makes no sense, anywhere, to anyone, but the legacy media companies that cling so desperately to their dying business models.
Oh well. No matter. Wherever you are, and however it's available, Battlestar Galactica is an amazing show and if you haven't seen it already, it's well worth your time. It doesn't end quite as well as it begins, sadly - the writers got lazy and arrogant, which seems often to the be the case - but it has more highlights than almost any other show of its era, and when it hits, it hits like a nuke. If you can get past the mini-series-come-pilot, and finish the first regular episode, you'll be hooked. It's that good.
Your pick?
Did you watch a great movie or TV show? Read a great book or comic? Listen to a great song or album? We're always looking for recommendations, so make sure you give us your pick of the week as well!
Master your iPhone in minutes
iMore offers spot-on advice and guidance from our team of experts, with decades of Apple device experience to lean on. Learn more with iMore!