Microsoft launches beta of new Remote Desktop app for Mac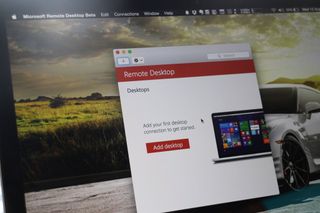 Microsoft has a public Remote Desktop app available on the Mac that can be downloaded from the App Store (opens in new tab), and the Redmond giant is now rolling out a beta client with a new user interface. The beta app also boasts new feature additions, including improved user account management, and the ability to use native Mac commands such as Command-X,C,V to cut, copy and paste within a remote session.
The beta client of Remote Desktop retains features seen in the public release, such as seamless audio and video streaming, as well as connecting to local desktops with a single monitor. Microsoft mentions that it will continually add new features to the beta app, including support for multiple monitors, clipboard redirection, Remote Desktop gateway and remote resources (RemoteApp and desktop connections).
Got feedback? Make sure to let Microsoft know through the UserVoice portal. Once again, the new Remote Desktop app is in beta and should be treated as such. You may run into bugs, freezes or crashes when using the utility.
Beta test the new Remote Desktop app for Mac
Source: Microsoft (opens in new tab)
The clumsiest man in tech.
This might be nice at my work. We have Remote Desktop as a Citrix app, and people might be able to use Citrix to get to their work Mac from home.

This will not let you connect to a Mac from another Mac or from a Windows desktop, or through Citrix. All three use different remote connection protocols (VNC, RDP, ISA) ... This will let you connect to a Windows PC or Server from a Mac.

No ability to remote Mac to Mac though, right? For that I would need the Apple solution, correct? Sent from the iMore App

There is no RDP server running on the Mac. You can use a third party VNC client like Screens on the Mac, to connect to another Mac with screen sharing enabled.

Does this work Windows to a remote Mac? Or just Mac to Windows?

It's used to connect from a Mac to a Windows PC. The client is built into Windows.

Well if the link was from a Microsoft server I'd feel better about using it but https://rink.hockeyapp.net/apps/5e0c144289a51fca2d3bfa39ce7f2b06/
doesn't sound right to me.

Hockeyapp.com is legitimate. Similar idea to Apple's TestFlight.
Get the best of iMore in in your inbox, every day!
Thank you for signing up to iMore. You will receive a verification email shortly.
There was a problem. Please refresh the page and try again.