Microsoft launches OneNote Class Notebook Tools on Mac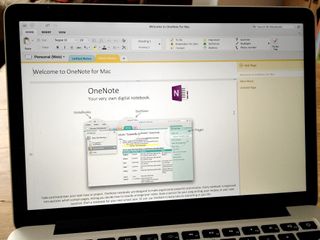 Microsoft has announced (opens in new tab) Class Notebook Tools for OneNote 2016 on OS X. The new tools aid teachers in working more efficiently with Class Notebooks on the platform. With the update installed, a new Class Notebook tab is visible in the ribbon bar that will display a number of features available to those with administrative rights to said Notebook.
Here's what you'll be able to achieve with the new set of tools:
Quickly and easily distribute pages or new sections to students in a class
Copy sections to Content Libraries in multiple notebooks
Sequentially review student work (assignments, quizzes, etc.)
Easily navigate and browse student notebooks through a student list
Launch Class Notebook app functionality
Visit useful professional development and community resources
Below are some highlights of what you can do with the Class Notebook Management Tools. For more details, visit the Class Notebook Tools for OneNote 2016 for Mac user guide
Microsoft has made it super-easy for teachers to distribute a page to all their students with a few clicks, as well as reviewing work submitted by students, and view their Class Notebooks. More improvements will be planned for future updates, but it's great to see Microsoft really working on implementing educational features into OneNote and Office as a whole.
You can see the support article (opens in new tab) on the Class Notebook Tools for more details.
Get the best of iMore in in your inbox, every day!
Thank you for signing up to iMore. You will receive a verification email shortly.
There was a problem. Please refresh the page and try again.