Microsoft OneNote for iPhone and iPad will finally sync in the background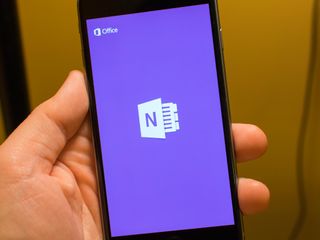 Microsoft has pushed out a small, but not unimportant update to its OneNote applications for iPhone and iPad. In the process it fixes one of the more irritating issues, because now we're finally given background sync! OneNote has had a tendency to be somewhat slow syncing your notebooks between device and cloud, but that should all be a thing of the past.
OneNote is an extremely good, and extremely popular app across platforms, and while background sync has taken altogether too long to arrive, you can't fault Microsoft for the effort put into the iOS app.
Grab the latest version right now from the App Store links below.
'bout time!! On the same note, OneNote slowly but surely is getting there. I stopped using Evernote because of their lousy pricing and switched to OneNote a few months ago.

Evernote I don't even consider a note taking application. I consider it to be a Scrap Booking/Clipping services. That being said, Microsoft has literally dropped the price for these services down to $0, and since Evernote doesn't really do anything that OneNote cannot do, while having worse Desktop and Tablet Apps... And arguably worse Smartphone apps as well... I don't see any appeal for it and don't see the reason why anyone should pay then for something they can get for free from a reputable and reliable competitor. Making OneNote free was a very aggressive move from Microsoft, and I think as they improve their mobile apps Evernote will certainly start to feel some serious pressure.

OneNote is pretty damn good I must say. Sent from the iMore App

I just love apple iphobes luke anything muWahha .. apple its the best ever brand.. :* ..and i just cant explain how much i love imore....

**Iphone **like.. love it like anything.... i love iphone verryy mchhhh muwAhha

That's nice I guess but I'll take the few seconds of syncing upon opening the app vs. the battery drain of background app refresh. Sent from the iMore App
Thank you for signing up to iMore. You will receive a verification email shortly.
There was a problem. Please refresh the page and try again.