Microsoft Translator app now available on iPhone and Apple Watch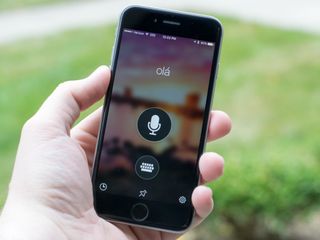 Microsoft has brought its Translator app to iOS for the first time, launching a version that works with the iPhone and the Apple Watch.
Here's a look at what users can expect from the Microsoft Translator app:
On your watch: Speak to your watch and get an instant translations in 50 languages
Not sure how to pronounce the translation? Let Translator speak the phrase for you.
Noisy environment? Just show someone your watch or phone. In addition, on the phone, large full-screen translation cards make it easy to show others what you're trying to communicate
Bookmark your translations for later use the translations you want to save and look-up recent translations
All your translations are synchronized between your watch and your phone, settings too
On the phone companion app, in addition to speech translations from your watch's language, you can select other speech languages or you can type on your keyboard (really useful for noisy places!). You can also and copy & paste translation from and to other apps
Microsoft also launched an update for the iOS version of Outlook that added support for the Apple Watch.
I have been writing professionally about technology and gaming news for 14 years.
Nice write-up. Just returned from a 2 week trip to China. I was playing around with it a little bit just now and this would have been helpful. I hope to be able to use it next time.

I would love to see a comparison with the Google Translate app. I have used Google Translate a little, but the written word image detection was wonky (very beta-level feature to me). For those that have never tried Google Translate, not only can it do voice translation, you can also point your iPhone camera at a road sign or document and it will translate on the fly. I was testing it with some Russian writing, and it was OK, but I had to use the browser based Google Translate to get everything I really needed. It seemed to be doing word-by-word translation, rather than putting together the phrases and sentences.

I find that Bing translates better than Google, at least with Finnish and German translations, from and to English as well.
And the apps/bing website has all the functionality of Google.
Get the best of iMore in in your inbox, every day!
Thank you for signing up to iMore. You will receive a verification email shortly.
There was a problem. Please refresh the page and try again.