Microsoft's latest iPhone app, Fetch!, is literally for the dogs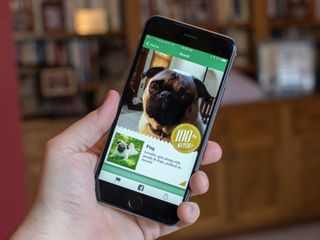 Microsoft wants to make it easier to figure out your dog's specific breed with their latest iPhone exclusive app, called Fetch! The app, from the company's Garage division, is the latest example of the use of its Project Oxford API image identification tools.
Like apps and websites such as HowOld.net and TwinsOrNot.net, the Fetch! app scans and analyzes a photo of a dog from the iPhone's camera app or camera roll:
The app can also scan photos of humans and hazard a guess as to the dog breed he or she might be — you know, just for fun.
Source: Microsoft (opens in new tab)
I have been writing professionally about technology and gaming news for 14 years.
Cool idea, but it doesn't work very well. I've tried multiple pictures of my dog and the results are way off. I know my dog's exact breed because I know both her mom and dad. Hopefully there will be improvements!

Very cool idea that works very poorly. It seems like there should be a way to train the app by correcting the pictures. I've got a Basset / Shar-Pei mix, so I wasn't expecting him to be identified correctly, but after doing 10 photos I was amused at how wrong the guesses were. 70 - 90% confidence in results that were all much bigger or smaller dogs than mine.

I tested it with our Border Collie (the breed they show in the screenshots) and the results were pretty good most of the time, but sometimes a bit random. When she was standing then the app was generally accurate, but when she was sitting or lying down then the results weren't as good. I think it needs to see the legs to get an idea of the dog's proportions. I must admit that I was expecting better results. If computerised facial recognition for individual people is possible then I would have thought that breed recognition in dogs would be easier, but I guess not. However any computerised interpretation of photographs is impressive. I am surprised they didn't offer some sort of feedback to allow users to train the system where they know the breed of the dog in the photo, but maybe their system doesn't work that way..
Get the best of iMore in in your inbox, every day!
Thank you for signing up to iMore. You will receive a verification email shortly.
There was a problem. Please refresh the page and try again.