Microsoft's Word Flow keyboard is now available for your iPhone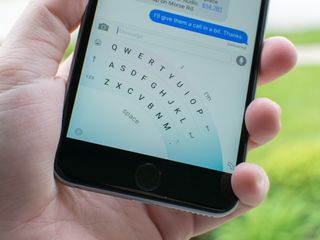 Microsoft has rolled out Word Flow for iOS, allowing those with an iPhone or iPad at hand to install the company's keyboard. Previously available in testing phases, this handy keyboard app will enable you to take advantage of various features, including one-handed mode.
Not only can Word Flow predict what you're tapping or swiping, but it's also intelligent enough to suggest words, correct spelling mistakes and be customized to suit your own tastes. As noted already, one highlight feature is the ability to switch to Arc mode, which allows for effortless one-handed typing.
You'll be able to download Word Flow from the App Store, but do note that it appears to be available in the U.S. only.
Get the best of iMore in your inbox, every day!
Been using this lately and like it a lot! My favorite keyboard on iOS. I've enjoyed customizing the background more than I thought I would.

Omg it's Sam Sabri! /fan mode off I hope that I'll like it as much as you do to consider it a favorite. I have more tweaking to do to mine.

After downloading this, I took off the standard keyboard and emoji keyboard. Word Flow is so much better!

Did the same thing, I have been looking for a good keyboard on IOS that does a good job at swipe texting :)

Already installed! It's pretty cool, but I'm unable to change the skin color of the emoji (like the ones with the nose, fist, hands, etc) :(
I either can't or I'm doing it wrong.

Workflow hasn't support the new emojis or the skin color (Yet?). Maybe a future update will have that

Sweet! Downloading now. Looking forward to giving it a try. Sent from the iMore App

This rocks Sent from the iMore App

This keyboard is easily the best third party keyboard on iOS. It just works! Sent from the iMore App

Loving this keyboard and its background customization! So smooth. Didn't think I'd ever replace Swiftkey, but this one is now my go to keyboard! Sent from the iMore App

Nice... but, I can't ForceTouch press to move the cursor around, a feature I use often. If it had that, I'd be OK sending Microsoft everything I type and leave it on ;-)

I agree. I use that all the time as well.

I really like this keyboard. Some emoji are missing like the flags. And I can't change the skin tones. Hopefully they add Multilanguage support soon. Sent from the iMore App

I'm glad that it's not just me that couldn't change the skintones. Going to offer feedback about that.

Too ugly to use. Please bring back Windows Phone7/8 theme (the grey rectangular buttons keys with dark light theme)

I would love that. I want to see if it's possible to copy that keyboard style.

The SwiftKey acquisition and integration is very apparent in this. Really enjoying this keyboard and find it much better than SwiftKey on iOS is.

This! At first, I thought that it would be like SwiftKey in needing input in order to adapt, but it's really different. I am impressed!

So far just by changing a few words like WordFlow (did not recognize the way I swiped it) and iOS (was by default inputting IOS) it is adapting well.

Word Flow existed on Windows Phone before Microsoft bought SwiftKey, not that it really matters. :) It's a great keyboard!

But their original trace typing needed work. Was not as smooth, or accurate in my experience as Google Keyboard and SwiftKey proper. This pairing is off to a great start.

No dictation, no deal. Sent from the iMore App

I couldn't agree more!!!!! Sent from the iMore App

First time using a third party keyboard app. Is there a way to have the Word Flow set as default? I noticed when I open a text that was written before installing the app it defaults to the stock keyboard. I then select Word Flow and it's all good.

Some apps will require you to select it to use it within the app (long pressing the Globe to the right of the keyboard of course). This is one of the downsides of third party keyboards in iOS, you never know which keyboard will greet you when opening an app.

If you go to the Keyboard settings you can swipe the English ios keyboard and there is an option the delete from being used so your third party keyboard will be the only one.

You can also hit the edit button in the upper right corner and reorder them so you can set one as the default while still having others to fall back to if necessary.

Am I the only one getting "This item is no longer available" when I try to download it?

Switching to iPhone about a year ago from being an avid Windows Phone user, the keyboard is one of the biggest things I miss! Not only is it on iPhone now but its even better than the stock Windows Phone one!!

Apple; one-hand keyboard in iOS 10, PLEASE! I want a Cut, Copy & Paste button too!! Sent from the iMore App

Oh yes that's a huge huge huge wish list item. They have it on the iPad so they should have it on the iPhone. Sent from the iMore App

I just wish it could access the dictation and use the keyboard shortcuts. Sent from the iMore App

The dictation I can live without as it's not available with any 3rd party Kb.. The KB shortcuts however is a BIG omission. Hope MS has plans to implement.

NO VOICE BUTTON
One of the only reasons why I won't use keyboard is because I cannot tap a button and use voice to text. That's the main reason why I stick with the stock keyboard. I use voice to text 9 times out of 10 uses of inputting. Sent from the iMore App

Yeah, that's the downside to all third party keyboards. No access to voice dictation. When I do use voice dictation to send I text, I just use Siri. And with Hey Siri, I don't even need to unlock the phone. Then again, I'm not a big texter. If more than two or three messages are sent, I just call, haha. I must be getting old. Sent from the iMore App

Downloading right now. Lets see what his keyboard is all about!

Love the arc keyboard, great to have on the plus! Sent from the iMore App

It is surprisingly accurate too. I'm loving the arc on my 6s plus! Sent from the iMore App

only in US! MS is again making stupid moves!

Isnt anyone concerned by the fact they warn you up front that they collect your keystrokes and even your sensitive data and share it ?

I never went in and gave "Allow Full Access" to the app and it seems to be working fine.

Works fine on my iPhone, but is unusable on my iPad as it is wildly inaccurate.