NBA 2K14 hits the App Store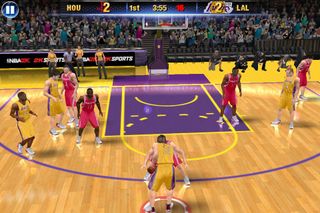 2K Games has released NBA 2K14, the latest version of their popular pro basketball game for iOS devices. It's a universal app that runs natively on the iPad and iPhone.
The game features multiplayer support through Game Center, and touts multiple control schemes - "classic" and one-finger control, built for more intuitive play on mobile devices. You can play through multiple NBA seasons, and save your progress to iCloud to pick up later on another device. The game also sports a soundtrack picked by star player LeBron James.
2K Games also deserves a special nod for just making the game available for a single price and not burdening it with wallet-draining in-app purchases.
Ripoff Sent from the iMore App

Depends how good it is. If you compare to Xbox or Playstation it's $52 cheaper. Sent from the iMore App

How much should it be priced at then, guy?

How insightful..........reasons? Your preferred price? (Free isn't an option bruh)

Be careful. If you read all the reviews it has major problems from crashing to audio problems. According to most reviews it is not as good as the last 2 versions. Graphics are the same from last year.

It is a great game, but it doesn't offer an upgrade for most users over NBA2K13. Actually, when you consider that play-by-play commentary is gone, it may be a downgrade for you. For me, it's 50/50. I'm a huge Nets fan, so I get to have Pierce, Garnett and Kirilenko on my team. On the downside, I had hoped that a year later they would have actually moved the Nets to Barclays, but they are still at the Rock. Sure, the center court logo is changed, but the baseline markings and the keys are still blue rather than black and say "Nets" rather than "Brooklyn." Another small gripe is that one finger control doesn't stick. I select one finger, but then the game starts and there's the D-Pad. I then have to pause to re-select one finger control. Annoying, but fixable in an update. So, I may have hoped for XCOM quality but at least it isn't 2K Drive suckage.

NY is and will forever be orange & blue ;)

For hockey? Absolutely! For basketball, sorry, but Black and White are the new Orange and Blue.

On ipad mini ios 7, there's not much sounds like the commentary.
When Lebron scores, they'll just say "number 6". i like 2k12 more.
I wish 2k games would let us update this game to a version that is better.
Thank you for signing up to iMore. You will receive a verification email shortly.
There was a problem. Please refresh the page and try again.