The Netatmo camera will tell you and your Apple Watch who's in your home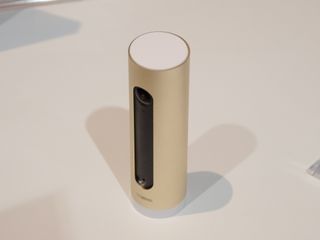 (opens in new tab)
Netatmo may be a name you're not so familiar with, but at CES 2015 they're on hand showing off their connected home camera system that will also support the Apple Watch as well as the iPhone. It also boasts that it'll recognise the faces of anyone you tell it to any time that they're in your home.
Once you've told the companion app who your family and any other trusted faces are, the Netatmo will be able to recognize when those people are in your home. Since it can tell when people come and go, it'll give you a real time update of who's there at any time. If someone comes in that it doesn't recognize, perhaps to steal your TV, then the camera will ping the application with a photograph of that person.
It's not a home security system, though. You can set up a number of them around your home and even tell it when not to record someone. You can view live footage at any time of what's going on, but if you tell it not to record any one of your recognized people, it won't.
On the hardware front there's no fee because it runs from your own Wifi network, and besides iOS will support Android, Windows Phone and be available through a web app. The Apple Watch is initially the only smartwatch that will be supported. The cameras will record Full HD content with a 130-degree field of view, and all footage can be recorded to a microSD card.
Availability wise, the Netatmo should be going on sale in Q2 2015, but no pricing information available at this time.
More: Netatmo
See at Amazon (opens in new tab)
Get the best of iMore in in your inbox, every day!
Thank you for signing up to iMore. You will receive a verification email shortly.
There was a problem. Please refresh the page and try again.