New Pokémon Snap items: All items and what they do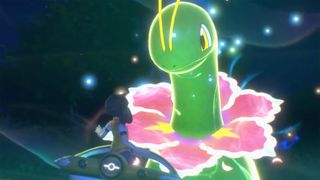 (Image credit: The Pokémon Company)
New Pokémon Snap is here, so it's about time to gear up and get ready to head into the Lental Region. Of course, the goal here is to compile as many pictures of Pokémon in their natural habitat as possible and to help Professor Mirror with his research. It's our job as certified videogame photographers to take to the trails of the Lental Region and fill up that Photodex with over 200 different Pokémon. Still, even the most seasoned photographer can have trouble getting the perfect shot without the right tools.
Fear not! You won't be heading into the field alone. Like the previous title, New Pokémon Snap has plenty of items to help you coax wild Pokémon into rare and adorable poses.
Strike a pose!
Gotta catch 'em all!

With a proper arsenal of useful tools, you can catch the perfect shot in New Pokémon Snap. Travel the Lental Region, exploring unknown territory as you help Professor Mirror research the Pokémon that live there. Discover deserts, beaches, and even go underwater in this exciting new photography-sim game.
New Pokémon Snap: Basic items
Before we get started, there are a few basic items in New Pokémon Snap that you'll receive straight away. Without these items, you couldn't play the game, as they are important tools.
It's time to head into the wilderness of the Lental Region, but you won't be going alone. One of the most essential tools on your journey comes in the research vehicle, the NEO-ONE. This pod is build to hit any trail, and it will keep you perfectly safe, no matter what terrain you encounter. Underwater? No problem. Lava? Forget about it! An upgraded version of the Zero-One from the original Pokémon Snap, you won't need to worry about anything but snapping the best photos possible.
To take Pokémon pictures, you're going to need a camera. This is the lens through which you'll be viewing the region as you amble through courses on-board the NEO-ONE. You can point and shoot or choose to zoom in. The rest is up to you!
New Pokémon Snap: Throwable items
Sometimes you need a little extra help when it comes to coaxing Pokémon out into the open or show off a rare behavior. Professor Mirror has thought of that, and like the previous game, players will have a few items they can throw at Pokémon to help get a better shot.
This classic apple-like fruit comes straight from the original. It's Pokémon food, and it can help you capture some of the best shots. Players can use Fluffruit to drawn Pokémon out into the open, fill their tummies, and improve their mood for a chance to catch rare poses and fill up the Photodex. Additionally, you can use the fruit to lure Pokémon to different spots for a better shot or to interactive parts of the map for some fun poses, like surfing Pikachu.
Professor Mirror developed these new throwable items. Players can use them to make Pokémon glow. Adding a little shine to Pokémon can lead to some interesting pictures by changing their look and how they interact with the environment. These orbs can even alter their special attacks and make for some compelling photos. You can also use them for better lighting, which is crucial for getting a clear shot.
New Pokémon Snap: Tech Upgrade items
As you get through more levels, there may be specific shots you're looking for. The tech upgrades you unlock as you further the story make it much easier to do that. These are add-ons to the initial equipment you get after you have opened a few more levels.
After a short while into New Pokémon Snap, your camera will get the ability to scan the area your in for surrounding Pokémon and objects, as well as points of interest. Your scan can elicit a certain reaction from Pokémon in the area, giving you a unique shot. It also may reveal some hidden creatures along the way!
Like the original Pokémon Snap, New Pokémon Snap features the melody player. Players can play music to coax a reaction out of the wild Pokémon. Some dance, some wake from sleeping, and some shoot you a super cute smile. While the original melody player had several tunes to choose from, this version only has one song.
If you're trying to get a very specific shot to complete a mission, it can be very time consuming to sit through an entire level at the one-track speed the Neo-ONE offers. The good news is eventually you unlock the Neo-ONE Turbo! With the Turbo you can make the Neo-ONE go faster through a course until you get to the place you're looking to capture.
What about the Pester Ball?
While the original Pokémon Snap featured a throwball item called the Pester Ball, it won't be seen in the sequel. Players could throw the pester ball at items to get them to move, react, or even pass out if Fluffruit couldn't do the trick. New Pokémon Snap director Haruki Suzaki told IGN in an interview, "The Pester Ball was an important element to bring out Pokémon's reaction in the Nintendo 64 Pokémon Snap, so we decided to add the role of the Pester Ball to the Fluffruit in New Pokémon Snap. Even though Fluffruit doesn't hurt when it hits a Pokémon, it'd make sense that some Pokémon don't like being hit by Fluffruit. So we designed the item to leave it up to players whether they place it near a Pokémon or throw it at a Pokémon."
Capturing the perfect shot
There you have it, a collection of all the items featured in New Pokémon Snap. These tools are sure to get you some extra cool photos. This game is bound to be one of the best on the Nintendo Switch!
Strike a pose!
Gotta catch 'em all!

With the right items at your disposal, you can capture beautiful photographs of 200 Pokémon in the Lental region. Go out there and be the very best Pokémon photographer!
Master your iPhone in minutes
iMore offers spot-on advice and guidance from our team of experts, with decades of Apple device experience to lean on. Learn more with iMore!
Sara is the Freelance Coordinator, writer, and editor at iMore. When not editing or writing away, she's glued to her Nintendo Switch, Xbox, or PS5, though she's a retro gamer at heart.